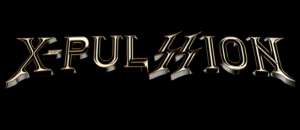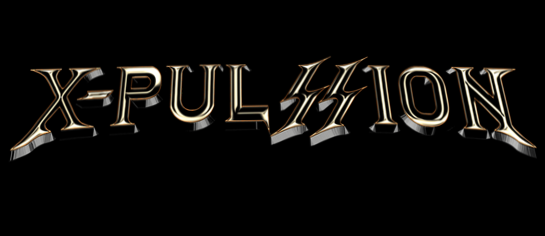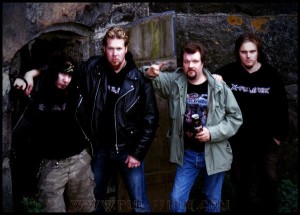 Summon: How did the band get started?
Rayburn Thrashfield: Hmm… a group of people with similar interest and musical taste came together. It's simple as that!
Ace Wilder: Rayburn had an idea about a new band and insisted me to join… and I did.
Theodore Cannonball: Ace asked if I was willing to get along with this project, I said yes.
Jake Oldman: I was the last one to join the band, which had already been together for maybe 3-4 months at the time. Ace called me one Sunday afternoon and asked if I was interested to join X-Pulssion. I instantly agreed and in less than 2 months we were already playing live.

Summon: What kind of music do you play?
TC: That's a pretty good question. I think the closest thing what we're trying to play could be categorized as trash metal.
JO: With a bit of groove in it. The next album is going to be a bit more aggressive with a lot of fast stuff along with mellower parts to bring out the nuances.

Summon: How has the band response been?
TC: Response? Well, I'd say we have some fans out there who likes our stuff. Especially fans in Mexico and Brazil are crazy about this shit.

Summon: Where did the band name come from?
RT: I guess it's some kind of word combination or a wordplay? X-Pulssion, Expulsion, X-Pulssi-on, Sex-pulssi-on.

Summon: Introduce the band members
TC: Rayburn (lead guitar & vocals) – full concentration on the band, the wizard. Ace (bass & backing vocals) – Sometimes put too much pressure on others but at the end of the day, he's right about it. Jake (rhythm guitar & backing vocals) –  The gentleman and ladies-man of the band Myself (drums & backing vocals) – I just try to keep up with the band.

Summon: Who writes the music? Lyrics?
AW: Rayburn wrote the music and did the lyrics in the first album. I composed the symphony parts with Antti Jylhäkoski and have also done some new songs to the upcoming record. Jake has announced his interest of doing lyrics, so the new album will sound a bit different.

Summon: And where do the lyric ideas come from?
RT: The Holy Trinity: Irony, sarcasm and black humor. Twisted politics, war and people who can't think with their own fucking brain makes me angry.
Summon: How many albums/CDs have you released?
AW: We released our first single "Hellcity" on December 6, 2010 and full length album "Dying Legacy" was out on June 29, 2011.
Summon: Tell me about some the songs on the latest CD?
RT: My personal favorites are Leather Demon and The Last Judgement. They both have great lyrics. Especially The Last Judgement!
TC: The Last Judgement is really special song to me and I love to play it live.
JO: I love playing Expulsion, TLJ and No Fuckin' Way live. Hellcity is Rayburn's love song to his hometown of Riihimäki! 😀
AW: My favorites are Tooth Twister and The Last Judgement. Tooth Twister became a bit personal song because of the music video. I wrote the script and directed the whole shit. I also like TLJ because of the symphony parts I composed with Antti Jylhäkoski. That song really kicks ass live!
Summon: Do you have any side projects?
AW: Theodore and me are playing in a band called Sacrament. Theodore has been a member since 1991, I joined the band in 2008 and we're still playing together. Other guys don't have any side projects.
Summon: Who are some of your musical influences?
JO: James Hetfield, Dave Mustaine, Jeff Waters… all great and extremely accurate guitarists. Other ones to mention are Tuomas Saukkonen of Before the Dawn and Rainer Nygård of Diablo.
TC: Dave Lombardo from Slayer is really the one I truly like.
AW: Dream Theater, Jean Sibelius and John Williams.
RT: I rarely look up just ONE person since there are so many good musicians and good people with influences nowadays… maybe my band mates are the one's I look up the most and dead legends like Dimebag Darrell, Jimi Hendrix, Jim Morrison etc…

Summon: Which current bands?
JO: Metallica, Megadeth, Annihilator, Slayer, Anthrax, Children of Bodom, Amorphis… + so many more.
Summon: What is the band like when you play live?
RT: A group like wild animals. Sometimes I feel like being in the jungle while playing.
JO: We love playing live and that's what we do best! We can always improve our performance and that's our ultimate goal to get better and better for ourselves and for the fans!

Summon: What was the best band you played with?
TC: Sacrament, X-Pulssion
JO: X-Pulssion, no question about it!
RT: Is this some kind of trick question?
AW: Tapiola Youth Symphony.

Summon: Have you guys ever played in another country?
RT: Not really, if playing on sidewalks doesn't count. We supposed to play in Spain in November 2012, but it was postponed.
Summon: How big of crowd shows up at shows usually?
JO: I think the smallest crowd has been 7 people who paid. Largest maybe around 100 people or so.
Summon: How is the crowd response when you play?
JO: There's the "hardcore" fans who take their space in front of the stage and headbang like motherfuckers! It's really fun to exchange energy with them and occasionally even take some of them on stage to sing along! There's also the more conservative fans, who like to take it easy and enjoy the songs from a distance. That's cool too. Every pair of eyes and ears are welcome to enjoy our show as they like.

Summon: What is the scene like over in your country?
JO: The metal scene in Finland is huge with loads of great bands! I sure hope we will stick out and get more visibility and people find our music, come to shows and hang out with us after the show. At the end of the day, we're all trying to have fun, right?

Summon: What made you want to be in this band?  And if you weren't in this band what would you being doing now?
AW: Rayburn asked me to join in the band and I couldn't say no, because playing bass in an another band was something I really wanted to do. I'm really into this band right now, so living without it seems impossible. But if I have to imagine… I guess I would be playing with some other group or just composing solo stuff as always.
JO: I had known all the guys from different bands and other activities, so I didn't think a second when I was asked to join. I had talked about something like this with Ace earlier and I was ready for it. If I wasn't in the band, I would probably be their roadie! 😀
Summon: What does the future hold for the band??
JO: More of everything! More shows, more albums, more funny music videos (check out Tooth Twister and Shit Happens videos from YouTube, from our official channel, "PulssionOfficial"), more other non-music related videos. Also maybe our first summer festival gig will see daylight next summer, I hope! More FANS and more beer!!!
Contact them at:
http://www.facebook.com/xpulssion
http://www.reverbnation.com/xpulssion
https://www.myspace.com/x-pulssion