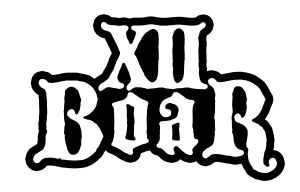 XII Boar

Speeding at you like an out of control train, XII Boar (pronounced 'Twelve Boar') have been tearing a new one into the stoner/sludge/metal scene over the last few years.
The three-piece wrecking ball from Aldershot, Hampshire; blast their way into your skull with ear-splitting leads, sonic riffs, filthy bass lines and a sweet southern groove.
Combining Motorhead's swagger, Black Sabbath's downtrodden doom, the ferocity of High On Fire and the swinging crunch of Down – this power trio lay down a colossal slab of rock n' roll-infused, southern fried metal that fuels even the greatest parties!
Having graced the stage at Bloodstock Festival, Desert Fest and Hard Rock Hell and opened for the likes of Corrosion of Conformity, Crowbar, ASG and Karma To Burn. XII Boar now return with their first full-length LP entitled 'Pitworthy'; featuring 10 blistering tracks of razor sharp metal n' roll.
'Pitworthy' serves up a smorgasbord of groove-laden riffage, irresistibly catchy hooks, straight-to-the-face thrash outs and a bucket-load of hip swaying, booty shakin' metal that only XII Boar can deliver!
This is pure rock and roll for the heavier generation.
http://www.xiiboar.com – http://facebook.com/xiiboar
http://xiiboar.bandcamp.com – http://www.youtube.com/xiiboar – band@xiiboar.com