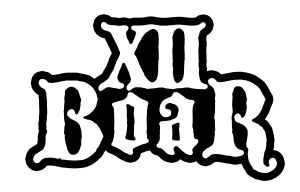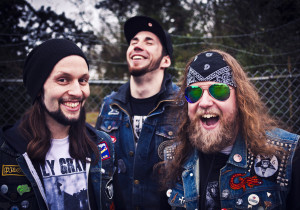 Summon: How did the band get started? 
David: We've all known each other for many years and been in and out of various bands in the past. So naturally we decided to form another band together, we were actually called Black Wizard for a short time and basically ripped of Black Label Society songs! That kinda folded for a bit and then we started jamming again. It seemed to click this time though, so we carried it on. The first four songs we wrote just flowed so quickly that we recorded them and suddenly we became a real band.
Summon: What kind of music do you play? 
David: We like to describe our music as Metal n' Roll but we're not big on genre tags. Sludge/Stoner/Doom whatever – call it what you will, it's just straight up rock and roll from our point of view. We'll throw together any riffs and hooks that come to us regardless of how it sounds, so expect our songs to jump from southern blues into frantic thrash and back again in the blink of an eye.
Summon: How has the band response been? 
David: From day one when we released our first EP 'XII' (2011) the response has been fantastic! People went crazy when that EP was released, we had thousands of downloads within a matter of days. Since then it's just been on the up and up, we've been getting recognition from fans and critics all over the globe. Our biggest praise probably comes from the other bands though; when members of Crowbar and Corrosion of Conformity come up to you after a show and say they dig your tunes then you know you're on to a good thing!
Summon: Where did the band name come from?
David: I believe our guitarist/vocalist Tommy actually came up with the name XII Boar (pronounced 'Twelve Boar'). We struggled for ages trying to choose a decent band name, but eventually Tommy had an epiphany and burst into band practice one day and announced it. It's stuck ever since then. The name itself is actually a play on words in reference to a 12 bore shotgun, I think a lot of people miss that and end up calling us 'zee boar', 'seven boar' or zi boar'…
Summon: Introduce the band members
David: We've got the ravishing Tommy Hardrocks on guitar and vocals, the studly Adam Thomas on bass guitar and vocals and the red hot David Wilbraham on drums.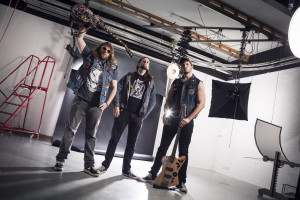 Summon: Who writes the music? Lyrics?
David: The music is pretty much a completely 3-way joint-writing process. We get in the practice room and just jam every single week and things just happen! Lyrics though mainly come from Tommy and Adam, they have a certain way with words…
Summon: And where do the lyric ideas come from?
David: Well, that's a difficult one… our subject matter seems to vary from picking up women to mythical beasts, so I think it's whatever just comes to mind! A lot of it comes from the bizarre mind of Mr Hardrocks, but we'll go with any theme if it works with the song – wrestling, troglodytes, sea shanties; there are no boundaries with a XII Boar song.
Summon: How many albums/CD's have you released?
David: We've just released our debut album entitled 'Pitworthy', which came out in March 2015 on CD and digital download. It's been going down a storm! We've been getting rave reviews from the mainstream music media over here and further afield. It's great to see because we've put our heart and soul into writing and recording this album over the last two years, so it's nice to know it's paying off! Before the album, we released a 7" vinyl single last year 'Truck Stop Baby' which whet people's appetites leading up the release of 'Pitworthy'. And then in our early days as a band we put out two EP's – 'Split Tongue, Cloven Hoof' (2012) and 'XII' (2011) both of which are still available now as a Pay What You Like download via our Bandcamp.
Summon: Tell me about some the songs on the latest CD?
David: Our latest album 'Pitworthy' is 10 blistering tracks of razor sharp rock and roll, trust me we've pulled no punches every song is killer. But if I had to choose some personal favorites though they'd have to be:
'Sharpshooter' – the song is just pure energy from start to finish, the middle 8 gets me every time and you can't help but nod your head. The intro was also a lot of fun to record!
'The Schaeffer Boogie' – Probably our most accessible song, if you can call it that. It's still a beast of a groove and catchy as hell.
'Pitworthy' – The title track of the record and probably one of the heaviest. The middle of this song gives me tingles hearing it back, that solo… oh sweet lordy!
Summon: Do you have any side projects?
David: Our drummer Dave also plays in UK doom trio Witchsorrow.
Summon: Who are some of your musical influences?
David: We're all huge fans of bands like Crowbar, High On Fire, Pantera, Artimus Pyledriver, Deep Purple, The Sword… but we've all got our own influences. Dave is a massive death metal and grind fan, Tommy's a blues and reggae nut and Adam loves Brooklyn hardcore – so I'm sure these styles rub off on us somewhere down the line.
Summon: Which current bands? 
David: Black Joe Lewis & the Honeybears
Summon: What is the band like when you play live? 
David: Live is where we really shine. We bring it. When you book XII Boar you can expect a show. We strive to make our live performance as energetic and intense as possible, something that we hope to emulate on record too. XII Boar isn't here to fuck around, we're only concerned with hitting it out the park with everything we do.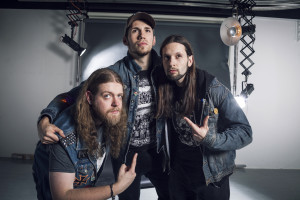 Summon: What was the best band you played with?
David: Crowbar. The nicest guys and the greatest band.
Summon: Have you guys ever played in another country?
David: We've traveled over to Germany, Norway and Spain to play shows in the past – Europe seems to generally have a much better attitude towards live music than the UK. People actually enjoy it and want to be there!! Plus you get looked after and always have a wicked time. We're actually heading over to Germany again shortly for the Rock im Wald Festival, we're playing alongside the likes of Brant Bjork, Kadavar and Blues Pills, so it's gonna be a good one.
Summon: How big of crowd shows up at shows usually?
David: It can vary, but we're happy playing to anyone. Sometimes the smallest gigs can have the best atmosphere but the big gigs really get the adrenaline going!
Summon: How is the crowd response when you play?
David: People go batshit crazy, we've had people crowd surfing and battering the living daylights out of each other (still having a good time) to a guy jumping onstage with a cowbell to jam with us. The best way to tell if a crowd is digging it is to see if they're smiling, if they're smiling then you're doing it right.
Summon: What is the scene like over in your country?
David: To put it bluntly, it's shit. We have some really great bands over here at the moment (Gurt, Diesel King, Ten Foot Wizard, Desert Storm, Grifter) and the stoner/doom scene is certainly thriving but the UK has a reputation for poor turnouts and little money. There seems to be a lingering air of misery at a UK show too, maybe it's a British thing. Don't get me wrong though, there are exceptions not everything's that bad! But once you've left the country and played abroad you really start to see the wood from the trees.
Summon: What made you want to be in this band?  And if you weren't in this band what would you being doing now?
David: We'd all been in and out of bands for years and when we first started jamming as XII Boar the music really clicked, it just felt right. Its fun, not just musically but socially; the three of us have a very close friendship and have for years, so even if we were a terrible band we'd still make it enjoyable for ourselves. If this all falls through then we'll probably all become pro-wrestlers.
Summon: What does the future hold for the band??
David: Lots! We're busy writing a follow up to 'Pitworthy' already which is really taking shape. We'll be gigging all over the place in the meantime and shooting some more music videos so there's plenty in the pipeline. Watch this space…
Contact them at:
https://www.facebook.com/xiiboar
https://www.youtube.com/user/XIIBoar