Written by Wolves
Timebombs & Hurricanes
Official Music Video
Released 30th March 2017
By: Pagan Hel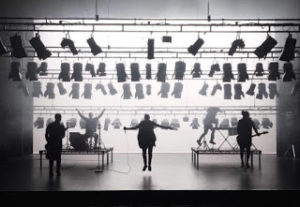 Written by Wolves – Auckland, New Zealand
Links:
https://www.facebook.com/writtenbywolves
Written by Wolves would like to give special thanks to:
Huge effort once again from Bahador Borhani and massive thanks to Lauren Kate Went for braving the hoverboard to help shoot this sucker. Thanks so much to the team at the Bruce Mason Centre for making this possible and letting us use their incredible theatre…
Genre: Progressive, New, Cinematic-Rock
Biography:
Formed in 2014 Written by Wolves have strode towards fame all guns blazing. Their sound is rock, alternative, electronic and pop all rolled into one mighty sound that is more than satisfying but groundbreaking, and I would go as far to say earth shattering too! Bit by bit the band have gathered over 50,000 fans who have listened to them on Spotify and had over one million plays so far… but hardly surprising really with their calibre of sound. These four guys are not just musicians they are magicians also because each track they produce is magic in every sense of the word.
Nothing is sleight of hand though, it is all out in the open and these four guys have once again brought me to my knees in utter shock! How do they do it? How do they keep on producing winning tracks? What is their secret? The secret I feel is behind Written by Wolves popularity isn't as you would expect, it is just simply four extremely talented guys who have a deep passion for producing music and they do it with such finesse! In other words the magic works!
The latest Music Video Timebombs & Hurricanes is a bit like how you are going to feel after having a brush with it. The first breath of the track leaves you spellbound and perplexed. They can play catchy pop tracks and then play something heavy like Pretty Lies but whatever they play is compelling and moreish – the magnetism draws you into its fantastic grooves and gives your ears something good to feast on… a banquet for muso's you could say!
Superb new music video from Written by Wolves
Timebombs & Hurricanes!
The melody is strengthened by superb vocal harmonies by the band and of course the superbly carved vocals by the amazing Michael Murphy who pulls the band together with his compelling voice and Bahador, Davie and Karl's thrilling escapades that go all out to seduce and conquer and they do it in a blitzkrieg moment.
Written by Wolves are just so unique, they can turn their talented hands to anything they set their minds to. They give you that wanton hunger to listen and to explore the boisterous simmering under the surface and to feel their energetic force, in fact, the whole track creates a bounce that adds to its own personality that screams Written by Wolves it couldn't be anyone else!
Loaded with dynamism, that will have you singing along to its catchy lyrics in seconds!! GO WOLVES!!!!!
10/10
Line-up:
Michael Murphy – Vocals
Davie Wong – Bass
Bahador Borhani – Guitar
Karl Woodhams – Drums
*Written by wolves*
A Collective of tracks
Released 2015
By: Pagan Hel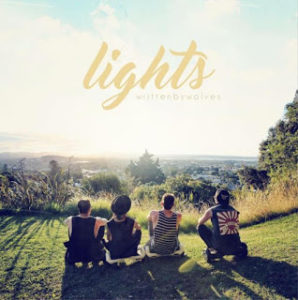 Written by Wolves – Auckland, New Zealand
Links:
https://www.facebook.com/writtenbywolves
Genre: Cinematic Rock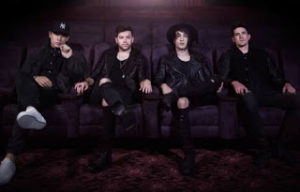 The fabulous Written by Wolves
Biography:
"Written by Wolves were formed in late 2014 and for that I think the world should be grateful, very grateful. They are a progressive, new, rock band hailing from Auckland, New Zealand. All four members, Davie Wong- (Ex Shotgun Alley) Karl Woodhams – (Ex Shotgun Alley) Bahador Borhani – (Ex Shotgun Alley) and Michael Murphy – (Ex 5Star Fallout) have devoted their lives to Rock music, and it is out of this shared love for the genre that Written by Wolves was born. They are a band that have set out to do things slightly differently, to create music that is new, unique and perhaps pushes the boundaries of what is expected from the rock genre…!"
~~~~~~~~~~
Take a deep-breath because this is going to be one phenomenal experience – here are four guys from Auckland who are serious about their sound and it shows in every thunderous riff. Yet with a new genre emerging, Michael has described Written by Wolves as 'Cinematic' and I can see why! They have been around for around 5-10 years in various other projects but came together to form Written by Wolves in 2014.
The Kiwi's as they are affectionately known are from good stock and realised with all the new and emerging talent that they would have to think up something really invigorating to incorporate their 'soundscape' of rock, alternative and electronic, so reaching people on various levels and I personally think they have reached that goal.
Tracks:
Pretty Lies – Every time I hear this track I literally bounce off my chair and go into a spasm of sheer joy! Its tribal beginning really raises the notches to epic proportions with the superb lyrics and a damaging chorus, it is a winning track make no mistake. Probably the most played from Written by Wolves to date. It is just so addictive and with my denial to accept the mainstream, the lyrics really mean something! From start to finish it holds a certain magnetism you won't be able to pull away from and let's face it who would want to? It has that certain something that is recognisable in their pure heart and that is the whopping sound that Written by Wolves are legends for producing.
Explode – Does exactly what it says on the jar and detonates a magnificent blaze of passion and persuasion! Its rebel rousing riffs wrap themselves around you in a monumental vibrancy! The track shows just how well this band work together as a collective. Their harmonies emerge victorious and are equally powerful. Best played on 11 for the full effect! Let the sophistication of the track wash over you and reward you with high intensity pleasure!
——————————————————————————————-
"The band manipulates without you really knowing it, bursting with diversity and holding great appetite to seduce, compel and conquer!"
——————————————————————————————-
Lights – Shows a softer side to the bands endeavours with a light-hearted feel and enjoyable video attached to its jingling sound. It also shows great vocal tenacity and a deep poignancy as the groove unravels. Although this has a general feel you cannot help but be blown away by the overwhelming sound that encompasses like a warm blanket!  The spark is well and truly lit and will shine over this band for a very long time to come.
——————————————————————————————-
"You know a band has that awesome quality when your spine begins to splinter as your body cannot just sit still when listening and wants to move to the out-sized grooves and Written by Wolves have that and more so make sure you are medicated if your bones are weak!"
——————————————————————————————-
Not afraid to die – Again with a brooding tribal feel the track just festers with a solid drum beat and warm vocal tones that push the boundaries with addictive flair and colossal harmonies that are fierce and forthright. The guitar carves a hot trail of deep groove along with a pounding bass hook – the Wolves are on top form with this track and dying is the last thing on your mind when you hear this, (although it really paints a vivid picture in your mind) this is a very much 'alive' track that will haunt your mind as you begin to familiarise yourself with the superb lyrics. The lyrics were inspired by Michael the bands golden vocal entrepreneur who says they were written about a Cowboy in a wild-west shoot out!
Elastic Heart (Cover) – Begins with some subtle guitar strings and a vocal that will warm the ears with superb clarity and emotion. The epic sound is worthy of attention and more so as Written by Wolves have stamped their mark with powerful lures and compelling addictive enterprise. I am glad to say it is nothing like the original sung by Canadian singer Sia (who is a cross between Rhianna and Bjork!) I had to endure this to check out the difference as this is way out of my comfort zone but dare I say it, the original is just a calamity and not my idea of music what so ever!
The more you listen to Written by Wolves the more intense the experience! There are so many powerful riffs that just warrant another repeat performance on the stereo. The addictive qualities are overwhelming so much so you don't know what to do with yourself!
The band manipulates without you really knowing it, bursting with diversity and holding great appetite to seduce, compel and conquer!
It will appeal to a lot of people who are fans of a lot of different genres and together holding the winning combination there's certainly no reason for this quartet not to go on and be utterly famous!
You know a band has that awesome quality when your spine begins to splinter as your body cannot just sit still when listening and wants to move to the outsized grooves and Written by Wolves have that and more so make sure you are medicated if your bones are weak!
The tracks are passionate and creative so it is inevitable that fame should follow. They spark the attention with gripping imagination and torrential catchy lures – you would be totally off your rocker to ignore this band, do so at your own stupidity! But why not make up your own minds! Music never lies!
10/10
Members:
Michael Murphy – Vocals
Davie Wong – Bass
Bahador Borhani – Guitar
Karl Woodhams – Drums