Widows
Oh Deer God
7 Track Album
Polymath
Release Date: 14th April 2017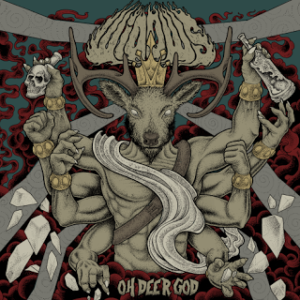 Widows – Nottingham, UK
Links:
https://www.facebook.com/widows666
Milestones:
2012
Reached 666 likes!
Recorded first E.P. 'Raise the Monolith'
WIDOWS played the first ever Desert Fest
WIDOWS 'Death Valley Duchess' officially released
WIDOWS filmed the video for 'Green Tsunami'
2011
WIDOWS UK Tour, November 2011
WIDOWS recorded their first full-length album at Moot Group Studios, Nottingham
2010
WIDOWS debut E.P. officially released through Bad News Records
WIDOWS independent E.P. release
2009
First Show
Genre: Hard Rock/Stoner
Biography:
"Formed in 2008 in the troubled UK town of Nottingham. WIDOWS play music you can raise a beer and swing a fist to and they do it hard fast and loud, with bone crushing grooves and undeniable swagger!"
~~~~~~~~~~
There is no mistaking the deep resonating sounds of stoner rock, none what so ever. Its bass-ridden swagger lures you into its tempting, sultry lair and feeds you good wholesome beats! At times it is so captivating all you can do is sway in appreciation to its magnificent melodies.
Nobody needs to be stoned to listen to Stoner Rock, as what stands before us is an all singing all stoner swaging album with plenty of edges and pumped up vibes, having that impending lift that ultimately compels and intrigues, which always makes Stoner good to listen to. I personally love Stoner for the flashbacks of Sabbath that you cannot escape from and neither can the bands whose genre is firmly planted and seeded to grow into more tempting albums for the general public to appreciate.
It can be slow or fast paced there isn't a law against either but it is all heavy – no doubt about it. The vocals are deep and husky and propelled by a bass-laden rhythm and sonic riffs that creatively blend the concoction of catchy drum beats together into one mesmerising delicious tone.
I can't find a negative track on this album, but feel that it is over too soon – they do say 'time flies when you are having fun' and this album has provided that in abundance, although I am wondering at the lack of anything happening since 2012 on the band page, hopefully the band will find a new lease of life once the new album is released and hit more milestones, as the hooks and melodies are all embracing and cause a smouldering defiance that certainly has plenty of spice contained within its core and no doubt should double the band's fan base overnight once it is unleashed in April.
9/10
Track List:
Oh Deer God
Caffeine and Hatred
Heresy and Venom
Blue Tina
Ride to the realm of Coitus
Baron Greenback Blues
Germanium Buzz
Members:
Ad – Vocals
Kidda – Guitar
Ze Big – Drums
Phil – Bass