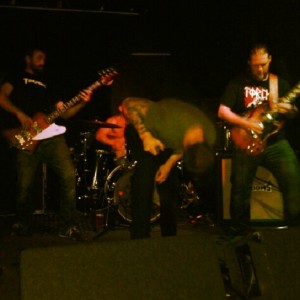 Formed in summer 2008 in Nottingham, (UK), WIDOWS began life after the disintegration of the respective bands that James (guitars) and Adam (vocals) had been playing in over the previous 3 years. After having played in metal bands – both together and independently – over a number of years they began leaning towards their stoner and classic rock roots. There were many initial ideas for the style and direction of the band and music, however it was decided just to see where things went and the music that followed was just what came naturally after a few beers, hitting record, and just jamming out for half an hour.  The first four WIDOWS tracks were written and demo'd at home over the course of a few months by James and Adam, partly to get the songs down in some form of recording, and partly because the writing process was really starting to flow by this point – they wanted to attract other musicians to complete the line-up as it was turning into something worth doing properly.
Drummer Steve Mellor was introduced to James and Adam by friends from the Nottingham music scene. They had barely got done listing their influences before he agreed to join up right there on the spot before even hearing the demos. After a couple of sessions it was obvious Steve had exactly the sort of power and playing style that WIDOWS were looking for to drive the band's rhythm section. WIDOWS rehearsed for a few months as they tightened up the four songs they had written, and searched for a bass player to complete the line-up.
Evan Christodoulou was introduced to James by Ian Boult (who runs Nottingham's Stuck on a Name Studio) in late 2008 and completed the line-up on bass at the start of 2009, rehearsing with them as they built their set over the first half of 2009, tightening and structuring the 4 tracks that later became the first EP 'Raise the Monolith'. Their first show was in June 2009, a week after Adam and James had returned from a desert road trip in the U.S. to get inspiration for their first full album, and took place at the now defunct Vienna bar in Nottingham with Gentlemen's Pistols, The New Romantic Killer Band, and The Freezing Fog.
The E.P. was recorded shortly afterwards in August 2009 at Stuck on a Name Studio, Nottingham. With the artwork done by bassist Evan Christodoulou, it was initially released as an entirely self-funded/self-promoted venture in January 2010 but was eventually picked up by Nottingham label Bad News Records (run by former Consumed bassist Baz Barrett), and after a number of high profile shows from Desert Scene Promotions to promote the E.P. with acts including Nebula, Truckfighters, and The Atomic Bitchwax, the E.P. was officially released through the label in July 2010. The band continued with this line-up until early 2011 when Evan – who was now becoming an established tattoo artist, having tattooed the other WIDOWS members in the process – announced that he was going to be a Dad and could no longer commit to WIDOWS and played his last gig with them in February 2011.
Ste Birch took up bass on a temporary basis as a favor to the band to keep the ball rolling for WIDOWS in March 2011, recording with them on their first full length album 'Death Valley Duchess' – recorded at Moot Group Studios in Nottingham, with Johnny Carter (ex-Pitchshifter) and Paul Yeadon (ex-Bivouac). He also played with WIDOWS on their first UK tour in November 2011. The album was officially released via Bad News Records in April 2012; the artwork, design, and layout was a combination of photographs taken by Adam and James during their trip to the Californian desert in 2009, and original drawings from renowned music artist Michael Cowell (previous design credits include QOTSA, High on Fire, and MANY others). The album was promoted through a pre-release UK tour, music video, and a PR campaign which scored them play listing on Kerrang Radio's Johnny Doom and Alex Baker shows, as well as play listing for the Green Tsunami video on cable rock/metal shows 'Metal Tuune' and 'Tuune Rocks'.
Ste left in January 2012 as WIDOWS had found what appeared to be a more permanent replacement in former Goatspeed bassist Rob Stringer. Rob played with WIDOWS from February 2012, appearing in their debut music video for the 'Death Valley Duchess' lead track 'Green Tsunami', and receiving a membership credit on the album notes. He also played with the band at the inaugural Desert Fest in London on Easter weekend, April 2012, sharing the bill with bands including C.O.C, Orange Goblin, and Gentlemen's Pistols. Sadly, Rob was unable to continue playing with WIDOWS beyond July 2012 due to serious back problems which left him needing lengthy treatment and unable to remain committed to the band.
Undeterred, WIDOWS recruited another bassist: Rose Cottage (and former Black Rock/Old Basford) bassist Richard Chisholm (aka Chis) in early Summer 2012, just in time for a short tour followed by a headline show at Nottingham's Rock City in early August 2012, after which he accepted the position on a more permanent basis and is now an official member of the band.
What's coming up?
WIDOWS are still gigging in support of the 'Death Valley Duchess' album whilst writing material for their next release and planning their next video for the album's second track 'Goat Lab'.
After a number of inquiries from fans about vinyl, they are considering a limited run of 10″ vinyl to preview new tracks before releasing them on a wider scale as a full CD album.

The US has been taking an interest in WIDOWS with numerous CD and merch purchases coming from the States, and the underground press, radio, and cable TV shows requesting material for airplay and review. Look out for the Green Tsunami video getting airplay on select stations soon.
WIDOWS have also recently been confirmed for their first European dates; a 3 show tour in Finland with Finnish rockers Baton Rogue Morgue on the 8th, 9th, and 10th of November 2012, and along with booking further UK tour dates, they are aiming to be back in Europe over the course of 2013.