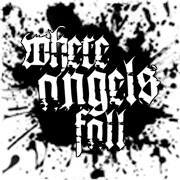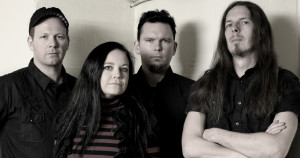 Summon: How did the band get started? 
Eirin: It was André and our former drummer O. Løvberg who formed the band after finding that they had similar musical ideas. André made a few songs as a demo, and found the members they needed.
Summon: What kind of music do you play? 
Eirin: We are playing groovy guitar driven metal with symphonic and industrial elements.
Summon: How has the band response been?
Eirin: Depends on the region! Good response in most of Europe and USA, not so good response in Norway (you can be a prophet in your own land?) and a very good response in South America.
Summon: Where did the band name come from?
Eirin: I guess it was divine inspiration! We actually don't remember how we came up with that, but we felt that it suites the music well.
Summon: Introduce the band members
Eirin: We have André Bendigtsen on guitars. He is also doing a lot of the programming of the electronic part of our music. He is also producing the music. The other guitarist is Kristian Svenning. He was originally our bass player, but had a long "vacation" from the band. Espen Lohne is our bass player now, and he is crucial for the groovy part of our sound. Our on and off drummer is Jarle "Uruz" Byberg. He is a busy drummer, and improved the band from first beat. I am the singer!
Summon: Who writes the music? Lyrics?
Eirin: The music is written by all of us in the band. André composed most and we have all contributed. I am making the melodies (vocal parts) and the lyrics.
Summon: And where do the lyric ideas come from?
Eirin: Hard to say. It is difficult to explain inspiration. Sometimes it is like words just pop into my head when I hear some riffs or themes in music, other times is like I think of some issue that is important to me for some reason, and I form it into lyrics. In common for all the lyrics I make, is that they are based on interpersonal relations or issues about how you act out your life.
Summon: How many albums/CD's have you released?
Eirin: The first release was the EP "Dies Irae", and the two albums "Illuminate" and "Marionettes" followed. After that we release the digital single "Indifferent". The newest release is the digital single "Senseless", and in January 2014, the album "Redemption" will be released.
Summon: Tell me about some the songs on the latest CD?
Eirin: One of the songs I have to mention is the song "Beyond Repair". That is a really angry song, and it works really well live. The songs is about those people who just bitch other people around. Guess we all know someone. Another song is "We are the Gods". On that song you will also hear André doing lead vocals. The song that is closest to my heart on this album is "Earth Visited". The reason for that is that I feel that the recording of the song really fit the lyrics, and that the vocal part is just as imperfect as the song needs it to be. I tend to like "rusty" vocals. 😉
Summon: Do you have any side projects?
Eirin: No, not at the moment.
Summon: Who are some of your musical influences?
Eirin: I think there is a lot of different things that has formed me as a musician. I was part of the community in my village, and participated in music performances early, but not as a singer. I did not start to sing for real before I was grown up. I think my singing style is part influenced by "correct" singing style, but also by more rock style. I think it was after Illuminate I started to rehearse and study the "male" rock singing style. I mean, there is a lot of really good female singers that sing in the classical way, but for me, most of them lack emotional expression in music. The lack of raw emotions is actually a crucial part of singing classical. You rehearse to make all notes sound similar. For me I would like some words to buzz and some be clear, and maybe some notes could crack in the end? And for the music itself, I tend to like the minor scale, and music with dissonance.
Summon: Which current bands? 
Eirin: The band I like the most nowadays, is a Norwegian band called Zeromancer. I also love Borknagar, and I love Tristania (Mariangela has a singing style I really like) and Lacuna Coil (also a vocal style I love).
Summon: What is the band like when you play live? 
Eirin: We rock! 😉 Well, we like to interact with the audience.
Summon: What was the best band you played with?
Eirin: Best band? We have played with some good bands, but I have to say Theatre of Tragedy. They give max at all events, and Raymond really have the audience in his hand. And in top of that Nell, who really is a true rockstar. Sad the fairytale is over.
Summon: Have you guys ever played in another country?
Eirin: Yes, we had a tour in Europe.
Summon: How big of crowd shows up at shows usually?
Eirin: That has been varying. We have played for anything between like two fans till about 800?
Summon: How is the crowd response when you play?
Eirin: We usually have engaged fans who cheer, bang and sing along, but also listeners, who stands quietly and analyze and enjoy the music. Crowds are different in different cities in Europe.
Summon: What is the scene like over in your country?
Eirin: In Norway, the metal scene is centered around bands that are more extreme than we are. In Oslo there is concerts almost every night of the week, and often more than one event each night of the weekend. It is hard to get gigs in Oslo, and to get a huge audience. On the other hand: there is a lot of fans listening to rock and metal, and the digitalization of music and internet spread of music has been taken seriously by the organizations for musicians and composers, so it is easy to release music, and we are getting there that we get the proper payment for it.
Summon: What made you want to be in this band?  And if you weren't in this band what would you being doing now?
Eirin: I loved the music, and the ideas behind. If I weren't in this band, I probably would have stopped making music, and just worked.
Summon: What does the future hold for the band??
Eirin: I the future we will release more music, and we will be visible in social media. More live gigs will also come.
Contact them at:
http://www.whereangelsfall.com
https://www.facebook.com/whereangelsfall
https://myspace.com/whereangelsfall
http://www.reverbnation.com/whereangelsfall