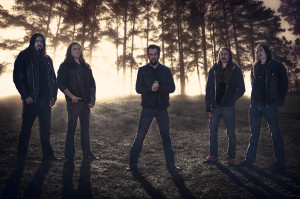 Summon: How did the band get started?
Scott: I wanted to do a band with Peter Lemuiex and Charley Shackelford because they're great musicians with a lot of personality and I didn't have a lot going on a few years ago with my music. At the time it made sense for everyone and the band was given birth.

Summon: What kind of music do you play? 
Scott: I'd say we're hard rock/classic metal with punk and psychedelic overtones with an emphasis on careful song structure.

Summon: How has the band response been?
Scott: I'd say pretty good, we've had labels offer to put our material out and had offers to play some pretty big festivals despite not having much of a history.

Summon: Where did the band name come from?
Scott: It's a different spelling of the witch's holiday "Walpurgis". I became interested in calling my band this as HP Lovecraft refers to the holiday in his stories often and also from the lyrics of the Fates Warning song "Night on Broken".

Summon: Introduce the band members
Scott: (Me) Scott Waldrop – guitar, Jonny Aune – lead vocals, Lemuiex – drums, Jim Hunter – bass, and Charley Shackelford – guitar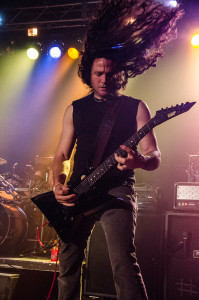 Summon: Who writes the music? Lyrics?
Scott: Me and me. I start with basic demos I make myself then the other guys pick the songs apart and detail them out.

Summon: And where do the lyric ideas come from?
Scott: Primarily from real ghost stories, American folklore and living in The Southern United States and its creepy hinterlands were traces of antebellum remain.

Summon: How many albums/CD's have you released?
Scott: Just the EP, we're working on a full-length album now.
Summon: Tell me about some the songs on the latest CD?
Scott: "Wolves" is our most "power metal" song, lyrically it's based upon a similar theme to HP Lovecraft's "The Watchers Out of Time", "Cold Cold Ground" is about a person with amnesia after doing psychedelic drugs years ago and thinking they may have murdered people while on drugs, "The Sisters" is about evil, psychic and inhuman girl twins that wonder space & time creating mischief.

Summon: Do you have any side projects? 
Scott: I'm in two bands, neither are side projects, they're both extremely meaningful to me, the other is Twisted Tower Dire.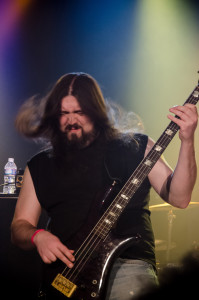 Summon: Who are some of your musical influences? 
Scott: 60's pop & country song-writers, Iron Maiden, The Scorpions, The Ramones, old old oooooooold Slayer.

Summon: Which current bands? 
Scott: My favorite new bands are Hessian and Mount Moriah from NC I don't really follow underground metal like I used to when I was younger.

Summon: What is the band like when you play live? 
Scott: People say we're pretty good. We have a live show on bandcamp or you can go to www.walpyrgus.com, hit "music" or "video" and decide for yourself, we try our best to practice our instruments a lot, play sober and deliver an entertaining headbanging extravaganza worthy of one getting off their sofa.

Summon: What was the best band you played with?
Scott: We just played with Q5 in Chicago and they completely melted my face off. One of the best live bands I've ever seen and super cool dudes too.

Summon: Have you guys ever played in another country? 
Scott: Walpyrgus has never even left The Carolinas. Maybe after we get this album done there will be some opportunities….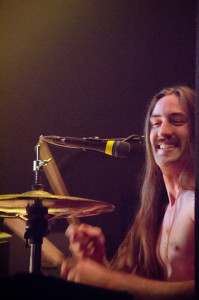 Summon: How big of crowd shows up at shows usually?
Scott: In Raleigh there's a pretty decent scene. If we play with other popular local bands it's typically 50-100 people in small clubs.

Summon: How is the crowd response when you play?
Scott: They seem to like us, they usually clap and sometimes people cheer when songs are over. They either happy because they thought what we just did was good or they're happy it's over and it's quiet again. I'll never really know…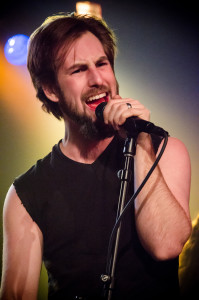 Summon: What is the scene like over in your country?
Scott: America is so big it's hard to define it as a whole, there's so many different cultures and musical styles in our various regions. It's not like Europe where metal is culturally more widespread but there's a lot of cool aspects do the musical community here that make me proud to be from here as we're an eclectic folk by our very nature.

Summon: What made you want to be in this band?  And if you weren't in this band what would you being doing now?
Scott: I wanted a group of very talented guys to write and play with locally and help me realize my musical vision. If I wasn't in this band I'd be doing all the same stuff I do without music, being a father, being a husband, running, making art, chilling out with my Siberian huskies, swimming in the ocean etc. If not for music though I'd probably hunt ghosts and Bigfoot.

Summon: What does the future hold for the band?? 
Scott: Wonderful and rewarding things are what I hope for. We're working very hard right now and delivering a great and original sounding album which will hopefully be meaningful to people and bring them joy in some aspect. All I can hope for is that our music is appreciated and that the band stays healthy with good outward energy from people who enjoy our music.
Contact them at:
https://www.facebook.com/Walpyrgus
https://twitter.com/Walpyrgus
http://walpyrgus.tumblr.com/
https://walpyrgus.bandcamp.com/
https://www.youtube.com/channel/UCYCT6zrgyaxgSSnslx8p5ww/feed
http://walpyrgus.storenvy.com/