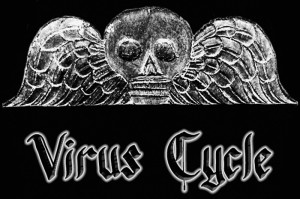 Summon: How did the band get started?
Johnny: Virus Cycle started as my solo project in 2011. I had taken about two years off from music and eventually wanted to get back into it. Previously I was in a Boston based goth-metal band that I also started as a solo project that eventually turned into a 5-piece and were around for about five years.

Summon: What kind of music do you play?
Johnny: We play a mix of goth, industrial and metal music that mixes many themes, including horror and the supernatural.

Summon: How has the band response been?
Johnny: We are going on our third year this coming February. The response so far has been very good. People all over the world enjoy our music and it also helps that our label Bluntface Records lets us host our music on their website for free download. It gives people the chance to check our music on their terms.

Summon: Where did the band name come from?
Johnny: Here at Virus Cycle we are very zombie-friendly, and was the starting theme of this whole project. The name refers to the Zombie Virus that engulfs the population of man, and the enigma of how long it will take for the cycle to essentially do its thing and let civilization start again, if it ever will.

Summon: Introduce the band members
Johnny: I do vocals and play guitar. Veronica does live programming on stage, as well as the artwork, Virus Cycle website, and social media behind the scenes. Otto Kinzel does the production and plays bass both in studio and sometimes live.

Summon: Who writes the music? Lyrics?
Johnny: I compose all the lyrics and play all the music, with the exception of bass that Otto does, and the little synth input that he adds from time to time.
Summon: And where do the lyric ideas come from?
Johnny: They come for many sources. Horror movies are definitely a major one. I have been a fan of horror from a very young age. I am also a fan of many authors such as Lovecraft, Matherson, Shelley, Stoker, King and Poe. Dreams in the Witch House was actually based on a work by Lovecraft and is available on our latest E.P. Tetralogy of Horror: Act I. Another source of lyrics is history. I have a B.A. in American History and one of my favorite topics is the Witch Trials in Salem, MA in 1692, including people involved like Cotton Mather and Montague Summers.
Summon: How many albums/CD's have you released?
Johnny: Virus Cycle has released 2 L.P.'s and 3 E.P.'s in just under three years. We will also be releasing three more E.P.'s over the next eight months. You can find all our releases for free download and for sale on CD at http://www.bluntfacerecords.com/fr_viruscyclealbums.cfm
Summon: Tell me about some the songs on the latest CD?
Johnny: Our latest E.P. Tetralogy of Horror: Act I has two instrumentals and two songs on it. The two songs are Dreams in the Witch House and Gods & Monsters. Dreams in the Witch House is based on the H.P. Lovecraft short story of the same name. The story deals with other dimensions and witchcraft. What's cool about Lovecraft is that he is from Rhode Island so a lot of his stories have a kind of New England flavor that entwines the historical accuracies with his fictional ideas. Gods & Monsters was based on the movie Bride of Frankenstein, especially the character of Dr. Frankenstein and his struggles between his dreams of making a man from dead corpses and the eternal questions of God's law and whether it was right.
 
Summon: Do you have any side projects?
Johnny: I do not have any side projects. Virus Cycle is a full-time project.
Summon: Who are some of your musical influences?
Johnny: I have many musical influences, but there are a few that are very important to the make-up of Virus Cycle, both musical and non-musical alike. Vocally a majorly important influence for this project is Ogre from Skinny Puppy. His influence totally changed the way I deliver my vocals as well as thinking outside the box and using a more theatrical delivery. Guitar-wise, my favorite band is the two original guitarists of Orgy. I love how Ryan Shuck and Amir Derakh produced soundscapes of fuzz rather than just normal high-gain technical guitar parts. Non-musically, definitely different horror authors inspire my lyrics as mentioned earlier (Lovecraft, Matherson, Shelley, Stoker, King and Poe).

Summon: Which current bands?
Johnny: I love bands like Kidney Thieves, Skinny Puppy, KMFDM, The Birthday Massacre, Tarja from Nightwish, In Flames, Psyclon Nine, The Ludovico Technique, Bush, Midnight Syndicate and many more.

Summon: Have you guys ever played in another country?
Johnny: No but we hope to in the very near future, especially in the U.K.

Summon: How big of crowd shows up at shows usually?
Johnny: Size can range. We have played small shows of like 10-15 and we have played in front of big crowds like 250-300 when we opened up for Mindless Self Indulgence.

Summon: How is the crowd response when you play?
Johnny: Crowds definitely seem to enjoy our music. The bigger the crowd, the more crazy it gets. On the other end, the smaller the crowds the more mellow – but that's cool too because they are still listening, chilling out, drinking some beers. They are still enjoying it.

Summon: What is the scene like over in your country?
Johnny: The scene is good and has many promising musicians. Sometimes the politics piss me off but I guess you will find that in any scene. You just gotta keep your head down and keep going.
Summon: What made you want to be in this band? And if you weren't in this band what would you being doing now?
Johnny: I love making music and having an outlet to write about the topics that I love. If I wasn't in a band, I wouldn't have that outlet and I would truly miss it like I did the two years I took off.
Summon: What does the future hold for the band?
Johnny: More shows and many more releases. Tetralogy of Horror: Acts I – IV will be released as four separate E.P.'s between 2013 and 2014 through Bluntface Records. Visit the websites below for up-to-date information and free music downloads.
Contact them at:
https://www.facebook.com/viruscycle
http://www.reverbnation.com/viruscycle
http://www.bluntfacerecords.com/