Vermilion Whiskey
Spirit of Tradition
6 Track E.P
10 South productions
Polymath
Release Date: 10th February 2017
By: Pagan Hel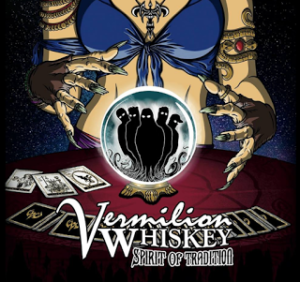 Vermilion Whisky – Lafayette, LA
Links:
https://www.facebook.com/VermilionWhiskey
Genre: Rock/Hard Rock/Metal
Biography:
"Hailing from South Louisiana, Vermilion Whiskey is a working man's band, steeped in whiskey fuelled Rock-N-Roll tradition. Their musical roots run deep like river veins stretched across their beloved home state & beyond. VW lives for the thrill of the stage, no matter the crowd size, you will find 101 proof Vermilion Whiskey. Where the good times roll, they can be found, sharing their own brand of hard-nosed rhythms with any and all who live to pass a good time! Long live the riff!"
~~~~~~~~~~
Born in 2010 you can really feel the bands pulse with the first track 'Road King' generating that southern feel. It draws up imagery of driving down one of America's long freeways on a good solid Harley and letting the wind blow through your hair, so certainly good driving music!
Vermilion Whiskey – Road King
The gut-wrenching riffs are fuelled with menacing devilment and wholeheartedly pump a few gallons of blood around the system on listening for sure.
A lot of the band's influences simply shine through on this album like Sabbath for instance, with deep pulverising bass hooks and good solid vocals, not similar to Paul Rodgers but a lot deeper!
Gritty, and eager to seduce with their special brand of rock they will have you gurning in front of a mirror with a hairbrush in no time at all.
The band more than dangle a carrot in front of the Donkey and like the Donkey, you will obey their commands with each riff and blended rhythm that comes your way and a sure-fire way to get your hair dried faster than a conventional method!
No nonsense, no frills just seductive methods of engaging the general metal public with hearty rhythms so the head connects to it in no uncertain terms!
Flanked with repetitive and intrusive beats and rhythms it can only do one thing and that gives the listener a good compelling listen from start to finish.
The doom element Sabbath brought to the tablet is running rife in Vermilion Whisky's tracks. So profound and mesmerising and although it isn't anything new to behold so to speak, it still manages to hit all the right spots and leave one feeling exhilarated for the experience.
Seeded with plenty of deep rhythms and overwhelming presence this is one forthright E.P with balls! It is music you can feel in the gut and turns the skin on resulting in goose-bumps and plenty of quivering spines!
The hearty growling vocal is just what the doctor ordered and I could have this in an IV no danger at full strength and administered daily! This medicine is good medicine and guaranteed to cure the blues!
9/10
Track List:
Road King
The Past is dead
Come Find Me
One Night
Loaded Up
Members:
Thaddeus Riordan – Vocals
Ross Brown – Guitar
Carl Stevens – Guitar
Jeremy Foret – Bass
Buck Andrus – Drums