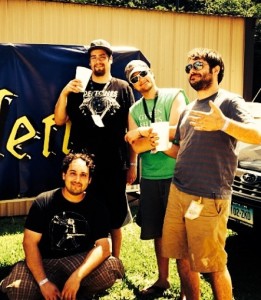 Summon: How did the band get started? 
Ian: We all just met up after college, started writing music and sort of fell into the New York City club scene.
Summon: What kind of music do you play?  
Mike: We're a mixture of a bunch of different styles, but people consider us to be progressive rock with metal and jam influence.
Summon: How has the band response been?
Ian:  Just overwhelming, to be honest.  Everywhere we go, people have been really enthusiastic.  We never seem to have to ask people to move up to the front of the stage when we play and we never really expected such a great response, especially considering we write seventeen-minute long pieces of music.
Summon: Where did the band name come from?
Geoff:  It's a chemistry term, because we're nerds, haha.  It refers to the bonding power between atoms.  With the band, we're trying to combine a number of different styles of music to make something cohesive, expressive, and energetic.
Summon: Introduce the band members
Chris:  Mike and Geoff both play lead and rhythm guitar.  Ian slaps the bass and I play drums.
Summon: Who writes the music? Lyrics?
Chris:  Mike and Geoff write most of the riffs but the whole band collaborates on the overall direction of the music.
Summon: And where do the lyric ideas come from?
Geoff:  Well, we're an instrumental band, so no lyrics.  Our new EP, Laser Baron, though has a story that goes along with it that I wrote.  It's about a scientist who is turned by greed to build a laser for the military that ends up ripping a hole through space and time.  He's transported to a future where his technology is used to oppress people.  We wrote the music in a way we thought told the story, which is how we organized the whole EP.
Summon: How many albums/cd's have you released?
Chris: We have released two studio albums.   We released our debut LP, Sleepwalker two years ago and we've followed that up with our EP Laser Baron.
Summon: Tell me about some the songs on the latest CD?
Mike:  It's a three track EP that tells a story.  The first track, "Laser Baron," is about a scientist who abandons his benign energy research to build a laser for the military.  The second track portrays the scientist's journey as he gets sucked into and travels through the "Wormhole."   "The Reckoning" is the concluding track of the EP where the scientist is transported 200 years into the future, acquiring special abilities and discovering the company he helped find is now a weapons manufacturing company who is in the business of manipulating world governments. 
Summon: Do you have any side projects?  
Everyone:  Nope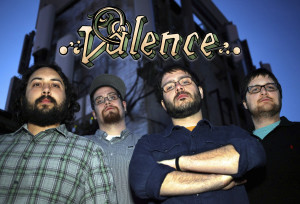 Summon: Who are some of your musical influences?  
Mike:  Geoff and I studied classical music and are both influenced by a lot of classic/prog rock and metal bands such as Yes and Rush and King Crimson.  Chris studied jazz and grew up playing to Elvin Jones and Chad Sexton of 311.  Ian pulls influence from Space Hog and Me First and the Gimme Gimmes and is very influenced by Victor Wooten and Jaco Pastorius.
Summon: Which current bands?  
Mike:   We are all into the current prog rock and metal scenes.  We all listen to and are influenced by bands like Between the Buried and Me, Mastodon, Dream Theatre, Periphery, Umphrey's Mcgee and cant we cant forget Limp Bizkit.
Summon: What is the band like when you play live?  
Ian:  Live is a different ball game, we want to put on a show and always do something a little different.  People buy our record and when they come to our show we want give them even more.  The way we see it, why pay for the same thing twice. 
Summon: What was the best band you played with?  
Ian:  We played with Clutch and The Sword in Port Chester at the historical Capitol Theatre.  What an awesome night!
Summon: Have you guys ever played in another country?  
Chris:  Not yet.  But Sleepwalker was streamed live in the UK on TBFM Online.
Summon: How big of crowd shows up at shows usually?  
Geoff:  In our local scene it has gotten to the point where we fill the venues to capacity when we play.  We've been branching out more and more people have been coming to our shows every visit thereafter.  A few years ago it was just friend and family and now we actually have our own scene.
Summon: How is the crowd response when you play? 
Mike:  People go absolutely fucking crazy.  We've experienced everything from break-dancing to moshing. 
Summon: What is the scene like over in your country? 
Chris:  It's kind of a big country and we've only taken over a part of it and every scene we go, we meet new people but always receive good feedback.
Summon: What made you want to be in this band?  And if you weren't in this band what would you being doing now? 
Ian:   It was all about the music for me.  We would have each won the noble peace prize in each field.  We're huge nerds.
Summon: What does the future hold for the band??
Geoff:   To continue putting out albums and hopefully make a lot of $$$.
Contact them at:
https://www.facebook.com/valencemusic
https://www.youtube.com/user/ValenceBand
https://twitter.com/valence_band
http://www.reverbnation.com/valence