Tytan
Rough Justice
12 Track Album
Plus bonus Track
Released 1985
Reviewed by: Pagan Hel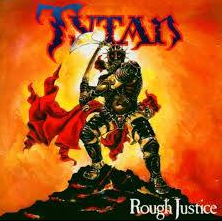 Tytan – London
Links:
https://www.facebook.com/TytanOfficial
Genre: NWOBHM/Heavy Rock
Biography:
"Tytan are a British heavy metal band that formed at the height of the New Wave of British Heavy Metal in the autumn of 1981 by the former Angel Witch rhythm section, bassist Kevin Riddles and drummer Dave Dufort (ex-E. F. Band), Scottish vocalist Norman 'Kal' Swan, and guitarists Steve Gibbs and Stuart Adams. The latter left within months and was superseded by Gary Owens (ex-A II Z, Aurora) before Steve Mann (ex-Liar, Lionheart) settled in more permanently and now Executive Producer for the band.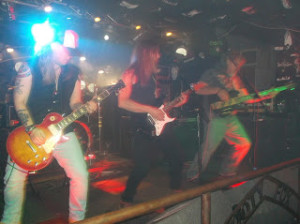 NWOBHM Tytan
Signed to Kamaflage Records, a subsidiary of DJM, Tytan recorded their lone album at Ramport Studios in Battersea with Will Reid-Dick manning the boards. Former Judas Priest and Lionheart drummer Les Binks joined the band just in time for the recording in place of Dave Dufort. Jody Turner of Rock Goddess made a guest vocal appearance on the song 'Women on the Frontline.' Binks would be replaced by Tony Boden on the band's October 1982 UK tour with the Tygers of Pan Tang who was gone shortly thereafter, replaced by Simon Wright (ex-Tora Tora, A II Z, Aurora)! The band are currently writing a second follow up album to "Rough Justice" touring the UK and confirmed to appear at several European festivals in 2016!"
Blind Men & Fools
The vocals on this track are just tremendous and weaved alongside are some deep sonic rhythms that bristle with true heaviness. With a very catchy chorus and strong backing vocals this is one track that holds addictiveness by the bucket load! This is NWOBHM at its utter best!
Money for Love
This track has edge and attitude as well as the catchy grooves that inflame with sheer passion. Spiced up with the powerful vocal chords and compelling bass hooks it fires on all cylinders and really grabs the attention.
Women on the Frontline
The jangling rhythms are fiery and fierce.  It shows an outpouring of increasingly devilish riffs that holds a voraciously raw and intoxicating side with very poignant lyrics that are helped along by Jody Turner of Rock Goddess bringing out a very 80's feel.
Cold Bitch
Ever quickening rhythms and bold metal strides are glorious and triumphant – you can easily see why the band have adopted the name Tytan and for good reason! The addictive catchy chorus is ear consuming and forthright.
Ballad of Edward Case
Is played at a maddening pace with stinging guitars and simultaneously flexible drumming that make their mark and how. The sing a long further on in the track with its jangling keyboard notes really gives it a smile factor.
Rude Awakening
Is a rhythm that Kev says he nicked from rock gods Led Zeppelin's track Kashmir, however they have molded it into a rhythmic agitation that is worthy of building on such a monumental track.
The Watcher
Explodes into a frantic drum beat and monstrous rhythms that grip the imagination with extensive creativity as the keyboard comes into play and ravishes with a sultry poignancy.
Far Cry
This track is deliciously intense and roars with vehemence while still being soft and gentle in places. The bouncing rhythms are hungry and will grab the attention providing a very unusual track.
Sadman
Is a very poignant track that gently ambles through its paces emerging as a beautiful ballad, however suddenly erupting into a powerful and creative groove it dictates heavy elements that simply stomp until returning to its elegant and humble beginning.
Forever Gone
Back to the more rumbustious element of raucous metal stabs and voracious beats it holds fiery essences that are again catchy and forthright.  The lure of bass and antagonizing riffs are never far away.
Don't play their way
Holding a rampageous riff that is so sharp it simply shreds the ears along with a hard rock edge it fights its way through a melodic grazing and reaps big rewards.
Far side of Destiny
This opens with another poignant amble that suddenly explodes into a tirade now a Tytan trademark! The vocals and harmonies have reached utter perfection.
Reap the Whirlwind
Giving Kev the chance to show what he can do with his bass as the long drawn out hooks reverberate, harsh levels, taunting and teasing their way through the track. It is rather a seductive track with its own catchiness that weaves through a malevolent provocativeness.
Summary:
Taking a nostalgic trip down memory lane this album transports the listener back to the 80's when NWOBHM was at its peak and enjoyed by millions around the globe.
Only recently seeing the band perform live at the highly acclaimed Snooty Fox in Wakefield, and seeing them perform most of the tracks on this album I can honestly say that personally I didn't want the gig to end, because it didn't get more pleasurable than that!
Hearing the album conjures up some great moments of what was a truly memorable evening. Thanks to Kev's banter with the audience it is plain as the nose on your face that Tytan are now bigger and bolder than they were in the 80's and it is great to re-live these moments surrounded by the 21st Century, although, I wish I could rewind the clock and re-visit the past as being part of something that was new and at its peak can never be forgotten.
The catchy melodies and chorus' contained on this album are ripe for head banging moments and at the heart of what metal is about – total fulfillment!
I am just glad I was able to experience it back then just as I was to experience it in Wakefield.
But if you love NWOBHM and big riffs then this album is a must! It is totally timeless!
10/10
Tracks:
Blind Men & Fools
Money for Love
Women on the Frontline
Cold Bitch
Ballad of Edward Case
Rude Awakening
The Watcher
Far Cry
Sadman
Forever Gone
Don't play their way
Far side of Destiny
Bonus Track
Reap the Whirlwind
Members:
Kevin Riddles – Bass (Ex Angel Witch)
Steve Gibbs – Guitar
Steve Mann – Guitar (Ex Lionheart)
Kal Swan – Vocals
Les Binks – Drums (Ex Judas Priest)