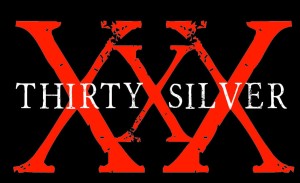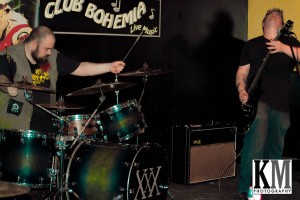 Summon: How did the band get started?
Drew: Joe and I met when we were both in other bands.  After my band fell apart, he offered to fill in on drums, and from the first rehearsal it was just really powerful and felt like it could be so much more than a fill-in situation.
Joe: The place responsible for all the best meetings of people, Craigslist.

 
Summon: What kind of music do you play?
Drew: We play loud, grungy, punked up rock and roll.

 
Summon: How has the band response been?
Drew: It's been good!  People seem to like it.
Joe: The most common thing I've heard is how surprised people are by the energy and fullness of sound we can produce being only two of us, and being able to break people of what they expect a two piece band to sound like has definitely been good.

 
Summon: Where did the band name come from?
Drew: Well we were rolling down the highway one day and batting around band names, and I tossed out Thirty Silver.  It's a name that I liked for a lot of reasons; the connotation of the prices you pay for things you want being one of them.  Also, it just rolls off the tongue.

 
Summon: Introduce the band members
Drew: Well I play guitar and sing, and Joe is on the drums.

 
Summon: Who writes the music? Lyrics?
Drew: We write the music together; I tend to write the lyrics, but Joe helps shape them.

 
Summon: And where do the lyric ideas come from?
Drew: Everything. I'm blessed to lead an interesting life where I meet all sorts of people; angels, devils, and everything in between and beyond.  A lot of introspection, deep diving into my own head, too.

 
Summon: How many albums/CD's have you released?
Drew: We've independently released two full-length CD's, and we just put out our first EP, "Lost Saints", on our own record label, Tux Cat.

 
Summon: Tell me about some the songs on the latest CD?
Drew: The whole thing is just filled with guitar and drum rock.  A real favorite of mine is Martyr, the penultimate track; it cooks.  It's like letting The Birthday Party loose on a Zeppelin song.
Joe: Martyr is definitely a favorite track for both of us, and one that's gone over really well live. GOAT and Someday are both quick blood-pumping rockers while the others show a little more depth. Overall I think this album especially showcases the transition we've been making from "I just want to fight everybody" punk rock to finding "our" sound and running with it.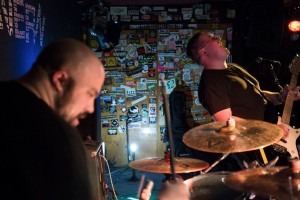 Summon: Do you have any side projects?
Drew: No, this is it right here.  This is the project.
Joe: I seem to be always doing something, small projects or live drumming. Currently though I do also play drums for the band Gwell-O, which is a GWAR inspired metal/punk group, part tribute part original.

 
Summon: Who are some of your musical influences?
Drew: Oh I love everything.  I grew up listening to a lot of classic rock; Zeppelin, CCR, Springsteen, the Doors, and then I got into metal, things like Maiden and Testament being two of my favorites.  I'm really into a lot of '80s and '90s alternative, things like Black Flag, Mudhoney, Local H, the Toadies, and Mission of Burma.  I could go on but I won't.  I'm a lover of all music, really.
Joe: I enjoy pretty much anything based on guitars and drums, but would say most influenced by heavy bluesy hard rock and metal, and bands that tend to cross genres and mix in different elements. Metallica, Led Zeppelin, Black Sabbath, Tool, Alice in Chains, Soundgarden, just to name a few.

 
Summon: Which current bands?
Drew: There are some great bands out there.  I saw Aeges last year and really loved them.  One Eyed Doll is a great two-piece from Texas, really nice people and so good live.  And I'm a big fan of Screaming Females from Jersey, fantastic, grungy trio, and I really admire both their music and their DIY ethos.
Joe: Oh man, Alter Bridge, Halestorm (their drummer Arejay is crazy awesome), Lamb of God, Hurt, Trivium.

 
Summon: What is the band like when you play live?
Drew: Intense.  We like to leave it all on the stage.
Joe: Neither of us are strangers to coming off stage drenched in sweat, exhausted, sore, bruised, maybe a little bloody.

 
Summon: What was the best band you played with?
Drew: Oh man, I can't answer that.  I'll forget somebody.  I love a lot of the bands we've played with.
Joe: Way too many to list, it's hard to even think of a single show we've played where there wasn't at least one other band that was really good.

 
Summon: Have you guys ever played in another country?
Drew: Not yet.  It's in the cards, hopefully.

 
Summon: How big of crowd shows up at shows usually?
Drew: It depends really, where we're playing.  Between 1 and 100.

 
Summon: How is the crowd response when you play?
Drew: My favorite phrase: "I had no idea that was about to happen." People always seem surprised to see a duo pulling it off.
Joe: The number of people who running screaming in terror is usually much less than the number of people who get really into it.

 
Summon: What is the scene like over in your country?
Drew: The scene's pretty different all over America.  Here in Boston, it's fun.  Love it in upstate New York, the Midwest, and New Jersey, too.

 
Summon: What made you want to be in this band?  And if you weren't in this band what would you being doing now?
Drew: I wanted to be in this band because Joe's the best drummer I've ever seen and he makes me want to write better songs, play better, and take on the world.  If I weren't in this band, I'd probably be in another band that wasn't as good.
Joe: It's still funny to me, when I first hooked up with Drew that was as a side project to what was my main band at the time, just something kinda fun and a little different. But it has since grown into so much more, largely due to the dynamic we have working together and being able to push each other to better ourselves. If I wasn't in this band I'd be trying to find another band that can fill that need for musical creativity as best as possible.

 
Summon: What does the future hold for the band??
Drew: That would spoil the surprise.
Contact them at:
https://www.facebook.com/thirtysilverband/