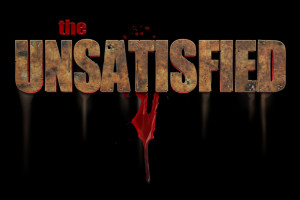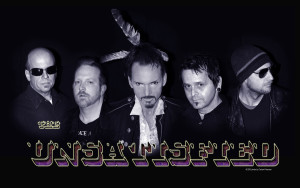 Summon: How did the band get started?
Eric: The band was born Halloween night 1986.  A friend had confessed personal issues to me that night so I said "Let's start a band".  We both loved The Cramps.  That was the beginning of the curse.
Summon: What kind of music do you play?
Doug: They call it Southern Glam Punk.  It's a mixture of all of our influences.  Everything from punk rock to Woody Guthrie.
E.T.: It's a good blend of everything… things you wouldn't expect us to listen to individually.
Eric: We play all forms of rock & roll.  It's all mixed in us.
Summon: How has the band response been?
Eric: We're winning new fans around the world every day.  
E.T.: Apparently in India the word Unsatisfied has to do with needing sex…  I think that's a great way to get fans.
Summon: Where did the band name come from?
Eric: On the back of The Cramps EP "Can Your Pussy Do The Dog" there was a movie poster in the background for the film "The Unsatisfied".  There was also a great Replacements song "Unsatisfied".  Those were both real strong influences for the name.  That name seemed befitting for how I view life.
Summon: Introduce the band members
Doug Bales plays drums, E.T. plays bass, Joel Hastings plays guitar as does Johnny Stockman.  Eric Scealf  handles the vocals.  
Summon: Who writes the music? Lyrics?
Eric: It's a collaborative effort when it comes to writing the music.  I write the lyrics. Sometimes I'll bring in full song ideas too.  That's how "The Lovin" came to be.
Summon: And where do the lyric ideas come from?
Eric: Sometimes life experiences, sometimes nightmares.  Things that interest me most are darker themed realities.  I approach the lyrics as a confessional.  The one thing I can't lie to.  Things I've seen that nobody should see… that stuff comes out in the lyrics.  It's the truth about me, what I did and where I'm going.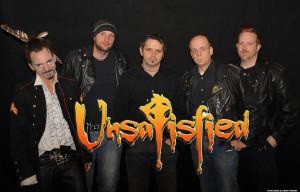 Summon: How many albums/CD's have you released?
"Blood Gospel" (single) (2012)
"Songs the Belt Taught Us" (2011) 
"The Way 2 the Crumbs" (2006)
"Seven Inch Rock Scar" (2002) 
"Real Gone Pale Face "(1998)  
Summon: Tell me about some of the songs on the latest CD?
Doug: We have released two radio singles from "Songs the Belt Taught Us" that have both done well.  We just released a video for "Morbius" on Halloween. The song is about the Marvel character from Spider Man and we mixed in an old school horror feel.  We also have music videos for "The Lovin" and "Apocalypse of Joan", the singles from that CD.
Eric:  It took a long time to come up with that list of songs.  Some were written early 2000's and some were done shortly before we went into the studio.  It was the most ambitious and committed work that we've ever done.  All those songs are powerful.  The new single "Blood Gospel" is a continuation of the "Belt" and a taste of what is to come.
Summon: Do you have any side projects?
 Doug: I play drums in an "Americana" group called Uncle Lightnin'.
Eric: I have acted in several films as well as co-producing some of them.  I enjoy film work.  
Summon: Who are some of your musical influences?
Eric: Rolling Stones, The Cult, Stooges, New York Dolls, Queen, The Damned, The Clash just to name a few
E.T.: I could take up an entire page naming bands.  If it's good music I will listen.
Eric: We're influenced by more than just music.  We draw from graphic novels, cult movies and real world issues.
Doug: We try not to sound like anybody else.
Summon: Which current bands? 
Eric: New York Dolls, Rolling Stones and The Cult are still current.  We do love Turbonegro and Gallows.
Doug: Jane's Addiction is good.
E.T.: Refused is back together and playing shows.  If you don't know Refused, you should.
Summon: What is the band like when you play live? 
Eric: It's like church, only you get to be yourself and raise hell.
Doug: It's high energy, non-stop, visual and sonic onslaught
E.T.:  We're like the A-Team of real deal Rock & Roll.  If you ever need to let it all hang out, and you can find an Unsatisfied show… then you will love The Unsatisfied
Summon: What was the best band you played with?
Eric: I love everyone we've ever played with.  We will play with anyone who is serious about this thing.  
Johnny: We've played with a few legends like Misfits with Marky and Dez.  
E.T.: Dave Brockie Experience and Nash Kato… Murphy's Law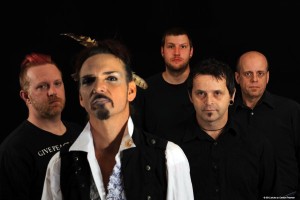 Summon: Have you guys ever played in another country?
Johnny: Does Clermont Lounge in Atlanta count as another country?
Eric: We hope to play the UK soon.
Summon: How big of crowd shows up at shows usually?
Doug: We've played to every number from 5 to 5,000
Eric: We concentrate on the performance rather than the size of the crowd. 
Summon: How is the crowd response when you play?
Eric: People usually get laid shortly thereafter.
E.T.:  It is usually intense… especially for the first-timers. 
Summon: What is the scene like over in your country?
E.T.: SAD
Doug: In our part of the country, the "local" scenes can be somewhat close minded.  We've struggled to book gigs in some instances.
Eric: And we've been banned more than once. The current constantly changes.  We just keep on doing what The Unsatisfied does.  We feel the music "culture" that we represent is dying at the hands of Beiber and the like.  We're out to change that.
Summon: What made you want to be in this band?  And if you weren't in this band what would you being doing now?
Eric: I was called to start this band, either way I am a preacher. 
Doug: I was in the original inception of this band and left for a few years, only to be drawn back by the power of The Unsatisfied… It's like an addiction.
E.T.:  I don't want to do anything else but if I had to, I would be President.
Summon: What does the future hold for the band??
Doug: World Domination
Eric: More Luv.. more Blood… more musical exploration.  More shamanism.   The Unsatisfied has always been on the front line of Rock & Roll and it will always be our struggle to do it in a thoughtful and intriguing way.  This is a journey to the very gates of hell if need be. 
Contact them at:
http://www.facebook.com/theunsatisfied
https://www.myspace.com/theunsatisfied
http://www.reverbnation.com/theunsatisfied