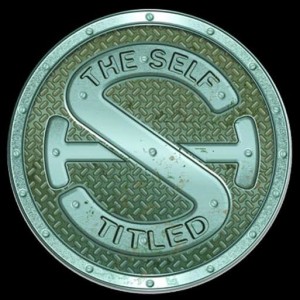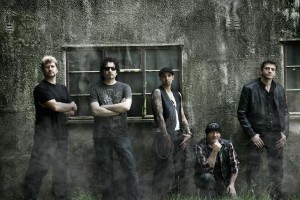 Summon: How did the band get started? 
Paul: (founding member) Well it all began back in 2003, four guys wanting to play music for the masses!! things were a bit different in those days we played our own songs and quite a few covers mainly in pubs and small clubs our sound back then was a mixture of punk rock with heavy riffs, We had some success and seemed to go down well when we played, we recorded a few demo discs which were fun but as with quite a few bands members moved on, so over the years we have had quite a few. The band went on its merry way for a number of years then in 2008 we were hit with a tragedy our bass player Adrian (another founding member) suddenly passed away, it shook all members past and present, the band came to a full stop!! Only after a couple of years (2010) I decided to see if I could get THE SELF TITLED up and running again, much thought was given into what direction the band should head into, rock and metal and always been my passion so thought this is the way forward and started to look for new members who were serious about their music and see just where we can take TST.
Summon: What kind of music do you play? 
Jim: We play a hybrid of grunge, hard rock, nu & thrash metal. We all bring in our own feel to The Self Titled sound making it quite unique. A combination of pounding drums, groove-laden baselines and harmonized rhythm breaks. Providing a rich foundation for soaring powerful vocals and skin-stripping lead guitar.
Summon: How has the band response been? 
Paul: when we got our first few songs together, which are from are debut album "DEFACED" and played our first few gigs it was used as a bit of an experiment to see what people thought of the new material and listen to the feedback we got, we were very pleased when told it sounded quite unique a mix of rock and metal with groove. And the reviews from "DEFACED" speak for themselves. Check them out on www.theselftitled.com
Summon: Where did the band name come from?
Daz: Paul came up with the name when he started the band years ago. But I think it's a clever name as it's easy to fall into the cliche of having a name which categorizes your music. With The Self Titled it's not obvious what the music is going to sound like, Then BOOM!!!!
Summon: Introduce the band members
Jim: We have, and in no particular order. Dan on vocals, Paul on drums, Steve on Bass and Backing vocals, Daz is on shred master on lead & BV, and myself (Jim) on rhythm and BV.
Summon: Who writes the music & Lyrics?
Steve: On this album it was mainly myself. Some too with a previous guitarist "Dan Wright" and our drummer "Paul Brander". Lyrics are by me and the previous singer "Mark Campbell". On the new album due to be recorded soon we all write and music the lyrics are by our new singer "Daniele Gatti".
Summon: And where do the lyric ideas come from?
Dan: The new ones are mostly about personal emotions and experiences. I usually follow inspirations that I run into in my everyday life, anything that strikes a chord in my imagination, from books to real life situations.
Summon: How many albums/CD's have you released?
Daz: To date we only have released the 1 album DEFACED which is available from the website and at live gigs. There maybe a few shitty demos floating around but we don't take about that lol. Who knows they might be worth something one day!
Jim: DEFACED was released back in 2012 and is still getting great reviews. Dan and I joined the band back in April 2013, and DEFACED is the initial reason we decided to join. We plan to record our second album in the summer (2014) and in some ways it'll be quite different given that myself and Dan have brought in some different influences to the mix.
Summon: Tell me about some the songs on the latest CD?
Daz: Some of them would fall into the hard rock genre and some into the metal genre. The next album is going to be pure metal as we have a new singer and have dropped the guitar tuning down from drop D to drop C.
Summon: Do you have any side projects?
Daz: I play a part time role as Slash in Guns 'N' Roses Tribute Guns 2 Roses since 2006. I enjoy it very much as there's not the pressure that an original band has as it sells itself. I've been lucky enough to of traveled all over the UK and venture into France; play some amazing venues in front of huge audiences, which is why I decided to play music in the 1st place. Also Slash was one of the guitarists that influenced me when I was getting into music so to be able to play him onstage is quite a personal achievement for me.
Summon: Who are some of your musical influences?
Dan: they're pretty diverse, ranging from classics like Black Sabbath and Bay-Area thrash metal to groove (Pantera above all), alternative/grunge (Alice in Chains). Actually, every time someone sees us live we get different feedback about who we sound like, which I think is a sign that we've got a distinctive sound.
Daz: I've always loved the riffing from Metallica so they would be in my influences along with Godsmack, Slipknot and GNR.
Summon: Which current bands? 
Steve: We are all into all sorts of music generally but I think we all are into similar stuff, personally I am into Stone Sour, Machinehead, Metallica, Sabbs, Drowning pool, Rammstein, Rob Zombie..I think probably Paul is similar with his likes, Daz is into Guns and roses and Godsmack, Metallica etc, Jim and Dan pretty much the same really.
Summon: What is the band like when you play live? 
Daz: Very tight and big sounding. I guess like a well-oiled machine. The bigger the stage and audience the better we sound!
Summon: Have you guys ever played in another country?
Steve: This band has been through a couple of years of ups and downs settling new band members till we have the solid line up we have now, and moving forward, so the answer is at this point no, but we have new professional management now (Black Radar Management) who this year should be working toward that goal and more. Individuals have played abroad in other bands.
Summon: How big of crowd shows up at shows usually?
Daz: It all depends when and where we are playing. If we are playing a well-established music festival then we can expect a few thousand. But in general we usually have a fairly decent crowd. It can prove quite a challenge to get people out and to gigs nowadays especially if the promoter doesn't do his/her job properly. All bands have to go through it though and we are no different.
Summon: How is the crowd response when you play?
Steve: Well every time we play people come to us after the show and tell us that the band was very exciting live and that we seem to come out like a whirlwind on stage and its pretty much non stop energy from start to Finnish and that it shows we really enjoy what we do. We love playing our music too the public and it's a pleasure to us if they are enjoying. That's what its all about. The fans.
Daz: They can get fairly nutty! We always get good reviews and people coming up after and telling us how much they enjoyed the show. I have many people come up to me and say that it's not their usual style of music but they still loved. What does that say?!
Summon: What is the scene like over in your country?
Daz: It could be better. At least there is a scene in the UK. Just very hard to get to where you want to be and bands have little support from the industry since the birth of the internet. Most original bands rarely get paid for their live performances.
Summon: What made you want to be in this band?  And if you weren't in this band what would you being doing now?
Dan: the strength of the existing music material at first, the good vibes and confidence with the band from the first gig afterwards. I thought it would be a great opportunity to both write great songs and deliver killer gigs, and its working.
Daz: I was looking to get into something more heavier after my previous band was a melodic rock band. Also it's about finding the right people that also take it serious enough to want to progress and hopefully one day be able to make a comfortable living from music.
Summon: What does the future hold for the band??
Daz: Fingers crossed we will have a new album out later in the year along with a single and music video. We have recently signed with Black Radar Management and we are looking forward to with working with them to get the band out on tour and appearing at a venue near you soon. In the meantime keep an eye on the website www.theselftitled.com and the facebook page for any news/gigs.
Contact them at:
https://www.facebook.com/TheSelfTitled