The Guilt
Self-Titled
10 Track Album
Heptown Records
Polymath
Release Date: 5th May 2017
By: Pagan Hel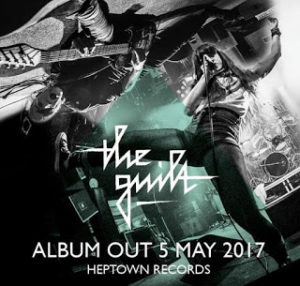 The Guilt – Malmö, Helsingborg, Sweden
Links:
https://www.facebook.com/theguiltsweden
Genre: Lazer-Punk
Biography:
"In 2012 lazer punk duo The Guilt made their first appearances. Formed in Helsingborg, Sweden by vocalist Emma and multi-instrumentalist Tobias and born from the tragic death of an old friend, the duo decided to start fresh. Inspired by everything they ever listened to in the nineties; The Guilt became their channel for dispersing frustration through dancing and shredding guitars.
Instead of replacing their friend behind the drum kit, the duo played all the synths and drums through an iPod. This was later replaced by a Roland synthesiser and the duo have gone from strength to strength; exploring the dichotomy between the genres, screaming louder and adding glittery gold in everything.
Thanks to their simple set-up, the pair have dished out their visceral punk fusion in lounge bars, squats, galleries, apartments, offices, barns and venues all over Europe. In 2015 The Guilt released their first E.P named "Die" on both Heptown Records and later on Suicide Records in 2016. The single entitled "Dance to the Revolution", was released, and was inspired by the Emma Goldman quote "If I can't dance, it's not my revolution".
In 2016, their debut self-titled album was recorded and is set for release on Heptown Records on May 5th, 2017. With a diverse starting field of songs, The Guilt put a lot of thought into finding the right brains for the mixing and producing. Three skilled people: Gustav Brunn (Atlas losing grip, Lawgiver) Alain Steffler (Le Prince Harry, Experimental Tropic Blues Band) and Joakim Lindberg (MFMB) have left traces on this album, explaining lazerpunk.   In 2017 The Guilt will be sweating across Europe with their fully loaded and improved "drummer". Laughing, screaming and dancing. Don't miss out!"
~~~~~~~~~~
Before I have even listened to one note I know I am going to love this… and as the first note appears I am instantly drawn to its rapturous presence and wondrous harmonies it just compels you to – well dance! The title is very typical of punk but the synth just brings the track alive, so bring on the Cunty Mess! Which is also the band's single taken from the very same album.
Cunty Mess
Moving on to another punky synth rowdiness track called Hate Hate Hate that stomps happily across your heart with absolute glee. Emma is a complete whirlwind who delivers the goods with absolute perfection! Feel the bass, feel the riffs, feel, the completeness of a track that gels magnificently incorporating its synth splendour with punky aggression. I Don't Care jabs and thrusts its malignant threads towards the ailing hearing system especially if you have the volume on 11, I like to feel the rumble in my gut, the screeching riffs and the well-balanced harmonies all doing their thing and producing another excellent track that makes my toes itch because I can't dance and type at the same time! I just know it begins with a scratchy rhythm and bristling beat that is addictive believe me it is! Emma ploughs through the track outlining her utter happiness at singing her heart out that much is very apparent! Sorry back in a bit, I need to move my carcass! Hi again! After a thoroughly exhausting jaunt around the living room, glad to get that out of my system! Bad Things brings out a darker side to The Guilt with a slow tempo but highly heavy and rubs shoulders with a superb riff that is fuzzy and moreish with great synth keeping it interesting! I can honestly say there are no bad things here. Anomalies possess a bouncy rhythm that must be obeyed and you have to at least try to keep track of the rhythm although it just runs away with you and leaves you in that eternal quadrangle drooling in a dark corner utterly spellbound! It's not me it's you focuses on some fantastic drum beats and juicy synth notes at the start with deep bass so you are already half way to finding another favourite track and once again Emma comes into the limelight and adds her glorious lethal vocal to the proceedings. When the Honey comes is a very strange title and begins with some rasping noises and devilish melodies that can't be ignored, simply because they won't let you, being such a demanding track – sorry off again to brutalise my body! I might just cover it in honey and sweeten the effect this time! Give it is a grinding explosion of wild, untamed aggression that pushes its attitude on to the listener and becomes a bully. This kind of bullying I welcome with open arms. Its exuberance is overwhelming and likes to remind us it is vile and enslaves the senses with its continual catchy swagger.  Ovaries I can't believe this is the final track on the album – time flies when you are having fun for sure! This one has some stop-start moments and spacy noises but mainly a rumbustiousness that cackles in the face of innocence as it gives a right hook to the jaw and savages the ears with musical boxing gloves!
This is one album I have become fixated with like a drug you want more and more and once you get it you are satisfied for a time until the effects wears off and that's when the repeat button comes in handy, for the extra fix, chose your strength and get down and dirty with its mutating grooves… This is punk with a big difference!
The band describe themselves as Roxette with knives – I beg to differ more like Nancy Spungen with a machete!
10/10
Track List:
Cunty Mess
Hate Hate Hate
I Don't Care
I just know it
Bad Things
Anomalies
It's not me it's you
When the Honey comes
Give it
Ovaries
Line-up:
Emma Goldman – Vocals
Tobias Kastberg– everything else!