Superhalo
"Bang Bang"
2016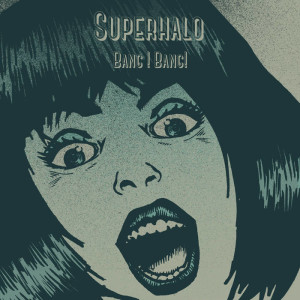 Superhalo is a kick ass Polish band with so much sexy and so much appeal, you find yourself asking, "Where has this cool vibe gone in our current selection of contemporary alternative music?" So much of this authenticity has left the music industry in place of click tracks and electronica samples, it's enough to make you sick. Conviction tells you when listening to Superhalo, that these guys feel the exact way a lot of us do.

If you have been missing some real rock music in your life and are sick of the everyday corporate sponsored dung being trudged out, please please give these fellas your undivided attention. These men are pure rock and roll, all soul and no bullshit.

"Bang Bang" is the second release from this quartet from Porażyn, Poland. Vibes and influences certainly stemming from Velvet Revolver, Queens of the Stone Age, Tom Waits and Foo Fighters, to name a few. If you are a fan of grunge, stoner rock or just awesome alternative music… you cannot help yourself but to be drawn to these superior melodic grooves.

'Soma' is the first song off the album that hits you with a sensation of feel good emotion and infectious flow. These guys know how to get you off your ass… or at least get that thang rockin' back and forth to the beat. It's a smooth track with flare without taking too much away from itself.

'Danger! Poison' is an absolutely fantastic track that provokes emotion and has a true feeling of grit and realness. The vocals from Kidd, with backing tracks from the band are done in English and this seems to be a wise choice. This song slips and slides through your bones, hitting you in every direction with its coy poise, while combining with lyrics, oh so lustrous. From this track on forward, it's hard to not let them sink their teeth into your skin and fill you with their venom of sultry swag.

'Droga Do Nikad' is another badass song that rubs you in all the right places. This is a feel good song that is really driven by the bass from Świnia Wrzos and drums from Swoboda. Giving it their all, heading this track into such a kick ass breakdown, you're sure to be vibing off it for days.
Another key track is 'Mamy Jeszcze Czas', which wastes no time revving up. Before you know it Superhalo takes you by surprise once more with another sweet little jam that is sure to have the ladies dancing and the men in the room feeling like they can take on anything. Great guitars from Domin and Simon send us over the edge of temptation.

Music to drive to, music to chill, to music definitely worth listening to. Superhalo is an absolutely stellar band and they are bringing back what has been missing in contemporary alternative for quite some time. We can only hope that a resurgence of this kind of music is well on its way of coming back around… and if so, these guys should have a front row seat to the action.

Thanks for keeping Rock & Roll alive, Superhalo.

Tracklist:
1. Intro
2. Soma
3. Danger! Poison
4. Droga Do Nikad
5. Catching Tides
6. God Awaits Me Across The River
7. Zabierz Mnie Stad
8. Wszystko Inne Gdzies Zniknie
9. Mamy Jeszcze Czas
10. Bang Bang
https://www.facebook.com/SUPERHALO
Members:
Kidd – Vocals
Domin – Guitars/Vocals
Świnia Wrzos – Bass
Swoboda – Drums
Simon – guitars
Rating: 10 out of 10
~LL