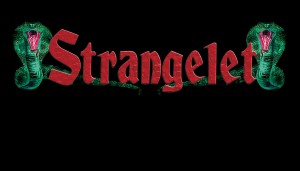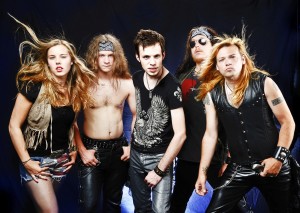 Summon: How did the band get started?
Stefan: Hi! I am Stefan, the singer of STRANGELET. In 2012 we have started  STRANGELET in the actual lineup and heavy rock style!
Summon: What kind of music do you play?
Stefan: We call it "HEAVY ROCK". It is kinda Hard Rock -80´s influenced of course- on one side of the coin, and Heavy Metal in the classical melodic way.
Summon: Where did the band name come from?
Stefan: Was  an idea founded in science lesson at school couple of years ago, haha! No deeper concept behind the name, sounds interesting and good, that´s the whole story behind, smile! 😉
Summon: Introduce the band members
Stefan: Tobias play guitars and is very creative in writing songs and bigger and longer guitar-solos, hahaha! Jonas is our Hammond- and keyboard-wizard as well as the sound-engineer and producer of STRANGELET. Finn plays bass and kills beers and the lovely Jessica is our Goddess on drums!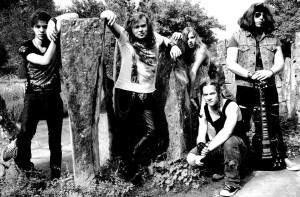 Summon: Who writes the music? Lyrics?
Stefan: We all write songs and bring in ideas! The battle begins in rehearsal! 😀 Tobi writes some interesting lyrics, but most of the lyrics are my "babies" 😉
Summon: And where do the lyric ideas come from?
Stefan: Heavy influenced by life itself. I love writing little stories and lyrics about my life, my experiences, my fails, my hopes, believe and love-stories, hahaha! Some weird stuff, some sad, some euphoric. And no dungeons and dragons 😉
Summon: How many albums/CD's have you released?
Stefan: "First Bite" is –as the title says- our first full album release worldwide!
Summon: Tell me about some the songs on the latest CD?
Stefan: Songs of faith, love and devotion! Muahahaha! Pure Hard Rock killers like "Nothing" or "Hell & Back", (we hope!) no fillers, some unemotionally heartbreaking ballads like "Stillborn" and "All That´s Left", even some headbanger´s stuff as "Privilege Of Power". We just play, what we love. No compromises, no master-plan. Just writing, recording and performing live! Strangelet´s philosophy 😉
Summon: Do you have any side projects?
Stefan: Nope. Full concentration on STRANGELET: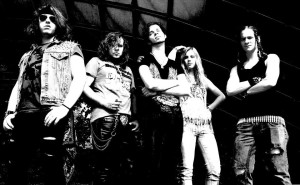 Summon: Who are some of your musical influences?
Stefan: Uhhhh, hard question. We listen to different kind of bands at home. I am fan of 70´s prog rock (Yes, Genesis, Gentle Giant), I also love classic Hard Rock and Metal (Deep Purple, Rainbow, Guns´n´Roses, Iron Maiden, Dio…) as well as newer stuff from great bands like Motorpsycho or MONO. And I love Pearl Jam, Testament, Bonamassa and Mozart, haha! No limits. I love music. It is just that simple. Maybe this variety influences my music. I really don´t care 😉
Summon: What is the band like when you play live? 
Stefan: We are wild and rough, hahaha! We REALLY love the big shows from 80´s acts like Mötley Crüe, Poison, Alice Cooper and so on… we want to entertain with music AND show. As told in our lyrics to "Tainted": Sex and Rock and roll, we will never fall! Haha! 😉
Summon: What was the best band you played with?
Stefan: Too many cool bands and musicians to pick one particular out of them! 😉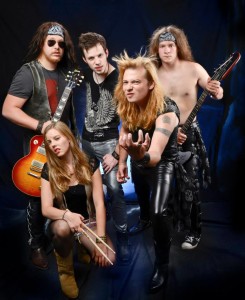 Summon: Have you guys ever played in another country?
Stefan: We are working on this right now 😉
Summon: How big of crowd shows up at shows usually?
Stefan: Uhhhhh, depends on the show and location! We have played gigs in front of even less than 30 friends up to festivals with hundreds of metal-heads! 😉
Summon: How is the crowd response when you play?
Stefan: Yeah, I really think that we are a "live-band"! We love to perform our songs and even do some covers in our own style (for example "Enter Sandman" with keyboards, muahahaha!) and our fan-base is getting bigger and bigger these days! We are honored about that!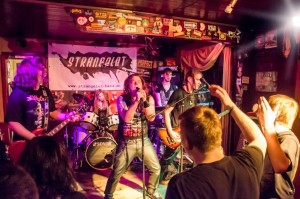 Summon: What made you want to be in this band?  And if you weren't in this band what would you being doing now?
Stefan: I love my band-mates! It is like a relationship. Sometimes trouble, sometimes screaming but most of the time deep love and respect! Uhhhh, if I weren't in STRANGELET… I think I would just doing my 9-to-5-job here in my hometown. I work for homeless people in our city hall! 😉
Summon: What does the future hold for the band??
Stefan: We are writing songs for The follow-up to "First Bite"! We want to release it next year! Also we are playing some great festivals and shows in Europe. We play with great musicians such as Mike Tramp (White Lion) shows and we are happy to rock the stages!
Thanks and keep on banging, folks!!!!
Contact them at:
http://www.strangelet-band.de/
https://www.facebook.com/Strangelet2009
https://www.youtube.com/user/StrangeletTV