Star Dancer
Welcome to my World
10 Track Album
Star Dancer Records
To be released 20th April 2016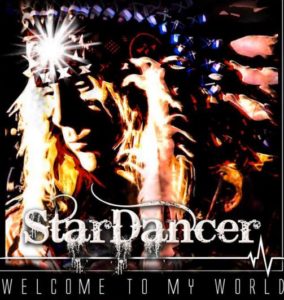 Star Dancer – Detroit Michigan USA
Links:
https://www.facebook.com/Stardancer13/
Genre: Rock n Roll Alternative
Bio:
"Hailing from Detroit Michigan, Star Dancer is a musical project conceived and created by The Star Dancer for the purpose of bringing the light & community back into the world of music & beyond.
Sharing the Native American ideals of the whole is greater than the sum of its parts, Robert Star has used his rebirth with the native sacrament Ayahuasca to become close with the creator and see the world & the people around him in absolute truth. Robert has been able to put his blessings into a rock n roll masterpiece album titled Welcome to My World!"
~~~~~~
No idea what to expect from this 10 track monster album, but on pressing play it seems that Star Dancer are a bit of a throwback from the 80's with this high powered excitement guzzling track which is titled the same as their album Welcome to my World. The next track Earth Mother Dancer – holds a bristling rhythmic intensity that rawks with a great sense of appeal. Third track up Great Sexpectations – is a track about being loved up obviously and flirts with a catchy chorus and a jagged riff!
She's in love with Joan Jett – is a title to be reckoned with as its melodic grooves sound very tongue in cheek. It makes reference to 'I love Rock n Roll'
The Weed don't Lie – is quite an ambient slumber as you would expect, sounding like a Pink Floyd track with added sound effects and immerses the aural with harmonious vocals, and really gets into its planetary moment.
High & the Mighty – starts with a superb bubbling riff that explodes and sees Star Dancer breaking out of its comfort zone if only slightly. The effects are still far reaching with fantastic female vocal that adds great imagination and drama to the track.
Annie – Is a very 'comfy' track that possesses some strange lyricsalong with a very Radio 2 sort of feel attached to it.
Unbelievable – Throws us back into a void of magical riffs and slinky rhythms that festers under the surface. It is a cover of course, but executed with the bands imaginative stamp on proceedings and I feel better than the original, with added female vocal and unearthly sound effects! It is quite unbelievable!
Intravenous Flytrap – This tracks swaggers with a brashness and comfortable charm that imposes a captivating rhythm, embracing the ears with decent hooks and grooves.
Before I Die – Bit of a WTF moment here of deadly sore vocals and an awful acoustic accompaniment at the start. Thankfully it is short lived as it twists into a somewhat better landscape but far too popular for me to like this track.
I am slightly out of my comfort zone with this album it has to be said, but there are a few moments of salvation to be had, so as not to plunge it into the far recesses of the CD collection, however it isn't a CD that I could play over and over again as I feel playing this CD just once is enough, saying that I have found myself hitting replay for my favourite tracks and feel that maybe this album will grow on you in time as it is slowly doing to me……
My favourite track High & the Mighty will definitely sneak past the marker post to be played a few times extra for its uplifting and addictive resources that are catchy, experimental in delivery and highly regarded. Kate's vocal has a bit of a young Tina Turner going on I do believe.
The next favourite being Unbelievable which has Star Dancer'smark indelibly stamped on it and again catchy as!
A lot of it is very tongue in cheek which is why I always fear the word 'Alternative' although Star Dancer have a lot of psychedelia and rock n roll attached to them, making them different to say the very least!
Finally, I have succumbed to Star Dancer! 
8.5/10
Track List:
Welcome to my World
Earth Mother Dancer
Great Sexpectations
She's in love with Joan Jett
The Weed don't Lie
High & the Mighty
Annie
Unbelievable
Intravenous Flytrap
Before I Die
Members:
Tosha Owens-Vocals -Tambourine
David Black – Lead Guitar
Wally Filipiak- Guitars – Vocals
Michael Massie- Bass – Vocals
Jerome Day – Drums
Kate Sky Dancer – Vocals