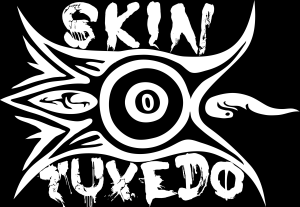 Skin Tuxedo is an uncompromising Danish alternative rock band with nerve and soul. It is never the intention to make mainstream music to please a certain type of crowd. The goal is to make relevant music that touches people. Whether it´s beautiful, atmospheric and melancholic songs or dirty rock songs.
The band started as a solo project by Ivan Boel Stenger in 2012 and signed with Sliptrick Records later that year.
Ivan Boel Stenger has many years of experience in writing songs and lyrics. He started playing at the age of 12. Back then he was a drummer, but when he was 15 he started writing his own songs and has done that ever since. Ivan is a self-taught musician. He was inspired by his father who also was an active musician on both guitar and keys.
Ivan is also a member of Delirium Cordia (Industrial metal) and Colliding With The Aliens (metal, progressive rock)
In June 2013 Ivan started a collaboration with guitarist Jesper Dalsgård who is a scilled musician with lots of experience in various local bands. They have been practicing an acoustic set and are now ready to play gigs where ever the opportunity may present itself.
Skin Tuxedo will keep challenging themselves and the listener with original music that doesn't sound like everyone else. There is always a new song in the making. The journey has just begun!
Jesper Dahlsgård: Guitar/Bass
Ivan Boel Stenger: Vocals/Guitar/Drums/Piano/Bass
Releases:
Skin Tuxedo – "Skin Tuxedo" 25. Marts 2013 (EP)
Skin Tuxedo – " Harlot Of The Night" 15. November 2013 (Album)
Band pages:
www.reverbnation.com/skintuxedo
www.facebook.com/SkinTuxedo
Contact: istenger@yahoo.com
Mobile: +45 21 49 85 81