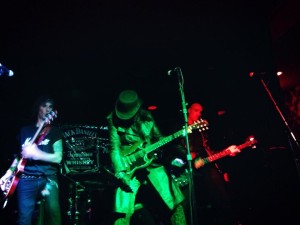 Summon: How did the band get started? 
HYde: The band was formed in Seattle WA in 2006 at a New York Dolls Concert! I saw some likely looking suspects and we started talking about a band that had the excitement of Glam and the edge of Punk! We wanted to be as pretentious on stage as possible just to be extremely different from all the shoe-gazers cookie cutter non image bands around at the time!
Summon: What kind of music do you play? 
HYde: GLITTERPUNk…a mix of Glitter Rock and Early Punk!!!Some people group us into the Sleaze-rock category. Really it's just rock n roll…the devil's music…where have all the bad boy's gone? I created the songs with a decidedly current feel but I write what I want to and I've always had the same influences, no matter what the flavor of the day was/is. I am a prolific writer…I dream of songs and get up at 3 in the AM and put em down on my portable cassette player! I don't own a computer, a cell phone or a TV station. I rent horror movies every night when I'm not on the road. I don't have a job and I'm free to work on my own stuff during the day. I practice my set every day and write new material. I also do some art…painting, sculpture and drawing.
Summon: How has the band response been? 
HYde: AMAZING…Makin' new Rabid fans and Fanatics at every show. Join the Sisterhood!!!I hear this a lot…"I haven't been excited at a show for a long, long time!"…I hear a cheer of repressed rock and roll fervour at our shows! People, no matter where, want to be entertained! It's like a Glam monster taxi cab..pickin up new and faithful fans one at a time.
Summon: Where did the band name come from?
HYde: Sister Hyde is a 70's British "Hammer" Horror movie! Jeckyll turns into a KILLER woman! I wanted something as androgynous as Alice Cooper and I wanted a band name, not just my name. It works well don't you think? Like Mister Hyde but Sister Hyde! I've always had a fascination with the Dickensian period of London, where I'm from. Cobble-stoned streets under gas lamps where HYde feels at home hiding in the shadows of the London fog.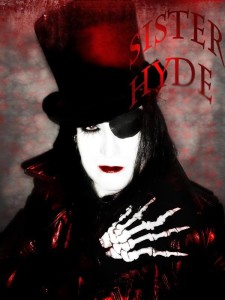 Summon: Introduce the band members
HYde: HYde (myself) on lead Vocals and Lead Guitar, Wayne B. Rost from Marseille, France on Bass, Tommy Gunn on Drums and Johnny B.Badr on Rhythm Guitar.
Summon: Who writes the music? Lyrics?
HYde: I write all the music and lyrics and arrange the tunes. I have over 100 songs…too many tunes is my problem…I'm trying to sell some of 'em…Wanna buy one? I dig The Beatles tunes….They cover the 5 W's of song writing. They tell stories, they have harmonies and mid-eights, bridges and catchy choruses. I have songs that you remember walking out of a show and you can't say that about too many bands!
Summon: And where do the lyric ideas come from?
HYde: Real life experience! I live or have lived my songs…relationships gone wrong, feeling trapped, feeling horny…the human condition. Characters, my lyrics are character -driven. I have created myself through my lyrics and my character and I sing 'em all differently…like an actor would approach different roles. It's kinda my unspoken gimmick and again, most other singers, bands are one-trick ponies, that is, what you see and hear in the first 3 minutes what you are going to get for the next hour. They are limited by a style, voice and repeated moves. With me, you never know what I'm going to do next! I have devil may care attitude and a controlled recklessness…I call it "The theater of chaos."
Summon: How many albums/CD's have you released?
HYde: The debut Sister Hyde self-titled album was released in 2007 and we were signed to the Italian label Heart of Steel Records. You can hear it @  www.reverbnation.com/sisterhyde.  The new album "Sex Change" was just released last month! Hear it @  http://www.tedaxe.bandcamp.com/ .The first album had 6 years of work on it…17 songs all recorded at the same studio with the same producer, Brandon Bush, who took me under his wing and recorded me for free during my time in Seattle. It's interesting cuss it's got 6 different lineups as far as drummers and bassists but it all sounds like the same session! The new album was recorded in Milwaukee WI. in 2010 and the vocals were added a year later! I used session players on it and my producer was Jack LeTourneau, who has worked with Iggy Pop, Joan Jett and David Johansen. He has been around and it shows. The album has the kind of rare sound and playing that many bands would give their eye teeth to have. It has the ideal sound and execution for a Rock band. It's heavier than the first and the lyrics are more explicit! There is a mad tension in the vocals and the solos I play are electrifying! No filler here…all 100% rock and roll…all great songs that are bound to become classics!
Summon: Tell me about some the songs on the latest CD?
HYde: "High Maintenance Bitch" is about someone I knew in LA when I lived there! "On The Rails" is an ode to marching powder."I Wanna Have Sex With You" is about well…,"Cock of the Town" is a play on words,"Death City" is about being trapped in a place you don't want to be…(kinda the story of my life),"Little Miss Mousetrap" will catch you in her trap and "Peter Pan Syndrome" is about giving advice to yourself and it being time to grow up! With all the testosterone flowing through these songs, I wanted to write something sincere for the album and it Rocks."Sex Change" is about "my baby being a sex change! I like to keep my audience guessing as to my gender preference …gotta have that androgynous thang going on in the true 70's Glitter rock tradition. We like to play Pride every year and we have been embraced by the Gay press!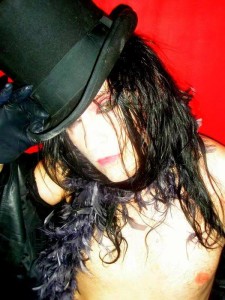 Summon: Do you have any side projects?
HYde: I am currently recording my more eclectic tunes with a producer here in Toronto who again is doing me for free and am making videos of 'em. There is a Rap tune, a Goth, dark electro romp entitled "Necromance" and some acoustic ballads t5hat show my other more sensitive side Some of it is pretty deep and heavy emotionally so it gives me a chance not to waste the songs that I can't do in Sister Hyde. It's my HYde solo project and I am trying to license them and/or sell them to other more known artists. i am going to be releasing them on an album soon. It will be called Jeckyll, the other side of HYde!It's working out great! If you go to sisterhydeband on YouTube, you can hear 'em!
Summon: Who are some of your musical influences?
HYde: Bowie during his Ziggy/Alladin Sane period,Alice Cooper band,Iggy and The Stooges,NY Dolls,Sex Pistols,TRex,Mott The Hoople and James Brown and The Beatles are some!Although my stuff has an 80s vibe, my influences are all from the 70s…the coolest period!
Summon: Which current bands? 
HYde: Sister Hyde!!!
Summon: What is the band like when you play live? 
HYde: Decadent, Delicious and Delinquent!!!Picture this…dry ice and fog partially obscure a red stage and then the band comes on .Flashing strobe lights animate the band as we head into "On The Rails" kick-starting the audience's endorphins in a sexually-charged introduction to the world of Sister Hyde! There are no breaks to catch a breath as one tune after another is discharged onto the audience! I am very demonstrative and theatric and my right strumming arm and hand paints pictures in between chords that go along with my suggestive lyrics I'll have a focus and I am an entertainer…I was born to do this and the audience gets their money's worth. It's non stop piledriver of a show and at the end, there is a finale…a spectacle that makes us a very hard act to follow. I am bringing back the Rock n Roll spectacle. We ALWAYS get an encore!
Summon: What was the best band you played with?
HYde: Veins of Jenna in Seattle and LA Guns in LA! We hope to get the opening slot for Judas Priest at Pride 2014 in Toronto next year!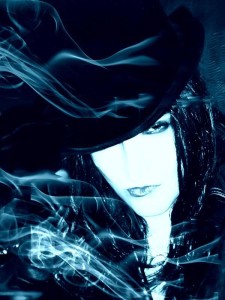 Summon: Have you guys ever played in another country?
HYde: Sister Hyde did a European jaunt in 2010! Holland and Germany were OUTstanding!INSANE!!!There Rock appreciation is at an all-time high!
Summon: How big of crowd shows up at shows usually?
HYde: 100-300 minimum in smaller venues and 1-10,000 in mid-size to arena size.
Summon: How is the crowd response when you play?
HYde: RABID!!!
Summon: What is the scene like over in your country?
HYde: Canada has is a Brilliant scene…there is always something going on as far as events ext for bands to play in Toronto! It's considered the best city for music in the world right now but the worst audiences! People here are up tight and self-conscious. They are sexually repressed and afraid of their bodies and so…they don't dance, they only move or show appreciation when it's safe to do so. They tend to stand at least 10 feet from the stage and there is a space in front of the stage…that is until I coax them up to the stage with my charm! ha!.Montreal is French and only 6 hours away and it's the opposite. There, they are liberal and very physical and emotive! I LOVE playing there! Still…the world needs more Canada!!!
Summon: What made you want to be in this band?  And if you weren't in this band what would you being doing now?
HYde: This band is me…one side of me! I am the eternal punk and rockstar. I dress this way everyday…top hat, eye makeup, pale face, painted on black skinny jeans, beetle boots, leather black trench coat and gloves. I want to incorporate stage sets as I am set designer and illustrator as well! I would most likely be an illustrator if not in a band OR I might most likely be in jail!! I live on the edge. My moto is "Have a good time all the time" and I have an extremely addictive personality. I want it all and I want it now…all the time. I am an extremist. On stage I am over the top, a storm trooper and I channel Iggy and The NY Dolls, Jim Morrison and David Bowie. Success to me is doing what you love and loving the way you do it! Life isn't about finding yourself…it's about creating yourself! I am my own sex symbol…I think that hero and celebrity worship today is gross…you have to be a celebrity and your own star! Why put other band's videos on your FB site..you are only selling records for them…put your own stuff up, create your own art, music, style! If you have an original style…a voice that stands up and shouts…this is me…then you will be successful! Aim Big and walk tall! Shrinking does not do the world a service.
Summon: What does the future hold for the band??
HYde: WORLD DOMINATION!!!
Contact them at:
https://www.facebook.com/Sister.Hyde
https://myspace.com/sisterhyde
http://www.reverbnation.com/sisterhyde