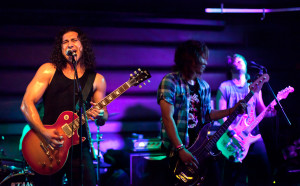 Summon: How did the band get started? 
Chris: SESTRIC has so far been a solo project that got started by my desire to create the kind of rock music that I wanted to listen to. Of course my hope is that other people will share my musical tastes and like what I create.  My band mates in SESTRIC are friends from other bands that I have been a member of as well.
Summon: What kind of music do you play? 
Chris: "Hard rock & roll" would best describe the bulk of the material. To be more specific the music on my record "Something About The Snake" is a diverse blend of rock where a couple of the tracks have kind of a thrash metal vibe and then a song like "Send Me To Heaven" is way the opposite with sort of an R&B/Blues Rock kind of a feel.
Summon: How has the band response been? 
Chris: It's been unbelievable.
Summon: Where did the band name come from?
Chris: My real name is Chris SESTRIC – and there you have it. 
Summon: Introduce the band members
Chris: Since this has been primarily a solo project I am the only permanent member of the band as it stands now. Here in Los Angeles the main guys that have been my live rhythm section are twin brothers from Japan – Yutaka Ichiyanagi on drums and Satoshi Ichiyanagi on bass. Adam Sweet has helped me fill out the sound with rhythm guitar and background vocals. When I have played my hometown of Pittsburgh, PA long time friend Ben Hubacher has taken over drum responsibilities, with Derek Porupsky on Bass.
Summon: Who writes the music? Lyrics?
Chris: On my record Something About The Snake, I wrote all of the music and lyrics for every song.  This past year I have created rough drafts of somewhere between 60 to 100 songs, as I start to hone in on the direction I want to go in for the next record I may bring in other people to collaborate with this time around.
Summon: And where do the lyric ideas come from?
Chris: Mostly real life experience with a little bit of fantasy and stuff that I think is funny or irritates me.  
Summon: How many albums/CD's have you released?
Chris: Sestric has 1 official release, "Something About The Snake".
Summon: Tell me about some the songs on the latest CD?
Chris: Something About The Snake is a massive 18 song record so there is a lot to talk about, but I will address some songs briefly. In addition to "Something About The Snake" being the title of the album, it is also the name of one of the songs that I feel is the most self-introspective, and lyrically interesting tracks on the record. Relating myself to a snake is a metaphor to being a loner, surviving despite limited resources in regards to everyday life, but even more so in a divine, why do I exist kind of a way.  Musically, the song has an Alice In Chains mixed with Tool kind of a vibe, which is a lot different from the other songs on the record. "Just Want You" is an exaggerated take on a true story of me getting hit on by a rock star's girlfriend. It has a very 80s sleaze rock kind of a vibe, as does "Out Of Your League," "The Morning After,"F.Y.M.F.," and "Such a Bitch." "Running Out Of Time" is a solo acoustic track that I wrote the night before my 25th birthday, because I think I have an aging phobia. Many of the songs were written just to feed my own sense of humor such as; "Here I Am' – which was me wishing to be perceived as the second coming of Christ,  "If She Only Had A Brain" – dedicated to valley girls and plastic perfect women of Beverly Hills, and "Bitch Named Internet" – which I cover porn addiction and treating the internet like it was your secret mistress. I think there is a common theme to a lot of my songs having to do with wanting to be free from what government, big business, and religion try to mold people into. "Done With Authority" and "Believe" are two songs from the record that embody that sentiment.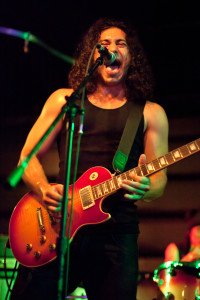 Summon: Do you have any side projects?
Chris: I will often play guitar for other bands or artists in need of a temporary replacement. I also compose a lot of instrumental music that often gets added to music libraries that try to license it for film and television.
Summon: Who are some of your musical influences?
Chris: Steve Vai had a huge impact on me wanting to master the guitar and pursue music as a profession. Axl Rose, Brian Johnson, Sebastian Bach, and Chris Cornell are some of the singers that have definitely influenced me vocally. I think rock and metal records that came out in 1991 and a few years before and after had the largest influence on my musical tastes. Guns N' Roses was king and I loved Metallica, Megadeth, Pantera, Nine Inch Nails, Faith No More. I was into the early alternative rock/grunge movement like Soundgarden and Alice in Chains. I would also have to give credit to Zeppelin, Sabbath, Stones and Hendrix as having a significant influence on me. 
Summon: Which current bands? 
Chris: I don't think any bands that have become big in the last several years influence me. I would say some of the newer bands that I enjoy listening to would be A7X, Wolfmother, 5FDP, Huntress, Asking Alexandria, The Last Vegas and super groups like Black Country Communion, Winery Dogs, and Slash with Myles Kennedy. 
Summon: What is the band like when you play live? 
Chris: Hot and Sweaty. 
Summon: What was the best band you played with?
Chris: The Yardbirds were the headlining act when we played our first show as SESTRIC at the Key Club in West Hollywood.
Summon: Have you guys ever played in another country?
Chris: Not yet, but I've gotten really close to Mexico.
Summon: How big of crowd shows up at shows usually?
Chris: It depends on the size of the venue and what other bands we are playing with, so far the range has probably been between 50 and 1000. 
Summon: How is the crowd response when you play?
Chris: People seem to dig it; I have always made new fans every time I play.
Summon: What is the scene like over in your country?
Chris: The United States is bingeing on Mylee Cyrus right now.
Summon: What made you want to be in this band?  And if you weren't in this band what would you being doing now?
Chris: It's my band, my music, my art and vision so that's why it will always be a part of me. If I'm not focusing on Sestric as a band, I am always involved in music whether it be playing in other bands, composing music or teaching guitar.
Summon: What does the future hold for the band??
Chris: Expanding the fan base, new music guaranteed, maybe some music videos, hopefully will be performing more frequently in 2014.
Contact them at:
https://www.facebook.com/Sestric
https://twitter.com/sestricmusic
https://soundcloud.com/sestric