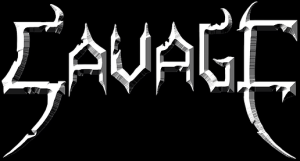 Savage
7 + Live & Lethal
12 Track Studio Album
& 15 Track Live Album
Minus 2 Zebra Records
Released 9th October 2015
Written for Crimson Moon Zine
By: Pagan Hel
Savage – Mansfield Nottingham
Links:
https://www.facebook.com/savageuk
Genre: Heavy Metal
Biography:
Savage – The Legend
"Hailing from the heart of the UK, Savage where born out of the need for a bunch of teenagers to put their own stamp on the hard rock scene. At just 18 and 15 years of age respectively, founder members Chris Bradley and Andy Dawson first set alight to the Nottinghamshire music scene by rampaging through covers of their heroes such as Thin Lizzy, UFO, Deep Purple and Van Halen. But the band weren't dragging their heels when it came to penning original tunes and were soon wowing local audiences with a blend of energetic new metal. As a result they were invited to participate in 1981's seminal compilation album 'Scene Of The Crime', contributing two barnstorming tracks 'Let It Loose' and 'Dirty Money' which would both go on to become stage favourites as the band's star rose.
It was clear the band were head and shoulders above the rest of the crowd. A copy of 'Scene Of The Crime' ended up in the hands of Lars Ulrich and before long the newly-formed Metallica were playing Savage tracks themselves, famously recording 'Let It Loose' which set them on the road to creating their brand of thrash metal and securing their first deal. At around the same time, Savage were offered their first deal. The band's double A-Side single 'Ain't No Fit Place' c/w 'The China Run' had been released to strong reviews, and in 1983 Savage released their legendary debut album 'LOOSE 'N' LETHAL' which not only received rave reviews but was soon acclaimed as the best-selling metal import album in America.
By now Savage were gigging across the UK although focussing their efforts especially on London where Kerrang favourably reviewed a number of their gigs. In 1984 the band went to Europe and shared the bill with Metallica and Venom, at the now legendary 'Aardschok Day' playing to 10,000 people and again receiving outstanding reviews. Metallica knocked at the dressing room door and asked to share a beer with the Savage boys; the bands would later meet again in London where more beer drinking ensued, this time for a Kerrang article on real ale! In 1985 Savage released their second album 'HYPERACTIVE'. The album received a full 5K review in Kerrang, followed by a UK tour with a homecoming sold out show at the Mansfield Civic Theatre, outside of which many years earlier Bradley and Dawson had first met giving birth to Savage. But despite the success of the first two albums and live shows, the lack of support from both labels and management caused much frustration and resulted in the band finally folding in 1986.
Bradley and Dawson continued to make music separately for the next few years until due to demand the band reformed with original drummer Dave Lindley to record the comeback album 'HOLY WARS' in 1995. The album sold well across the UK, Europe and Japan and the guys played a cracking set at Germany's Heavy Oder Was festival. Maintaining the momentum they recorded their fourth studio album 'BABYLON' which demonstrated Savage's ability to craft powerful, punchy classic rock, with Bradley's almost sneering vocals and thundering bass counterpointing Dawson's outright riffing and searing solos, showing that British rock bands can have attitude, grit and punch! The new millennium brought 'XTREME MACHINE', an album full of mean, grooving rock which brought new fans to the band and was followed a year later with more live shows, the band hitting America for the first time with new boy Mark Nelson on drums before performing a stunning show at Wacken.
Joined again by drummer Mark Nelson and new guitarist Kristian Bradley, Yes! Chris's son and Andy's Nephew, the band spent 2011 preparing songs for 'SONS OF MALICE'. Released April 2012 'SONS OF MALICE' once again showed the band were in touch with the contemporary metal scene without losing sight of their traditional British roots, an aspect recognised by the significant number of positive reviews the album received worldwide. Shows throughout Europe proved the band had not lost any of their bite live! In fact new boys Mark Nelson and Kristian Bradley have given the band a new energy wholly apparent from barnstorming sets at Hard Rock Hell VI, CRF 13 and a legendary performance of the entire 'LOOSE 'N' LETHAL' album in reverse at the Head-bangers Open Air Festival 2013. In a neat twist High Roller records issued a collectable vinyl version of 'SONS OF MALICE' that includes bonus tracks from the album recording sessions. Although material for their next release has already been written, they have now recorded a live album that really captures the powerful excitement of the band on stage!"
~~~~~~~~~~
I am the Law
From the off this album will smash your brains out with more than a slice of lemon and what a great feeling it is to feel the rousing tempestuous rhythms swamp the aural and lavish the senses with energetic wildness. It's catchy and addictive in all the right places and a real stomping head banger of a track!
Lock 'N' Load
There are early Judas Priest influences here as well as Thin Lizzy contained within this track as well as the first. It definitely transports a rocker back to the 80's with gusto and a sense of ultimate alluring happiness as once again the familiar rhythms swarm around you and cloak you in brilliant riffs.
Empire of Hate
This is quite a stodgy track that bristles with edginess and hard rhythm. The sharp riffs engage on all levels and offers a hearty feast to the head banger. A little more dramatic and broody than the previous tracks but still an emotive track none the less.
Super Spy
Is a rather sneaky track that holds plenty of mischief and parades its grand landscape with a tenacious light that shines on the favoured few.  Its melodic hues are sharp and outlined with a feisty intrusiveness. The harmonies blend superbly.
Circus of Fools
Really gives the guts something to feast on as the rampageous riffs scuttle feverishly and the beats add to making the blood coarse around the veins in an unbridled fashion.
Crazy Horse
A very different opening for this track with a tribal leaning until it burst into its sequence of hard rhythms and raunchy riffs. It really twists and turns into a feast of imagination that has strong character.
Speed Freak
This possesses all the signs for keeping up with its title. The harsh and brash rhythms are cutting and bruising and remind me a little of Motorhead although not as Lemmy would sing it but it has the same contempt for the ears. Love it!
The Road to Avalon
Slowing things down to a more sophisticated melodic stance and is an acoustic track with harmonies. Not the strongest of tracks on the album but does show diversity.
Children of the Night
Bodes an ominous opening and then launches into a vehement rhythm that ignites! Lying on a bubble of tempestuous rhythms it isn't too far removed from Sabbath when Dio took the vocals. It is one hell of a good track that holds plenty of addictive qualities.
Payback's a Bitch
Loves to twist and turn with bristling madness, unpredictable and boisterous and you can also add in dynamic to that as it really incites a storm – vibrant to the last!
Shake the Tree
This track judders under its own weight and pulverises the sense into a form of submission as it lavishes its magnetic encounter to the ailing ears. It feels good to have the volume up and enjoy the smacks that hit the guts as your head will not stop moving. One fiery track indeed.
Heads will roll
Another heavy track that throws out some amazing beats and hard core riffs. The potency is harsh and unyielding. Dirty and menacing it is one 'savage' track that whips up attention make no mistake.
Track List: For 7
I am the Law
Lock 'N' Load
Empire of Hate
Super Spy
Circus of Fools
Crazy Horse
Speed Freak
The Road to Avalon
Children of the Night
Shake the Tree
Heads will roll
Prelude to Rage
Takes its time but reaches a superb climax only to be cut short in its prime.
The Rage within
Not being a love of live albums usually because the sound isn't as crisp as a studio album I was pleasantly surprised at this track. It is nothing less than perfect and really slams a punch. Infectious and dynamic it's a heavyweight track and produced to good standards.
Black n Blue
Again a crisp start with no weak vocals or riffs. Riding its tempest very well its predatory rhythms are spawned with outstanding brazenness.
White Hot
Simply seethes with a raunchy rhythms that grabs the attention in one fell swoop.
The China run
Has a superb fiery content that smashes the sound barrier and accompanied by a superb strong vocal. This is one track with a great predatory nature that is full on aggression.
On the Rocks
Getting off to a fiery start this one holds a punchy melody and bristles on a rampant bed of rhythms that capture the live mode very well.
Ain't no fit place
This is a dreamy track that spreads its wings and roams around the senses with ease. The guitar riffs are phenomenal and forthright. Furthering on it ups the pace and really gets the head banging in time to the hearty beats.
Dirty Money
The gnarly riffs protrude over a hard and heavy rhythm that ignites and simply erupts into a frenzy! Vocally engaging with a solid bass hook that mesmerises.
Berlin
Hard and heavy the rhythms pump out some supersonic incitement. There is nothing lost here and you can only tell it is a live album when the crowd claps. Quite a resourceful track that possesses some catchiness and bares its soul.
Cry Wolf
Bristles with fire and passion right to the core, its energy knows no bounds at all. Its full bodied rhythms are far reaching and addictive. Gloriously intrusive and leaves one feeling satisfied as the riffs are just crazy phenomenal.
Let it Loose
And in keeping up with its title the band have certainly done that on this track – it has let loose a demon riffer and drummer extraordinaire for sure! It's good old metal madness that leaves you gasping for air as it rampages through the speakers.
Smiling Assassin
Great catchy beat to this one just loving it! It's potent and extravagant the way a rock track should be, with lots of twists and turns on the frets. Lively, bubbly and a great listen.
We got the Edge
This track is taken from the bands Hyper Active album and without further ado – it spawns a host of superb riffs as always no let down there at all. It is another inescapable track that is pleasing and catchy.
Summary
I can honestly say that listening back to back from these two Savage albums has been a superb listening pleasure. They really know how to rock n roll and done it with great style and creativity.
It's great when you listen to a track and immediately feel at home with it and Savage have captures the essence brilliantly.
Their studio album is one thing and their live album another! If you love hard rock and metal then look no further than Savage, you will be pleasantly surprised!
Track List for: Live & Lethal
Prelude to Rage
The Rage within
Black n Blue
White Hot
The China run
On the Rocks
Ain't no fit place
Dirty Money
Berlin
Cry Wolf
Let it Loose
Smiling Assassin
We got the Edge
Members:
Chris Bradley – Vocals, Bass Guitar
Andy Dawson – Lead Guitars
Mark Nelson – Drums
Kristian M Bradley – Guitars