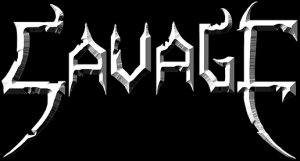 Hailing from heart of the UK, Savage were born out of the need for a bunch of teenagers to put their own stamp on hard rock. At the tender age of just 15 and 18 , founder members Chris Bradley and Andy Dawson set light to the local music scene by first rampaging through covers of their heroes such as Thin Lizzy, UFO, Deep Purple and Van Halen.

But the band didn't drag their heels in penning original tunes, and as they were soon wowing local audiences with a blend of energetic new metal with a sprinkling of covers, Savage were invited to participate in the seminal compilation album: 'scene of the crime', recording two barnstormers: 'let it loose' and 'dirty money'.

It was clear the band were head and shoulders above the rest of the crowd and in a lucky twist of fate this album ended up in the hands of METALLICA'S drummer Lars Ulrich, who bought the album whilst in London. He couldn't wait to get back to the US to share the tracks with his fellow band mates and before long Metallica were playing Savage tracks, themselves! They recorded 'let it loose' which set Metallica on the road to creating their brand of thrash metal and secured them their first deal.

At around the same time, Savage were offered their first deal by Ebony records following the band's double A side single was released to strong reviews, and in 1983 Savage released the legendary 'LOOSE N LETHAL' album which stood out from much of the 'also ran' fodder at the time. The album received rave reviews from all who heard it and it was soon pronounced best selling metal import album in America.

The band played gigs throughout the UK and focused especially on London including the notorious MARQUEE club made famous by Hendrix, the Stones and just about every star band you could mention. The Hard rock and heavy metal bible: 'KERRANG!' reviewed many of the London gigs. In 1984 the band took it to Europe and shared the bill with Metallica and Venom playing to 10,000 people and received outstanding reviews, yet again. Metallica knocked at Savage's dressing room door and asked to share a beer with the Savage boys. They later met up in London where more beer drinking ensued; this time it was for a Kerrang article on 'real ale'!

In 1985 Savage released their second album: 'HYPERACTIVE'. The album received a 5* (K) review in Kerrang! This was followed by a UK tour with a homecoming sold out theater show. Despite the success of the first two albums and live shows, the lack of support from both their record label and management caused much frustration with in the band and resulted in band infighting. So, in 1986, the band finally folded.

Bradley and Dawson continued to make music separately for the next few years until finally due to demand the band reformed with original drummer Dave Lindley to record the comeback album HOLY WARS (on Neat Records). The album sold well here, Europe and Japan and the guys played a cracking set at Germany's HEAVY ODER WAS festival.

Enjoying the return to form, they recorded their fourth studio album: 'BABYLON', which along with the video for the title track, was released to great reviews. The new material demonstrated Savage's ability to craft powerful, punchy classic rock, with Bradley's snearing vocals and thundering bass as a counterpoint for Dawsons outright riffing and searing solos, showing that British rock bands can have attitude, grit and punch! The new millennium brought 'XTREME MACHINE', an album full of mean grooving rock which brought new fans to the Brit Metal anthem boys. This was followed a year later with more live shows – the band hit America for the first time, with new boy MARK NELSON on drums, playing to US fans that had traveled across the continent to get a glimpse of the band. Next up was a trip back to Germany where the band performed a killer show at the famed WACKEN festival to fans old and new. And so…the time is upon us again for Savage to get down to what they do best, classic British Rock. Bradley, Dawson joined again by drummer Mark Nelson and new kid on the block Kristian Bradley on Guitar (son of Chris and nephew of Andy) are already preparing tracks for a new album. A release is planned in spring 2011 on the Minus2Zebra label and initial listenings show that the band are set to return to their roots with pounding Brit rock anthems! So, look out and listen out, the British are coming!