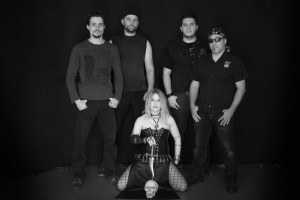 Summon: How did the band get started?
Nicky: Jeremy who had composed several songs riffs asked his ex drummer Laurent in Restful to form a new heavy metal band. Laurent proposed me the project, and we started quite at once to work together. Then they found Alex, the bassist, then Yannick, the second guitarist (ex Restful too).
Summon: What kind of music do you play?
Jeremy: We play modern Heavy Metal, rich of large influences with occult background.
Summon: Where did the band name come from?
Nicky: Sacred Seal symbolizes the real knowledge, the truth, hidden to profanes. Our battle horse is to open the consciousness to those who are looking for. Who are we? Where do we come from?
Summon: Introduce the band members
Nicky Daymond: Vocals
Jeremy Caron (ex restful): Guitars
Yannick Bazola (Hellorwine, ex Restful): Guitars
Alex Stayne: Bass
Laurent Ferrari (Restful): Drums
Summon: Who writes the music? Lyrics?
Nicky: The music was mainly composed by Jeremy, and I wrote the lyrics.
Summon: And where do the lyric ideas come from?
Nicky: Jeremy had the project to create a progressive album in power and in blackness, so as I am fond of concept albums I suggested him and Laurent the story of the incarnation of soul. Every song represents a chal-lenge and trap that we all experiment in this life. Kama speaks about the desire, first source of suffering. Venus Star is about the passion that we call love. The Sphinx's Riddle calls us to the awaking of the conscience to fight ignorance. Evilution shows our faith and enslavement in science , matter, idols instead of the spirit in us. Flow Of Oblivion is about the evasion of reality and responsibility. Me Myself and I tells the drifts of the master of mental, ego. Chains of slavery speaks about ambition. Psychosis about the dualism of justice on Earth and in heavens. House of Sin is a thriller when some fantasies become reality. Judas's Calling is about betrayal. Over the Abyss shows defeatism and regrets. And Holy See is about resignation and rejection of change and evolu-tion.
Summon: How many albums/CD's have you released?
Jeremy: In two years only this one « incarnation ».
Summon: Tell me about some the songs on the latest CD?
Laurent: I think Nicky just revealed for each song.
Summon: Do you have any side projects?
Yannick: Hellorwine, a cover band of Iron Maiden and Sunny Gratz an acoustic duo of French pop.
Laurent: Restful, a heavy metal band.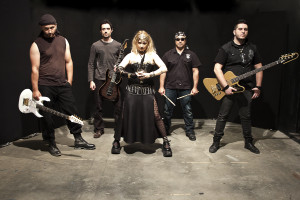 Summon: Who are some of your musical influences?
Alex: Megadeth, Avenged Sevenfold, Symphony X, King Diamond, Pantera, Metallica, Dream Theater, Evergrey, Jorn.
Summon: Which current bands?
Nicky: We all keep listening to new metal bands, but they are legions!
Summon: What is the band like when you play live?
Jeremy: We are as excited as children, and we have fun.
Summon: What was the best band you played with?
Laurent: We will tell you when we have toured much more than now.
Summon: Have you guys ever played in another country?
Nicky: On April 9th we play in Holland for the Femme battle.
Summon: How big of crowd shows up at shows usually?
Yannick: Between 100 to 300 people.
Summon: How is the crowd response when you play?
Alex: We can feel some good surprise and much interest to our show and universe.
Summon: What is the scene like over in your country?
Laurent: Nowadays in France there is an important Metal scene, with full of fests like the Hellfest for the more famous.
Summon: What made you want to be in this band? And if you weren't in this band what would you being doing now?
Alex: I already loved the style, the riffs, the musicians were experienced and really motivated.
Summon: What does the future hold for the band??
Alex: The future will tell us, but we wish to tour the international scene.
Contact them at:
http://sacredsealmusic.wix.com/sacred-seal
https://www.facebook.com/Sacred-Seal-539299919529499/?ref=hl
http://www.deezer.com/album/12416832