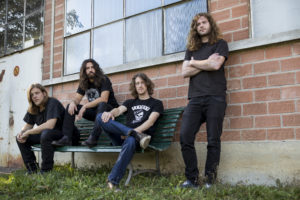 Summon: How did the band get started?
Güenthi: Me (Güenthi, bass) and the guitarist (Koni) had been playing together in different combinations and together with different musicians for like almost eight years. We've tried out quite a lot together, but were never really happy with the sound that resulted from these various projects. Mostly the elaborations were too smooth and not straight enough. We also recorded some songs with our current singer (Marc), and were jamming with our drummer (Fasel). So in the winter on 2012/2013 all of us decided to launch a project together, which would try to implement our own ideas without compromise. Since then, and with a view to newer appearances like the White Stripes and the Truckfighters, influences from Blues and Stoner are blended, while a pinch of Punk-Rock is also added in order to capture the raw power of the guitar riffs. Indeed, the first EP of the year 2014 still sounds less like Stoner-Rock and more like straight riff-sequences.
Summon: What kind of music do you play?
Güenthi: So now we're trying to get back to our roots and mixing fast passages with slower elements, so that an exciting mix of Punk, Stoner-Rock and Blues is to be heard. We describe our style as "Heavy-Rock and Stoner-Blues" yet the influences may change. As it's hard to define your own style, in our opinion one should never ask a band, what kind of style they play… 😉
Summon: How has the band response been?
Güenthi: Hard to say: We always get a lot of compliments. But this may just be, what we want to hear. And it's also a fact that the response doesn't mean too much to us, 'cause we are now doing what we always wanted. Of course it's great to hear nice words about your gigs, but we're just at the beginning and working hard to get better with every concert, even within every single rehearsal. So we were supporting quite a few bands so far, and try to give every time the best we can.
Summon: Where did the band name come from?
Güenthi: Actually the idea for the band name comes from the Raconteurs' cover song: Rich Kid Blues. Every one of us liked the lyrics and we considered this would somehow describe our situation here in Switzerland. Although we're one of the most rich countries in the world (whatever that means), you see a lot of unhappy people around here, which are complaining about things just rich kids would complain about. This unhappiness of rich kids, which symbolizes our generation, is caught in the "blue" of Rich Kid Blue. And it also shows our love to blues music, which we try to interpret in a more modern way. So this oscillation of happy and sad times is also represented in our songs, which try to capture these situations.
Summon: Introduce the band members
Güenthi: I'm a student and working on a Master in Philosophy and History of Science. Some nights I'm working at the wardrobe of a club in Basel and in an Archive to finance all my studies and music stuff.
Koni: I'm a student of Philosophy and German language and literature. I work part-time at the post office. I'm 29 years old and beside music, I like to go out with friends, and sometimes I do a little skate- and snowboarding.
Marc: I am working in an office of a painting company three days a week. The other four days I make music! Not only playing with Rich Kid Blue, but also recording, mixing and mastering other bands. I book shows in different venues and love to go to gigs too.
Fasel: I do work with electronic stuff. Besides playing the drum I am with my family and girlfriend. Due to my job, I work 100% there's not much free time for other hobbies. A few years ago I took a year off to go abroad and travel the world. Since then I love surfing for which I spend most of my holiday.
Summon: Who writes the music? Lyrics?
Güenthi: You could say: It usually starts with the guitar playing a few riffs until it becomes a kind of a sketch of the song. Then we note some words and phrases to sing and jam with it. After a while of giving it a go, we then get something like the 'idea' of the song and the arrangement starts. But many more times it's more of a struggle than that: We sometimes have to discuss and argue a lot, before we can agree on something, so that every one of us really is committed to it. We don't like compromising, so the whole song can be changed and re-arranged during a long time by every one of us. Who says, a drummer may not write decent lyrics or a bassist a nice bridge? However, in the end it's always rewarding for ourselves and we feel confident about it.
Summon: And where do the lyric ideas come from?
Güenthi: As we don't have a "main writer" writing lyrics depends always on a few factors. So the basic idea may be an every-day-situation but at the end it becomes something more 'mystical'. This path of working on a text is naturally influenced by the music it's written to. But as you can't separate these to progresses they're highly interacting. So this daily-life thing is really an inspiration which also can be expressed in a book one of us is reading (as seen in "Old Bull Lee") or of course from philosophical texts.
Summon: How many albums/CD's have you released?
Güenthi: We've released our second EP the 10th October, 2016. Everything recorded live and mixed by ourselves (well, Marc did most of it *grin*). This guarantees the rawness of our recordings and we enjoy the freedom we have due to this.
Summon: Tell me about some the songs on the latest CD?
Güenthi: The EP's got four songs on it, which may also describe a process, we're making through. For us, every recording is a step forward, to what we try to reach, even though we don't know what this is. So the first song is a short one, hard to describe which genre but a good kick start for the EP, we thought. The second one begins with a doom riff followed by a bluesy easier part, which opens the song to a Heavy-Rock chorus. At the end a longer solo over the doom part… The third song is our most complex one: No chorus or verse part – this leads you from bluesy to Arabic and back to a Stoner ending. The last track is kind of a Punk-Rock song added by a Black Sabbath'ish part in the middle of it.
Summon: Do you have any side projects?
Güenthi: No. All of us concentrate on this project. Since we're doing all of it alone, we also have not that much time for other stuff.
Summon: Who are some of your musical influences?
Güenthi: I am listening to a lot of the actual Stoner and Doom Bands. In my early days I've listened to German Punk Bands then more hippy-drug bands which led me to Pink Floyd, Black Sabbath, Hawkwind, Motorhead and always went to local bands concert which had great influence as well.
Koni: In the last few years I sticked a long time to the White Stripes and the Black Keys, and they still are certainly a big influence on me. But I'm also inspired by sound from other directions like Ska-punky styles as Sublime, funky riffs from Mr. Frusciante or surf-bluesy tunes from the old days like Link Wray.
Marc: I'm a big fan of heavy straight forward riffs. Bands like Kyuss, Fu Manchu and Monster Magnet are some of my favorites. I really like Joe Cockers voice, and sometimes I try to sound like him.
Fasel: I really like this old Blues kinda things. Blind Jefferson Lemon, B.B. King but also Cream witch Eric Clapton. But I grew up listening to Foo Fighters, Queens of the Stone Age or Audioslave.
Summon: Which current bands?
Güenthi: Hard to say! I am listening to so much music because I am working a lot at home… Big ones are maybe for tone Conan or Fu Manchu, for songwriting Greenleaf and for producing Queens of the Stone Age. But it changes a lot.
Koni: Right now, I'm having big fun listening to Fu Manchu, Monster Magnet or in general Stoner Bands like Stoned Jesus, 1000mods, etc.
Marc: I listen a lot to music, some of my favorites are: Clutch, Valley of the Sun, Black Rainbows, Duel, Greenleaf, Elder, The Atomic Bitchwax, Fu Manchu, Kyuss, Red Fang, Asteroid, Witch… and many more.
Fasel: I don't listen to a special kind of bands. But I like Monster Magnet, Greenleaf or Lo-Pan.…
Summon: What is the band like when you play live?
Güenthi: Nice question! But difficult, 'cause we don't see how we play. It looks like a lot of hair on stage that tries to bring the power of the riffs to the audience!?
Summon: What was the best band you played with?
Güenthi: Maybe Greenleaf! But also DUEL from Texas, we've been supporting now three times – was a blast! And of course Planet of Zeus on first of December, 2016 will be a special one!
Summon: Have you guys ever played in another country?
Güenthi: No. But since we're organizing all by ourselves and there are a lot of bands, it's hard to get concerts abroad. We're working on it and when time and money is right, we'll be cruising through Europe for sure!
Summon: How big of crowd shows up at shows usually?
Güenthi: It depends. We played in front of just 20 people but also more than 200. But it is every time a great pleasure to play, so the number of people doesn't really matters. If there are 20 rocking friends it can be more fun than playing in front of an anonymous crowd.
Summon: How is the crowd response when you play?
Güenthi: We try to punch the crowd in the face with the first songs. Then calm down a little to take a deep breath for the last few songs in which we try to get everything out of every single soul in front of us! A good show is, when everybody stands in front of you, headbanging or just jumping around. So sometimes this works out, sometimes it won't. As we're playing a lot of support slots it's our job to heat the crowd what we mostly achieve, we guess…
Summon: What is the scene like over in your country?
Güenthi: In the last years one could observe a rising of concerts in the Stoner-Genre. As Gabriele from Heavy Psych Sounds puts it: "Ten years ago it was not thinkable to play that big stages with such bands, as are playing now." And this growth of the scene is, as always, gift and curse at the same time. But also here in Basel we've got a few bands and friends which really try to hit something. So this is a good setting to push things to the next level. But in Switzerland the scene is generally small, as most things here *grin*.
Summon: What made you want to be in this band? And if you weren't in this band what would you being doing now?
Güenthi: I slipped into making music, when I was asked to play bass with friends. So this is still my main goal: Make music with friends! As this is, what this band defines, it is the perfect band. That simple it is. And if I would play in the band, I would have more time for my studies, which I really love as much as I love playing music.
Koni: For me personally, I remember the enthusiastic moment very well, when we started with Rich Kid Blue. At that time Fasel came back straight from traveling for a year or so, Güenthi I know already from Kindergarten (jeez), and at that time I shared a flat with Marc, so we couldn't start better connected than that. It especially was at that time, and still is wonderful to be free to create the exact music, we want to – without any cuts. If we lose this band, I really can't tell.. maybe I'll play the guitar on my own again for a while..
Marc: It started with a gig at the Block 56 in Basel, Koni and Güenthi asked me if I could come to the sound-check of their former band (Kreshendo) to help to find the right sound. After that I began to play with them. But Kreshendo wasn't what we wanted, so we started a new project called Rich Kid Blue. Since then we try to play as much as we can and since the for me it has become more than just a hobby, it's my passion!
Fasel: Since I saw my cousin playing in a band, I knew I wanted to do the same. So by the age of 11 I started to play my first drum set and formed my first bands with fifteen. Later I jammed a lot and found this three guys I'm still playing with for 6 years.
Summon: What does the future hold for the band??
Güenthi: We try to take it step by step knowing, that everything is hard work. But still we want to have fun with what we're doing. So we're really hoping to get bigger and more well-known around Europe and are already thinking about a full-length album. Firstly we want to play as many concerts as possible, 'cause this is most fun! Playing good shows for good people is what can bring us closer to a label deal or whatever… We'll be taking it as it comes, but pushing it to our limits. So maybe we'll be heading to America once?!
Contact them at:
https://www.facebook.com/richkidblue