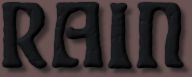 Summon: How did the band get started?
Aaron: The band got started in March of 2011. Eloisa Discovered me through Facebook a month before in February, Saw my profile pic and messaged me (laughs). We had met up one day at her house and she sat me down on her couch and began to sing a song by "Selena". I was really quite blown away by her level of vocal talent and with the bold gesture to just sing right then and there immediately after introducing ourselves to one another. I had brought my amp and guitar and Shredded for her and she was impressed as well (laughs). After leaving her house that day I knew I had Stumbled into something HUGE and I was determined to form a band with her! I later introduced John who plays drums for us and we had a different bass player back then but due to dedication issues he had to be released. Needless to say our options after that had vanished. Eloisa had mentioned "Jorge" knew how to play guitar so the way I had things figured, If he could play guitar "okay" he would be perfect for bass! (Everyone Laughs) and his audition came around and he picked everything up really fast actually! I was quite shocked (laughs). Material Had already been written by the time Jorge had Joined the group and We explained to him that Our style of choice was going to be "METAGENRE" because we all come from very different musical backgrounds and we didn't want to limit our capabilities as band by choosing one Genre. SO! We picked all genres! (laughs).

Summon: What kind of music do you play?
John: Basically Rain plays all kinds of music. Our first Song "I Didn't Know" for example when Aaron wrote that one he incorporated like 4 genres into that one song, Like Pop, Rock, Metal, Blues. So when people ask what "Genre" do we play we say "Metagenre" and we always have to explain what that is to most people? I on the other hand make it very simple for them to understand ( Laughs) I say "WE DO WHAT WE WANT" (LAUGHS). Just listen to our 3 song recording for example. No Song on there has the Same kind of feel? We have like 12 or 13 songs and They all have a unique sound that separates itself from the others and that is what we love the most about being apart of this band! Any song we come up with has "Hill and Valleys" and we cant say We have ever heard anyone walk down our path of choice?
Summon: How has the band response been?
Eloisa: Well I feel we all responded the same way when it came to the musical path we pick to take as a whole. The greatest Response we can say we had is definitely from the fans!

Summon: Where did the band name come from?
Aaron: Well me and John came up with the Band Name. We wanted something simple but, could be extremely complex if we wanted it to. So I pitched Rain and we took it to the band and everyone agreed! (laughs)

Summon: Introduce the band members
Everyone: HI! (waves) I'm Eloisa! but you can call me "SWEETS" (Smiles) Vocalist for Rain! Herrroohh! My name is Aaron aka "Master Shredder" guitarist for Rain. Hey Yall I'm Jono! "The Rhythmic Maestro of Rocks Hallowed Pantheon" (Everyone Breaks out in Laughter) Drummer for Rain. I'm Jorge "The Professor" Bassist for Rain.
Summon: Who writes the music? Lyrics?
Jorge: Well Aaron definitely comes up with the overall progression of our songs but we all kinda have a part in like changes or how it could sound if we tried it this way. Things like that. Lyrics are all Eloisa and when she hits writers block John steps in and lends a helping hand!
Summon: And where do the lyric ideas come from?
Eloisa: Well it all depends on the musical part first that usually determines lyrics but on a couple like "Jono's Retirement Plan" or "Addicted". Those were just fun to play around with and use my imagination!
Summon: How many albums/CD's have you released?
Aaron: We are currently in the process of recording a Full LP! Hopefully will be released sometime next year at the soonest.
Summon: Tell me about some the songs on the latest CD?
Eloisa/Aaron: (Eloisa) well one of my favorites are "Jono's Retirement Plan" because its a vacation! and Its in Spanish!! Basically its about John Waking up in paradise and drinking lots of Beer and Partying and He meets a beautiful young woman and they just have fun together! (Aaron) One of my favorites has to be By The Blood! Because I'm a big Theory Person and I'm using Harmonic minor Scales and lots of Arpeggios!! Plus it gets me really pumped up!!
Summon: Do you have any side projects?
Eloisa: No side projects in this band everyone is 100% Committed! (Smiles).

Summon: Who are some of your musical influences?
John: Mine personally are like The Beatles, Rush, Led Zeppelin, and Mike Portnoy! Band Wise would be like Pat Benatar, No Doubt, Jackyl ect…

Summon: Which current bands?
Aaron: Well definitely current bands like: BuckCherry, No Doubt, The Agonist, and Children Of Bodom are a definitely influence on us!

Summon: What is the band like when you play live?
Eloisa: You would just have to come see us live to Witness the Magnificent Stage Presence of Rain!

Summon: What was the best band you played with?
Everyone: The Best band we have played with is hands down "Cleanly OHM" of Lubbock, TX our home town!
Summon: Have you guys ever played in another country?
Everyone: Nope but Its gonna happen soon! We are Sure of it!
Summon: How big of crowd shows up at shows usually?
Jorge: Sometimes 20 to 30, but we've played in front of more!

Summon: How is the crowd response when you play?
Eloisa: Oh They F***ing GO CRAZY!! I love seeing people applauding us, Jamming out to us, and We always get positive feedback after!! Woot!
Summon: What is the scene like over in your country?
Aaron: The Scene in The States is pretty Beastin! I cant Speak on foreign countries because I haven't gotten to leave the Country yet?
Summon: What made you want to be in this band?  And if you weren't in this band what would you being doing now?
Eloisa: Well, because I'm surrounded by talented musicians and they know what they are doing! We always have lots and lots of fun, Sometimes I yell at people but its for their own good (LAUGHS) Just Kidding! If I wasn't in this band, I Honestly…..Don't want to think about it because, I couldn't picture my self doing anything else and I guess if it came down to it I would probably be on the corner singing for money with my little Tip Hat HAHAH!!! No I'm already part of this band and I'm not going anywhere!! 🙂
Summon: What does the future hold for the band??
Everyone: (Eloisa) A beautiful future with lots of Amazing music that will make you jump, Scream, and SHOUT!!! and lots of Beer haha! (Aaron) Umm I feel this band has a Great future ahead, nothing can hold us back from succeeding at what we love doing! (John) If I didn't truly see a big future with this band I would not be playing for them now. Like she said I'm here to stay! (Jorge) This band should have a really big and bright future These guys and gal really love what they do and im right there with them!
Contact them at:
http://www.facebook.com/RainShred2011?sk=app_2405167945