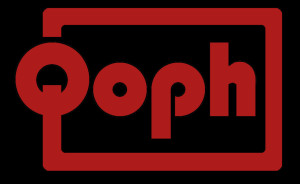 QOPH started in the late 90's as pioneers of the Swedish stoner/neo psychedelic rock scene. Most notable was the numerous concerts, or "Psychedelic Evenings" as they were called, at the legendary Studion in Stockholm, where the band sold out time after time.
Federico de Costa (drums), Filip Norman (guitars), Fredrik Rönnqvist (guitars) and Patrik Persson (bass) were core members of several line ups before the release of the debut album "Kalejdoskopiska aktiviteter" (Kaleidoscopic Aktivities) in 1998.
Most of the earlier songs were instrumental. In 1996 Jimmy Wahlsteen replaced original guitarist Fredrik Rönnqvist, who founded the band The Moon. Some early Qoph songs later appeared on The Moon's album "In Phase", released in 2005 by psychedelic German label Nasoni Records.
When Robin Kvist (vocals) joined the band in 1996 Qoph decided to write their music in Swedish.  But after the release of the E.P. "Än lyser månen" in 2000, QOPH started developing a more heavy progressive sound, as well as writing in the English language.  In 2003 Jimmy Wahlsteen left the band.
The bands second album "Pyrola" was released in Sweden, Germany and Japan in 2004, and featured several guest appearances, including Mats Öberg (Mats/Morgan), Joakim Svalberg (Opeth, Yngwie Malmsteen) and Nicklas Barker (Anekdoten).
Per Wikström (percussion) joined the band as a live member and Qoph performed at several progressive rock festivals in Europe.
In December 2012, after a few years of silence, Qoph's third album Freaks, with new singer Rustan Geschwind on vocals, was released  by Transubstans Records and Nasoni Records.
A new album is now in progress. A compilation of rare and unreleased stuff "Glancing Madly Backwards" (Transubstans records) is also on it's way. Release date 28th of May.
The original QOPH line up will get together and play some old and odd songs in Stockholm 4th of June to celebrate the release of the compilation album.