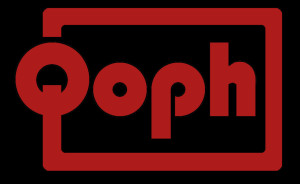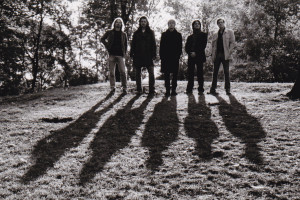 Summon: How did the band get started?
Filip Norman: We were a couple of young guys who got together in Stockholm in the early 90's starting playing instrumental rock. We had no pretensions being more than a classic rock band with some metal influences, but soon we developed a more experimental/progressive rock sound. The first Qoph recording in a professional studio consisted of four instrumental tracks, I think it was about 45 minutes of music, and we tried in vain to get a record deal using that demo. This was back in 1994 and in my opinion it was then we formally became Qoph. From that early Qoph era only Federico de Costa (drums) and I still play in the band. We had a few different line up's until 1996-1997 when Patrik Persson (bass), Jimmy Wahlsteen (guitar) and Robin Kvist (vocals) joined. At that time the music became more psychedelic and we started to record our debut album Kalejdoskopiska Aktiviteter, which was released in 1998.
Summon: What kind of music do you play?
Filip: I think it's hard to label music, especially if it's your own music. We fit into several styles, but never totally. Sometimes Qoph is hard rock, sometimes progressive rock, space rock or psychedelic rock. We don't try to create a special sound, we just jam and pick up ideas that could come from any direction, but of course we have our own sound. It's the sound of our different personalities colliding. Perhaps you could call it eclectic rock, I don't know.
Summon: How has the band response been?
Filip: We are very much a live band, and I think we had sold a lot of more albums if we had been touring more. At the same time we have got a lot of attention, get good reviews and our albums are sold worldwide. We had an international fan base even when we sung in Swedish. Still, we are writing alternative music, and are definitely part of an underground rock scene.
Summon: Where did the band name come from?
Filip: It's an ancient letter, from the beginning Phoenician. The western alphabet's equivalent is the letter Q. It is said that the letter originally was depicting a monkey, seen from behind. You can still see its tail in the western Q.
Summon: Introduce the band members
Filip: Today: Rustan Geschwind (vocals), Federico de Costa (drums), Patrik Persson (bass), Filip Norman (Guitars)
The line up on the first albums were: Robin Kvist (vocals), Federico de Costa (drums), Patrik Persson (bass), Filip Norman (guitar) and Jimmy Wahlsteen (guitar).
Summon: Who writes the music? Lyrics?
Filip: All of us, and most of the time together. Many of our songs are jam sessions from the beginning. We find a flow and create something out of it.
Summon: How many albums/cd's have you released?
Filip: Three albums and one EP. You could say that the first two albums were four albums, because the vinyl versions are longer, double LP releases. Now in June a compilation of never before released tracks, rare and vinyl only tracks, "Glancing Madly Backwards" will be released by Swedish label Transubstans records.
Summon: Tell me about some of the songs on the latest CD?
Filip: "Freaks" released in December 2012, is perhaps our darkest, heaviest and maybe most straight forward album. At the same time the songs are sometimes very different in style. I think it's more back to the roots, with a lot of blues and straight rock'n'roll going on, but still a psychedelic record with a pinch of prog.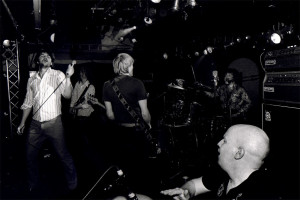 Summon: Do you have any side projects?
Filip: Not myself, at the moment. I have made some soundtrack music and played with a couple of other bands. But no band that has gained much recognition. You can say I'm a part time musician. Federico de Costa is full time musician playing with a lot of Swedish bands and artists. Rustan Geschwind has his own singer/songwriter project "Rustan" since many years. Patrik Persson has released a solo album "Tungsten Carbide Drills", which is a very mellow singer/songwriter album, and a hard to find CD.
Summon: Who are some of your musical influences?
Filip: Well, there are a lot. All of us have our own influences and of course they show up in our songs. But it's hard to say which artist or which band influences you the most. I listen to a lot of late 60's early 70's rock music. Anything from Peter Green's Fleetwood Mac to Julie Driscoll, to Pete Brown or Bloodrock. I grew up with jazz, got into punk and then heavy metal. Then I turned back in time listening to my mother's the Beatles and Jimi Hendrix albums. As a teenager I listened a lot to trash, and then came the grunge era. Influences are everywhere. Today I listen mostly to experimental underground bands.
Summon: What is the band like when you play live?
Filip: The music is more improvised, and I think more intense. More alive. I regret that we never made any live albums. Perhaps we will some day.
Summon: What was the best band you played with?
Filip: So, many good bands. Comus, Motorpsycho, Anekdoten, Opeth. I remember a gig, I think it was 1999, when we played at a rock club in Sweden, warming up for Hawkwind's Nik Turner. When we were jamming he joined us, dressed up like an alien playing the saxophone like a maniac. It was fantastic. One band we have played with a lot is a Swedish band, Abramis Brama, which is a classic stoner band with a bit of prog in it. They are one of my favorite live bands.
Summon: Have you guys ever played in another country?
Filip: Mostly Scandinavian countries, like Finland, Denmark and Norway, but also Germany and the USA for example. We have been a bit lazy and haven't had too many gigs outside Scandinavia.
Summon: How big of crowd shows up at shows usually?
Filip: It varies a lot. We have played at big festivals, small festivals, rock clubs and small clubs. For us it's great to play where ever it is.
Summon: How is the crowd response when you play?
Filip: I can't remember any bad response really. Qoph is definitely a live band and we deliver 100 percent energy when we play. But sometimes we have had bad experiences. We went to Denmark a few years ago to play at a really big festival. But there were no people at all at the place. All the communications to the area were cut off because of some building project. No one could get there… It was a really spooky gig.
Summon: What is the scene like over in your country?
Filip: The bigger cities are okay, but in smaller towns there are often not people enough to create a genuine rock scene. Sweden is a big country with a small population.
Summon: What made you want to be in this band? And if you weren't in this band what would you being doing now?
Filip: Qoph has become a part of me, I've been playing with Federico for over 20 years now, and with Patrik for almost 20 years. So the band means a lot to me. But Qoph doesn't generate money enough to live on it, so I have been doing a lot of other things during the years along with the musical work.
Summon: What does the future hold for the band??
Filip: More music, more albums, more fun.
Contact them at:
https://www.facebook.com/QophMusic