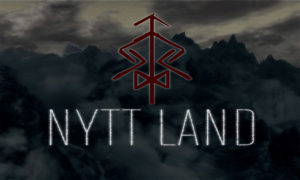 Nytt Land – Nordic ritual/dark folk band.
Was founded in 2013, in the village Kalachinsk, West Siberia by Anatoly "Nordman" and Natalya "Krauka".
In 2014 on Russian label "Sulphur Flowers" was released 1st instrumental LP of Nytt Land band named "Nytt Land". And then in band came Sergey Silitcky.
In autumn of 2015 on French label "Crush the Desert" was released 2nd album of Nytt Land band named "Hávamál" and based on Old Norse epic songs. All lyrics for the album was taken from original Old Norse texts and sung in the original language.
In 2016 Nytt Land band presented new album "Sköpun" on the biggest Russian shows with the legendary Norwegian Nordic folk band Wardruna.
Next performances Nytt Land with the legendary Norwegians was in February 2017 in Moscow and Saint-Petersburg. And since then we have maintained very warm friendships.
Previous LP was named "Fimbulvinter" and released in March 2017 on old British label "Cold Spring Records"
Having started as a folk-rock band in a remote Siberian province, Nytt Land required less than a year to become one of the most prominent and successful Russian folk projects. Focused on ancient Scandinavia, the band rapidly evolved into an authentic music ensemble, thorough yet in the same time innovative. Their music is mostly based on the sources from Poetic Edda, performed on the original Old Islandic. Both male and female voices are used with regards to reflecting the old vocal techniques.
Notably outstanding on the Russian scene and largely compared with the legendary Wardruna, Nytt Land are unique in their devotion to the ritual Northern music and tradition that comes along with a great talent. Their almost reenacting approach, genuine native hand-crafted instruments and colossal enthusiasm help them to grasp the true spirit of ancient Northern music like no one in Eastern Europe has done before.