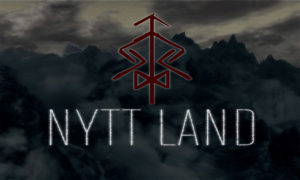 Summon: How did the band get started?
Anatoly "Nordman": Hi! Nytt Land was founded in summer 2013, in first like a virtual music project. Me (Anatoly) and my wife Natalya has long been experimenting with Scandinavian folk music, and as an intermediate result of this experience we recorded the first album. This instrumental album also became the actual birth of our musical project named Nytt Land.
Summon: What kind of music do you play?
Anatoly "Nordman": We are playing viking age music – Nordic ritual. Some elements of ambient and dark folk music also included. It is not folk music in its folk form. It is more music of nature, mysticism, immersion in something sacred. We are inspired by nature itself, its phenomena and we try to embody it in our music.
Summon: Where did the band name come from?
Anatoly "Nordman": Nytt Land – translating like "New land", "new coast". We very quickly found the name for band – it was born by itself.
Summon: Introduce the band members
Anatoly "Nordman" Pakhalenko: Composer and playing on all music instruments in band. In particular, on concerts I'm playing on taglharpa (bowed lyre – very old Scandinavian instrument), wood percussion, and singing by throat singing technique.
Natalya "Krauka" Pakhalenko: Anatoly "Nordman's Wife. Composer and Lead vocalist. Also playing on frame-drums, jew-harp and teen whistle.
Sergey Silitskii: Our drummer.
Vladimir Titkov: Playing on all kind of flutes we use, also jew-harps and different percussion.
Summon: Who writes the music? Lyrics?
Anatoly "Nordman": All music making by Anatoly "Nordman" and Natalya "Krauka" equally. About lyrics – we don't write it. Our music originally based on Nordic epic, and we use texts of Nordic epic songs "Elder Edda" – we are sing them on old Norse language – as they were created. There is real magic in these songs, ancient power and spirit of eternity. Cold. North. Power…
Summon: And where do the lyric ideas come from?
Anatoly "Nordman": We find the text, carefully study it, read the original and the translation, in order to better understand the meaning and what the ancients put into these words. And then – we are making music trying to convey this power in the sound of musical instruments.
Summon: How many albums/CD's have you released?
Anatoly "Nordman": Nowadays released 4 albums and 1 single.
In 2014 on Russian label "Sulphur Flowers" was released 1st instrumental LP of Nytt Land band named "Nytt Land".
In autumn of 2015 on French label "Crush the Desert" was released 2nd album of Nytt Land band named "Hávamál" and based on Old Norse epic songs.
In 2016 Nytt Land band presented new album "Sköpun" on the biggest Russian shows with the legendary Norwegian Nordic folk band Wardruna.
Previous LP was named "Fimbulvinter" and released in March 2017 on old British label "Cold Spring Records".
Summon: Tell me about some the songs on the latest CD?
Anatoly "Nordman": "Fimbulvinter". This album has become our biggest work for all past years. We tried to drop all stereotypes, leaving only the naked experience. And we made a great pause in writing music and then we started creating "Fimbulvinter". Each song was created as something independent, different from else, but at the same time it contained a general concept. I think that we did it. We are very satisfied with the result.
Some songs… One of my favorite – "Fenris kinder". Song about children of Fenrir – which, according to prophecy, will absorb the sun and the moon and from this the end of the world will begin. I like that minimalism in the music that underlies this song. And its dynamics.
I like the energy of the song "Bróðurbana sínum" – very calm, lyrical, very melodic beginning and And the gradual buildup of dynamics, so that at the end of the song explode to metal sound!
Summon: Do you have any side projects?
Anatoly "Nordman": No, at present we are all engaged only in Nytt Land. Now I'm working on a solo album, but it will also be part of the history of our band.
Summon: Who are some of your musical influences?
Anatoly "Nordman": First of all, this is the work of such musicians as Sveinbjörn Beinteinsson, Edvard Grieg, Freya Aswynn.
Summon: Which current bands?
Anatoly "Nordman": Bands like Magna and Wardruna.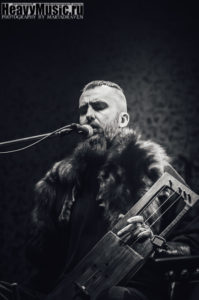 Summon: What is the band like when you play live?
Anatoly "Nordman": I think it's like Wardruna.
Summon: What was the best band you played with?
Anatoly "Nordman": Wardruna of course)))) We are playing together 3 big shows for previous year.
Summon: Have you guys ever played in another country?
Anatoly "Nordman": Not yet, but at the moment it is already confirmed participation in 3 European festivals this year and an autumn European tour is planned.
Summon: How big of crowd shows up at shows usually?
Anatoly "Nordman": Depending on the city of show and the stage – in small clubs from 200 people. This winter, on the big show in Moscow of the new album presentation there were about 2, 5 thousand people – it was really Great Show!
Summon: How is the crowd response when you play?
Anatoly "Nordman": This is very cool, most of all we like to perform before the heathens and fans of heavy metal – this is the most grateful audience for us!
Summon: What is the scene like over in your country?
Anatoly "Nordman": We are live in Russia. Perhaps our scene differs little from the scene in other countries. I think the general specifics are the same. If there is good advertising, so spectators will be.
Summon: What made you want to be in this band?
Anatoly "Nordman": For me this band is a way of life. There is something more then only music of concerts. In the creative way of the Nytt Land, I embody my life, my world view.
Summon: What does the future hold for the band??
Anatoly "Nordman": There is lot of plans. We are making new music and songs. Working on sound and shows images.
Constantly in searching of new stages, festivals.
As I already said above – now I'm working on a solo album, but it will also be part of the history of our band. In the autumn, we again come to the studio and start recording on new songs.
Thank you!
Contact them at:
nytttland@gmail.com , sibborz@mail.ru
https://www.facebook.com/nyttland/
https://nyttland.bandcamp.com/
https://soundcloud.com/vo0qowxz1sks/sets/nytt-land-fimbulvinter-cold-spring-records
https://play.spotify.com/artist/6NQ701XGEJodDZ5lqVtrBp?play=true&utm_source=open.spotify.com&utm_medium=open