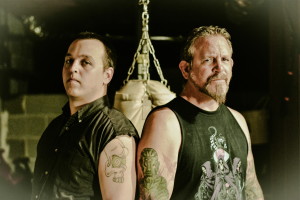 Summon: How did the band get started?
Will: After my former band BOILER (Mayhem Records) split up, I decided to leave Ithaca NY and move to Atlanta GA. I took a couple of years off from music. Then one morning, I woke up from a dream in which I was vomiting on a door. Turns out I WAS vomiting on a door. After cleaning that up, I decided to form MuckRaker.


Summon: What kind of music do you play?
Will: Blue Collar Metal. It's music for the working men and women of the world. It's also for drunk people.


Summon: How has the band response been?
Will: It has been quite positive so far. MuckRaker is loved in all of America, Europe, and a village in south Zimbabwe.


Summon: Where did the band name come from?
Will: From Wikipedia- The term muckraker was used in the Progressive Era to characterize reform-minded American journalists who wrote largely for all popular magazines. The modern term is investigative journalism, and investigative journalists today are often informally called "muckrakers." They relied on their own reporting and often worked to expose social ills and corporate and political corruption. Muckraking magazines—notably McClure's of publisher S. S. McClure—took on corporate monopolies and crooked political machines while raising public awareness of chronic urban poverty, unsafe working conditions, and social issues like child labor.[1]


Summon: Introduce the band members
Will: Well, you have already met me. I would like to introduce the incredible Sean Briney Martin on Guitars and Voice along with the phenom known as Chris Tate behind the Drums. We also have a sort of behind-the-scenes member. His name is Herbert. He's a hamster. We don't ever speak of what he does for us, but it is a very important job.


Summon: Who writes the music? Lyrics?
Will: I write the majority of the music and all of the lyrics.


Summon: And where do the lyric ideas come from?
Will: Mostly from domestic and geopolitical events, as well as history. I also write metal songs about metal…and beer.


Summon: How many albums/CD's have you released?
Will: MuckRaker's first release was a 4 song EP entitled "Sound The Alarm". The bands' 2nd release was "Big Black Bus", a full length CD. Our most recent is another full length called "Karmageddon".


Summon: Tell me about some the songs on the latest CD?
Will: "Karmageddon" is kind of like all of your favorite movies all rolled into one. Drama; Comedy; Horror; Documentary; Period Piece; Western; Current Events; and Action. Just wrote a new one called "Razor Blade Tears"…so i guess now you can include Chick Flicks.


Summon: Do you have any side projects?
Will: I do have a side thing doing dick tricks. One crowd favorite is where I pinch each side of my ball sack and bounce my cock up and down on it. I call it "Squirrel On The Trampoline". I also have "Bag Full Of Nickles" and "Flowers For Your Girl". Very popular.

Summon: Who are some of your musical influences?
Will: Black Sabbath of course. Clutch. Old Rush. C.O.C. Sheer Terror. Iron Maiden. Cro-Mags. Early Metallica and Slayer. Helmet. Celtic Frost. Molly Hatchet.


Summon: Which current bands?
Will: With the exception of their new album, I love The Sword.


Summon: What is the band like when you play live?
Will: A MuckRaker show is much like a drunken war!!! Lots of fun. Sweaty and groove filled deliciousness.


Summon: What was the best band you played with?
Will: Well, my former band, BOILER, opened up for many cool bands. Clutch; DIO; Biohazzard; Testament; Bad Religion; Pro-Pain; Stuck Mojo; Nothing Face; and we did a tour with Crowbar. MuckRaker has done a couple of shows with (former Stuck Mojo vocalist) BONZ.

Summon: Have you guys ever played in another country?
Will: Not yet. There is a village in Liechtenstein that has a huge amount of MuckRaker fans. So, maybe we can go there someday.


Summon: How big of crowd shows up at shows usually?
Will: It's usually anywhere between zero and a million. Authorities are still calculating the official attendance totals.


Summon: How is the crowd response when you play?
Will: Lots of singing and dancing. The girls always take their shirts off. It gets a little weird when the guys start taking their pants off, but what are ya gonna do.


Summon: What is the scene like over in your country?
Will: Not as good as it is in Europe. Americans are not as loyal…and they are much fatter. So, it is more difficult for them to get up off of their large asses to go to shows. As for the people who do come out, it's kinda like a bunch of monkeys fucking a football.


Summon: What made you want to be in this band?  And if you weren't in this band what would you being doing now?
Will: I love metal. Always have, always will. If I weren't in MuckRaker, I would probably play lead tambourine in a Sword tribute band.


Summon: What does the future hold for the band??
Will: Writing our next album right now. Some of the songs we have together so far are "Unicorn Stew", "Agnostisized", "Data And Goliath", "Razor Blade Tears", and "March Of The Trolls". Gonna do some touring. We are currently forming an organization called "MuckRakers Against Guys Taking Off Their Pants At Shows", also known as MAGTOTPAS.

Thanks for your time and the interview.
Contact them at:
https://www.facebook.com/pages/MuckRaker/234657352397
http://muckraker1.bandcamp.com/
https://www.reverbnation.com/muckrakermetal