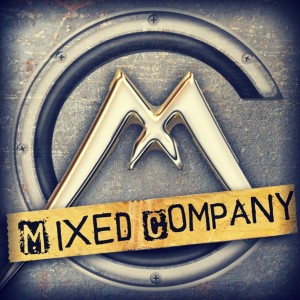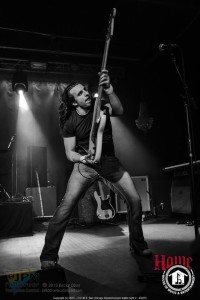 Summon: How did the band get started?
Frank Slifka: The band was formed in early 2013 when I envisioned a new age of Rock n Roll free of its past stereo types.
Summon: What kind of music do you play?
Frank Slifka: The easiest way to describe our music is a hard rock version of Journey with a female lead singer. The music is upbeat, uplifting, and is inspired by the simplistic yet definitive writing style of AC/DC with a crossover style of the reckless wild tones of the 80's not to mention the teenage grunge angst of the 90's.
Summon: How has the band response been?
Tammy Teigland (band's manager): I have seen a lot of growth with this band. As with any band there are trials and tribulations, yet they have not only matured and grown as musicians but as individuals. In July, they made a very hard decision to replace their drummer. It took some time, but Pete Cangelosi stepped into our lives and Mixed Company hasn't been more solid, more creative and more energized. Pete truly is a fantastic addition to the band.
Summon: Where did the band name come from?
Frank Slifka: The name originated when selecting the band gender on Facebook which listed "male, female, or mixed". With intents of having a mixed race and gender band, the label was fitting.
Summon: Introduce the band members
Tammy Teigland:
Brittany Pie – vocals
Frank Slifka – founder of Mixed Company, guitarist/back-up vocals
Redo Ianni – bassist/key board/ back-up vocals
Pete Cangelosi – percussion/drums
Summon: Who writes the music? Lyrics?
Brittany Pie: Lyrics are mainly me and the music is mainly the guys but we all have a hand in everything.
Redo Ianni: Frank, Pete and I, write most of the music, Brittany writes a lot of the lyrics, and Frank and I write some lyrics.
Summon: And where do the lyric ideas come from?
Brittany Pie: Lyrics come from our lives, experiences, and dreams.
Redo Ianni: When I write lyrics it's a lot about love and personal relationships, and most times someone will have an idea and we write a song around that.
Summon: How many albums/CD's have you released?
Tammy Teigland: There are 2-CD's. Their first one Mixed Company, is a 6-track. Their second one, they released May 2015, Have Been…Have Loved, is a 7-track. We are looking forward to recording our first full length album in Spring 2016.


Summon: Tell me about some the songs on the latest CD?
Brittany Pie: All of these songs have a message from the heart, these are lessons from our lives shared to hopefully help others.
Redo Ianni: Shot of Love was our first signal, and was a big step for us in writing new music, Somebody is one of my favorite, it was written about learning to love again.


Summon: Do you have any side projects?
Brittany Pie: Not at the moment but I do enjoy singing and playing for practice on my own.
Pete Cangelosi: No side projects at this time; but I always enjoy playing other styles of music.
Summon: Who are some of your musical influences?
Brittany Pie: I like the heavier stuff but vocally I love Pretty Reckless, Halestorm, Joan Jet, Janice Joplin, Patt Benatar, Arch Enemy, and Ozzy to name a few.
Frank Slifka: Angus Young, and my uncle.
Redo Ianni: My father, Jon Paul Jones, Billy Sheehan, Juan Croucier Boz Burrell
Pete Cangelosi: AC/DC, Zeppelin, Rolling Stones, Reo Speedwagon, Journey
Summon: Which current bands? 
Pete Cangelosi: We tend to have our own sound which is why people really seem to like us. We don't sound like every other band out there, and most of our songs don't sound alike.
Summon: What is the band like when you play live? 
Brittany Pie: A force, we really work well together and live the stage life with a brilliant fire that strikes the hearts and ears of our audience.
Redo Ianni: Fun and a lot of moving around, the music is not enough, you need to see the power and feel it live.
Pete Cangelosi: Very energetic and professional. We put on a show, not just play music.
Summon: What was the best band you played with?
Frank Slifka: One of the "best" bands that we have played with either has to be national touring act Bobaflex or The Tip out of Nashville.
Redo Ianni: David Paige
Pete Cangelosi: Of course Mixed Company Erich Kraemer group a close second.
Summon: Have you guys ever played in another country?
Tammy Teigland: Not yet!
Frank Slifka:. No, that is a dream of ours for sure!  However our music is being played in other countries! 
Summon: How big of crowd shows up at shows usually?
Brittany Pie: To be honest it depends on where we play, generally though we capture attention and our audience always has a blast.
Frank Slifka: We average about 30 people. Numbers have been increasing since we welcomed in our newest member.
Pete Cangelosi: The first time I saw these guys there were well over 100 people in the audience! We have pulled large crowds, but we have also played to a dozen people. It doesn't matter, we still put on a hell of a show!
Summon: How is the crowd response when you play?
Pete Cangelosi: Very into the music and excited!
Summon: What is the scene like over in your country?
Pete Cangelosi: Very cover band oriented.
Summon: What made you want to be in this band?  And if you weren't in this band what would you being doing now?
Brittany Pie: I've always loved music and these boys are family. If I wasn't in this band I'd be wasting a gift and losing an amazing positive outlet.
Frank Slifka: Well I wanted to be in this band because I wanted to change lives and maybe help somebody find love. Not to mention I wanted to Rock N Roll in the purest way possible. I don't know what I would be doing outside out this band, probably be in another band. Haha 
Redo Ianni: I love being in this band and I never thought we would be where we are now, but I can't see myself doing anything else.
Pete Cangelosi: Love the style and people. If I were not in this band more than likely be in a cover band.
Summon: What does the future hold for the band??
Frank Slifka: The future holds more Rock N Roll and some bad decisions!
Pete Cangelosi: Future looks really good for us as a band. We have all the right pieces and momentum that can take us anywhere.
Contact them at:
http://mixedcompanykenosha.wix.com/mixedcompany
https://www.reverbnation.com/MixedCompanyReborn
https://www.facebook.com/MixedCompanyKenosha
https://twitter.com/mxckenosha
Contacts: Tammy Teigland – Booking and Management
Phone: 1-847-436-1793
Email: mixedcompanyreborn@gmail.com