Martyr Art
Friday 13th Nintendo Theme
Released 11th November 2015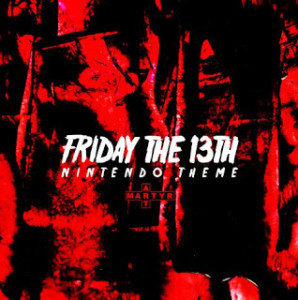 Unparalleled!!!
Martyr Art – Mountainville NY
Links:
https://www.facebook.com/martyrartofficial
Cabin Theme originally composed and programmed by Hirohiko
Takayama and Tsukasa Masuko (respectively) for the Friday The 13th
NES Game by Nintendo.
Additional music composed by Joe Gagliardi III
Produced, Recorded, Engineered, Mixed and Mastered by Joe Gagliardi
III
Recorded and Programmed at:
Suicide Studios ('07-'08) New Windsor, NY
Creekside ('08-'09) Mountainville, NY
Squire ('09-'12) New Windsor, NY
Hit the Road Productions – East ('11-'13) Chester, NY
The Lab ('12-'13) New Windsor, NY
JEG3 ('13-'15) Newburgh, NY
Mixed and Mastered at JEG3 (Newburgh, NY)
Album Artwork and Music Video by Joe Gagliardi III
© 2015 MARTYR ART™
Genre: Alternative Metal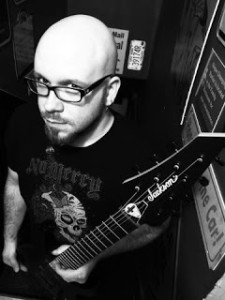 Highly talented multi-musician Joe Gagliardi III
Biography:
"MARTYR ART is a One-Man Alternative Metal band, founded in 2004 by Joe Gagliardi III in Mountainville, NY. As its main producer, singer, songwriter, multi-instrumentalist, and visual artist, Gagliardi is the only official member of Martyr Art and remains solely responsible for its direction. Since 2004, Martyr Art has released five full-length albums, with the most recent being the critically-acclaimed "Distorted Interpretations" (released in 2013). Martyr Art has also remixed other established (and signed) artists including Martin L. Gore (of Depeche Mode), Front 242, Aesthetic Perfection, 16 Volt and Juno Reactor. Martyr Art has opened for national acts Drowning Pool, Corey Glover (of Living Colour), Saul Williams, Doyle (formerly of The Misfits/Danzig), Full Devil Jacket, KMFDM and DJ Accucrack, Co-Headlined the 2012 Farmageddon Music Festival in Saugerties, NY and headlined both the 2014 and 2015 Newburgh Illuminated Music Festivals in Newburgh, NY. Joe (in his previous band Dislocate) co-headlined with national metal acts Crowbar, Machine Head and Fear Factory, just to name a few. Martyr Art has also appeared in three consecutive issues of Guitar World Magazine (Jan-March 2011) in advertisements for Pick Guy Guitar Picks alongside John 5 (Rob Zombie) and Suicide Silence!"
~~~~~~~~~~
Being in this business allows me to experience all sorts of genres and indeed various types of music, expanding my tastes far and wide as metal and none metal goes. After reviewingMartyr Art's album Distorted Interpretations way back in 2013, I naturally jumped at the chance to review the latest single from Joe Gagliardi III a.k.a Martyr Art entitled 'Friday 13thNintendo Theme'
The thing that strikes me the most on this single are the keyboards that undulate through a striking passage that doesn't contain vocals and indeed doesn't need them, as its stunning portrayal of dramatic reassuring endeavour, offers muscular riffs and intriguing urgency that simply cuts like a knife and more than whet's the appetite!
Starting off with simple little choppy notes it builds to an all-out climax of infused elements and pure emotion. The electronic bursts and that dark whispered sigh speaks volumes, amid other incidental sounds that capture the ears in unequalled detail.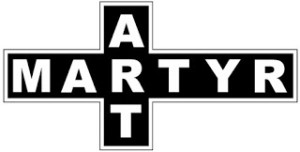 It radiates a certain warmth despite it being a torrential downpour of ravenous riffs that compel and ignite with velocity and magnetic persuasion.
I still cannot comprehend the art that has gone into making this single and all done by one man Joe Gagliardi III.
His efforts for this track alone should not go unrecognised as well as creating an atmospheric ambiance all his own.
It persistently advances its own endeavours and leads the way in intense energy that spikes and accentuates a further deepening assault on the audial.
Listen to Friday 13th Nintendo Theme here: https://www.youtube.com/watch?v=Z2ck1ADOK9I
The slices of melody excite and thrill with insatiable pleasure. As the track builds to its peak it taunts and teases in all the right places, without being over-zealous and pushy, it corrupts in such a way that it just explodes into an epic track that gives out further dimensions for listeners to follow.
In all, this is one extremely haunting and sinister track that goes all the way with no half measures into the bargain, as well as being highly addictive in its exploits!  What you get here is a well-crafted piece of art that mesmerises and impacts as soon as the play button is released.
Martyr Art has gone above and beyond the realms of possibility turning this music into a masterpiece and comes highly recommended, raising the bar several notches higher than expected!
I personally think Joe should be extremely proud of this creation as it is certainly unparalleled by rivals of this genre.
Guaranteed to give your ears an unrelenting work out!
10/10
Member:
Joe Gagliardi III (a.k.a.) MARTYR ART
Vocals, Guitars, Bass, Drums, Keyboards, Programming and Sampling