Mark Zero
Ballistica
11 Track Debut Album
Self-released
Future PR
Release Date: 21st November 2016
By: Pagan Hel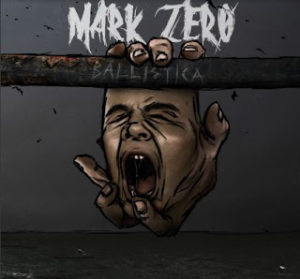 Mark Zero – Gothenburg, Sweden
Links:
https://www.facebook.com/MarkZeroOfficial
Genre: Seriously detuned aggro rock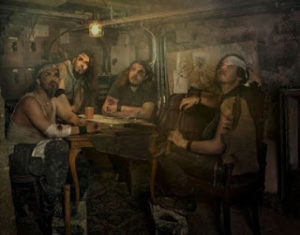 Mark Zero
Photo courtesy of Jondelius Photography
MUA Sandra Bengter
Biography:
"Founded in Falun, Sweden in 2013 and now based in Gothenburg, Mark Zero is about creating music that truly reflects its members, which wasn't always the case in some of their previous musical projects. Already playing together in a funk-rock quintet, guitarist John NT, bass player Kammo Olayvar and drummer Robin Risander realized their true calling was heavy metal, and having recruited Scott Crocker on guitars, Mark Zero was complete! With strong melodies and meaningful lyrics in a dark soundscape with seriously detuned guitars, Mark Zero is now ready to show everyone what dedication and hard work can bring!"
~~~~~~~~~~
Making a strong impression are Mark Zero from glorious Gothenburg, who are due to release their new 11 track debut album Ballistica.
It's quite beguiling seeing the word 'detuned' but the way Mark Zero tackle this is to add a vibrant rhythm that carries the music to new realms. The vocals are squealing and driven by a superb aggression that goes on giving, as on 'One against the world' which is rather catchy as it goes.
'Bleed it out' adds spicy groove and fuzzed rhythm with a lot of aggression especially on the catchy chorus – it is like an epidemic – it's catching!
'More of Us' has a profound seduction attached to it, although quite raw in places and possesses a warm invitation despite the 'sweary' lyrics and up-tempo haunting expressiveness.
'All that I loved was the Enemy' surprisingly enough this sounds quite mainstream and 'run of the mill' however, the vocals still seriously incite some form of anger and manage to seduce the audial quite well.
'Karma Backlash' a change in direction from suddenly leaping from the speakers turning softer and throwing everything off kilter. It's one of those tracks that go from aggressive to pleasant and confuses the heck out of the listener.
'My Polluted Mind' possesses a superb "Rammsteinesque" vocal harmony (Achtung!) which makes it instantly appealing. Although the rest of the track is most definitely a Mark Zero creation. Rippling with melodic keyboards and sonic emotional bass hooks it is definitely a favorite track!
'Not gonna die' is a very somber affair, with urgent and emotional vocal layers that rasp suggestively. The music haunts and teases backed with a darker rhythm.
'Eye to Eye' thrusts a powerful and most definitely detuned rhythm into the face, but then changes direction and becomes edgier, however, there are some strong melodies that come with the track giving it that haunting and wholesome flavor.
'Alive' is a stomper most definitely, it surges with a melodic rhythm and a callous beat, ferociously slapping one in the mush and raising the roof! It vehemently expels a screaming riff that is once again quite catchy.
'Megamosh is a powerful jaunt that swaggers with a rip-roaring vocal as it unleashes a beast! The groove is energetic breeding flames of passion and incorporating 'sweary' lyrics to help it on its way and put the point across.
'This is your life' begins very slow and oozes atmospherics of a dark nature, which is I believe about abuse, although the music is just that bit too loud and drowns out the vocal as it is softer. But a very serious theme to end on.
There is a good mix of tracks on this debut album that is simply gripping and draw you into a very vibrant core. The fast aggressive tones are simply delicious, while the slower paced tracks have a serious story to tell. It's one of those moments that simply grow on you and before you know it you have listened to the album quadruple times!
It's an album where you can throw yourself around the room and not give a f*ck other than to confirm you are enjoying its aggressive encounters by going Ballistic(a) but do think of the neighbors!
For me, the keyboard rhythms really add depth and urgency to the tracks and for a debut album, it is living proof that the band has a lot more up their sleeves!
A very engaging album indeed that grows on you!
9/10
Track List:
One against the world
Bleed it out
More of us
All that I loved was the Enemy
Karma Backlash
My Polluted Mind
Not gonna die
Eye to Eye
Alive
Megamosh
This is your life
Members:
John NT – Vocals, Guitar  
Scott Crocker – Guitar
Kammo Olayvar – Bass
Robin Risander – Drums