Machine Rox
Electric Bang Machine
6 Track E.P
Static Distortion Records – Synchrotrax Records
Released 1st August 2015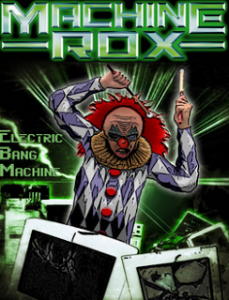 Nitty gritty & down to the bone!
Machine Rox – London
Links:
https://www.facebook.com/machinerox
Listen and buy here:
https://machinerox.bandcamp.com/album/electric-bang-machine
Genre: Electro Industrial Metal
Biography:
"Machine Rox began as the solo project of Richard K, the musician/songwriter taking rich experiences and adventures from being part of industrial metallers MEAT MACHINE and GLOBAL NOISE ATTACK, with whom he shared stages with the likes of Rammstein, Napalm Death, and Covenant, into his new creative intent. The project grew with the addition of AGA in 2010, her unique backing vocals and keyboard seduction aiding a new potency which took the well-received strengths of the band's first two E.Ps to new commanding heights with the "Driven" EP. The recruitment of guitarist VALERIAN OPROIU and drummer NUJ FARROW in 2012 saw the quartet concentrating on lighting up the live arena, which they did with acclaim and accomplished devilry through festival appearances and shows which saw them play with bands such as Leaetherstrip, V2A, and Deviant UK!"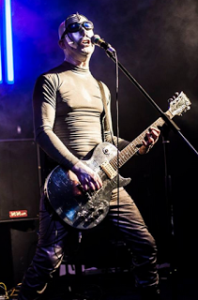 Richard K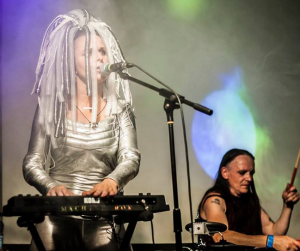 Aga and Nuj
Nachtschade
It seems there is no stopping Machine Rox they are an unstoppable force with their punchy magnetic tracks this one being no exception. The sinister hues of ambient magic draws you closer into their seductive rhythms and when they do be prepared for a demonic attack to the audial. It is virtually impossible not to move in one form or another to sounds like this – even if one was encased in quick drying cement!
Mind Control
Again with a sinister ambiance this track launches its devious rhythms on unsuspecting ears. It toys with your emotions and subsequently has you firmly fixed on the target! It's tempting bursts of raw and unbridled involvement is like metal to a magnet which in turn sends a dark wave of alluring rhythms right down the spine until it cannot tingle anymore!
Move On
This has to be my favourite track on said E.P just for the bubbling rhythms it emits and the anthemic pull that levitates to an all-time high. The sing a long content will have you reaching for the obligatory hairbrush in order to add to the bands tempestuous enterprise, while your body is taken on an irresistible journey that has to be completed. It continues to impress right up to its end and will ensure a superb listen.
————————————————————————————————————————————————————————————-
"The drama that is executed within this E.P and rip-roaring exploits will be a great springboard for the next offering by the band – but hard to see how they can better this! Superbly executed!"
—————————————————————————————————————————————————————————————
Save the World
This is an incredible amble of sparse keyboard notes that will engage while offering subtle edginess and melodic enterprise. Its message needs no explanation and will leave your senses awakened.
Fall Down
Is a really engaging and thoroughly mesmeric track that captures a riotous feel and one you want to get caught up in on listening and will invariably do so! The vocal grazing is all-encompassing and rich, backed up by fluid ripples of moreish rhythms is a grand recipe for electronic body movements!
Stop telling lies
The bristling waves of pulsating rhythms and beats surround you in a cloak of pure unadulterated madness that twist and turn into a ferocious stomp. Again the mind has to obey such powerful tones and swiftly manoeuvres the body to follow suit so it is 100% thoroughly engaging.
Summary
For EBM enthusiasts everywhere (count me in here) This E.P will roughly caress the senses and awaken your soul with its powerful lures and addictive choruses to the point it will leave you dazed and disorientated in true Machine Rox style!
It isn't difficult to get attached to music of this calibre with its mesmerising beats and punchy rhythms – in fact if you can't you are obviously not long for this world or already dead!
The focus is without a doubt the attention grabbing synth notes (courtesy of Aga who lends her vocals to the tracks as well) that gravitate toward the ears and is an amazing piece of bait that Machine Rox exploit superbly well through-out this E.P.
The drama that is executed within this E.P and rip-roaring exploits will be a great springboard for the next offering by the band – but hard to see how they can better this! Superbly executed!
Go on, go out with the Electric Bang Machine!
10/10
Track List:
Nachtschade
Mind Control
Move On
Save the World
Fall Down
Stop telling lies
Members:
Richard K (Electronic, Vocals, Bass, Guitars)
Aga (Vocals, Keyboards)
Nuj Farrow (Live Drums)