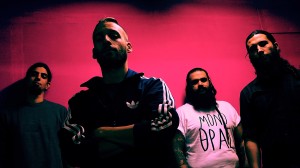 Summon: How did the band get started?
Lizard: It was one hot summer in Greece back in 2007 when we formed Lucky Funeral. As it is expected in these cases, we were rehearsing and jamming constantly until we could say that we have created something.

Summon: What kind of music do you play?
Lizard: We prefer not to label our music, but if we should define our sound we would categorize it somewhere between sludge metal, progressive and space rock. Each member has lots of influences and this helps us to vary our sound every time.
Summon: How has the band response been?
Lizard: There is a strong fan base in our homeland, Greece and we are trying to expand it in Europe with tours and live performances, which seems to work so far. Of course there are some people around the world who dig our sound but it's very difficult to reach them without distribution.
Summon: Where did the band name come from?
Lizard: It was something between Sabbath influence and a philosophical thought. Also we like the controversial meaning between the two words.
Summon: Introduce the band members
Lizard: Mike sings, Lucas plays the guitar, Lizard is the bass and synths player and Pepper is the drummer.
Summon: Who writes the music? Lyrics?
Lizard: Music is written by the whole band as we jam together and pay a lot of attention in arrangement. During this procession initial ideas and riffs usually change till we get a ready song for recording. Lyrics are usually written by Lizard.
Summon: And where do the lyric ideas come from?
Lizard: Our recent album, "Find Your Soul In Beautiful Lunatics", is inspired by the ancient Greek philosophy, mythology and especially on Plato's work. The album is a concept, which creates as a dreamy situation for the listener. The main theme is Soul and immortality of the Spirit.
Summon: How many albums/CD's have you released?
Lizard: We have released 3 albums, 3 split vinyls and a couple of demos.
Summon: Tell me about some the songs on the latest CD?
Lizard: "Chorus" is the semifinal song on our newest album where we use a part from Sophocles' ancient tragedy "Antigone". It's in Greek language refers to the Human spirit. The Man can conquer everything except Death…
Summon: Do you have any side projects?
Lizard: We cooperate with other musicians in side projects but nothing permanent to refer to. Our singer Mike, is a little bit more into that, but mostly we are focused on Lucky Funeral.
Summon: Who are some of your musical influences?
Lizard: Surely bands like The Beatles, Black Sabbath, Aphrodite's Child, King Crimson, Frank Zappa, Toto…

Summon: Which current bands? 
Lizard: Its an endless list but if have to name some then Melvins, Soundgarden, Mike Patton, The Mars Volta, Alice in Chains and many many more!
Summon: What is the band like when you play live? 
Lizard: An out of body experience…
Summon: What was the best band you played with?
Lizard: We have played with many great bands like Ozzy Osbourne, Machine Head, Septic Flesh, Clutch, Orange Goblin…

Summon: Have you guys ever played in another country?
Lizard: We have already made three European tours and we are scheduling the fourth. It must be around 16 countries.
Summon: How big of crowd shows up at shows usually?
Lizard: A realistic number should be about 200 people but we have performed in front of more or less people in festivals or as a supporting act.
Summon: How is the crowd response when you play?
Lizard: It depends on our sound each period. Our first two records was something like a powerful metal show. After our latest release, crowd seems to be very focused enjoying the show and listen carefully the music.
Summon: What is the scene like over in your country?
Lizard: Scene is very strong, shows have many people and we got many great bands. Greece is one of the most promising countries in rock music nowadays. Remember this…
Summon: What made you want to be in this band?  And if you weren't in this band what would you being doing now?
Lizard: The freedom of creation. We play music without boundaries. It's a matter of evolution and makes us impatient for our future releases. If we weren't in this band we would definitely be involved in music somehow or in some other artistic expression.
Summon: What does the future hold for the band??
Lizard: Many shows and a lot of new music!
Contact them at:
https://www.facebook.com/luckyfuneral
http://www.reverbnation.com/luckyfuneral
https://twitter.com/Lucky_Funeral
http://luckyfuneral.bandcamp.com/