Lauren Hoffman & The Secret Storm
Family Ghost
11 Track Album
Polymath
Release date 27th January 2017
By: Pagan Hel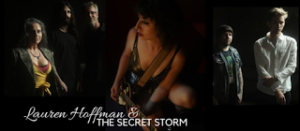 Lauren Hoffman & the Secret Storm – Charlottesville, VA
Links:
https://www.facebook.com/laurenhoffmanmusic
Genre: Alt Rock
Biography:
"Brimming with sensual intensity, climaxing with anthemic rock choruses, honest, haunting, sultry, sexy… These are words that have been used to describe the work of Lauren Hoffman & The Secret Storm – an alternative rock band formed around the eclectic songwriting of Lauren Hoffman and featuring cello, electric violin, rock guitar and rhythm section, piano, synth, and vocal harmonies!"
~~~~~~~~~~
On listening to this CD I get the impression Lauren Hoffman sounds a lot like Tori Amos. In fact, her persona and character sound similar in a lot of ways to Ms Amos, which isn't a bad thing at all, but then although thought provoking is nothing new to the listener.
It is a CD that does slightly grow on you if you can tear yourself away from the metal genre and allow yourself to fully listen and get absorbed in the very sensual words that are sung hauntingly by Lauren, but I will always feel more comfortable in a 'metal' environment and some of the songs have left me completely cold and unengaged.
I do, however, like the fact that unusual instruments are used within the album like the electric violin and cello. It isn't every day you hear those instruments being played, so it is a welcome change from just the usual drums, bass and guitar.
I have to admit on looking at the cover I wasn't convinced it would be a CD I could relate to, and although very melancholy but it does hold the attention somewhat and allows one to take stock of their thoughts, However, I do find myself craving a heavier vibe and a more up-tempo beat! And not something that can be thrown on mainstream radio at a whim for commercial purposes.
I cannot fault her voice or the musicians accompanying her, but find that a lot of the songs do sound quite similar which usually leads to boredom and so perhaps not a band I would make a point of going and listening to live, but for the mainstream crowd, no doubt will be flocking to see this band perform.
There is, however, one track that jumps out at me and that is 'Family Ghost' (also the title track) that harbours a solid leverage on which to rest one's laurels along with a superb rhythm and quite a compelling track to boot!
Family Ghost
'The Dragon' is somewhat eerie and makes good use of the electric violin but it is a very slow and otherwise a pretty non-descript track as I have found most of the CD, but this is well out of my comfort zone, so not surprising.
The songs are obviously themed with Lauren's findings of life and very well written and arranged, but not something I could feel fully comfortable with and therefore cannot completely let myself go.
6.5/10
Track List:
Don't Look Back
Feel it all
Let the waves crash on me
Sick with Love
In the Sun
I just broke up with a guy who kinda looks like you
Family Ghost
Fast lane
Broken
The Dragon
Till it lasts
Members:
Lauren Hoffman – Vocals/Guitars
Tony Lechmanski – Guitars
Catherine Monnes – Cello, Electric Violin
Ethan Lipscomb – Keyboards/Piano
Jeff Diehm – Bass
Jordan Marcini – Drums
Kevin Ardrey – Drums on 'Broken'