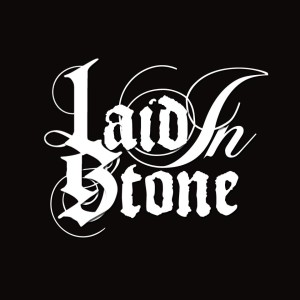 Summon: How did the band get started?
Chad: Laid In Stone was formed in late 2009 after the breakup of two local metal bands in Oxford, Michigan. Trent Heichel and twin brothers Danny and Kyle Cummings came from SYMPTOM OF REALITY while I, Chad Rice came from IN STONE. Local guitarist Kelly Meadows was recruited to complete what is now known as Laid in Stone.
Summon: What kind of music do you play?
Chad: Metal done LAID IN STONE style, straight from our own flesh and blood. If you break it down you can find elements of hardcore, metal core, thrash and groove metal but, we consider ourselves an American metal band.
Summon: How has the band response been?
Chad: Consistently, very positive from the debut to the present and we seem to have a growing fan base. There has always been a crowd that has taken interest and made sure we knew about it! A last minute booking in Oregon comes to mind where everything went really well. Fans were buying every t-shirt design we had, stacks of cds and to top it off the venue made sure we we're fed. For a random last minute show we did pretty well.
Summon: Where did the band name come from?
Chad: I (Chad) came up with the name LAID IN STONE which was derived from my former band which I also came up with called IN STONE. Everybody really liked that name but, it need something more to make it feel collectively connected to the new project and line-up hence, LAID IN STONE. The name was just something that came to me and I think it has kind of a "done deal" or "for all to know" feel to it.
Summon: Introduce the band members
Chad: Chad Rice: Vocalist, Trent Heichel: Lead Guitar/ backing vocals, Danny Cummings: Drums, Kyle Cummings: Bass, Kelly Meadows: Rhythm Guitar
Summon: Who writes the music? Lyrics?
Chad: Usually Trent or Kyle come up with a riff or an entire song. Then Trent, Kyle, and Danny will sit down and work it all out and change anything that sucks or feels weird. After that Kelly comes in and learns it and gives his opinion on the song. When it's finished, I (Chad) take a rough mix of the song and write lyrics to the track.
Summon: Where do the lyric ideas come from?
Chad: The lyrics can be directly attributed to situations in my life, I've said before that being on the wrong side of karma will always provide some great song writing but, each song has a different theme. The track "Far From Fate" is about the passing of a friend which I believe to be unjust or before their time and "Lead Me Lost" focuses on miscommunication, where someone is making false accusations while never being a witness and failing to be convincing or holding an ounce of truth. The topics are indirect but, I prefer it that way. I'd rather it be up to the listeners interpretation rather than forcing an opinion on someone. I listen to music to feel a certain way or for release and I hope others can find that same quality in our music to mend their lives for the better.
Summon: How many albums/cd's have you released?
Chad: Our first release was an EP called "Chains of Malice", followed by a full length called "Before The Footsteps of Truth". We are currently working on another full length called "The Perception of Power" that will be available sometime this summer of 2011.
Summon: Tell me about some the songs on the latest CD?
Chad: Soon to be released, "The Perception of Power" is a much more polished, powerful and focused sound than our prior EP and full length. I'd say we're definitely pleased with the way it's turned out. The song "Lead Me Lost" has a great chorus, lots of dynamics, great guitar solos and simply just an all around great song. Another track called "Was your Faith in Me" is another power house from start to finish, very catchy and easy to listen to. Everybody definitely stepped it up a notch on these songs. The new album is full of strong vocals, brilliant guitar work and bass and drum sections you don't want to mess with!
Summon: Do you have any side projects?
Chad: Mostly Disc golf lol but, Seriously LAID IN STONE is the main and side project, that's just the kind of work ethic we have. This band is solidified by devotion and investing in anything else as far as another band would be counterproductive.
Summon: Who are some of your musical influences?
Chad: Everyone has their favorites but, it's unanimous that we appreciate Pantera, Machine Head, Hatebreed and Killswitch Engage. There too many to list really but, those are a few that come to mind.
Summon: Which current bands?
Chad: Relatively new artists we've been listening to would be unearth and Chimaira.
Summon: What is the band like when you play live?
Chad: High energy, crowd interactive and heavy as hell, like walking into a burning building or getting hit by a Mack truck! We give it everything we have until the tank is empty, if you're not exhausted by the end of the show then we have failed. We make sure we do the best job we can, rile the crowd and have a good time no matter what. The mentality is that just because you're not on the most prestigious stage and time slot doesn't mean you can't have the best show of your life. In fact hitting the stage early can give you the upper hand. You can be first to set the tone and do things that make it harder for the next act to follow up.
Summon: Have you guys ever played in another country?
Chad: Is that an offer? No, we haven't but, name the time and place and we'll be there! We are looking forward to that opportunity and hopefully it's very soon!
Summon: How big of crowd shows up at shows usually?
Chad: When we play in our hometown, around 100 to150 people usually show up between family, friends and fans. Our last two month tour from coast to coast was kind of hit or miss. Turnouts depended on what day it was, who we played with, booking agents and venues. Ultimately, we play our asses off for our fans, whether there's a handful of people or an army of metal heads. We appreciate the fans so much, it mutual though, we feed off of each other. The more everyone gets into it, bands and fans alike, the better the shows are.
Summon: How is the crowd response when you play?
Chad: Pertaining to crowd response, it seems like we've never had a bad show and I'm not just saying that. Put us in front of people who are hungry for metal and we'll turn it into a riot equipped with a mospit or wall of death smack dab in the middle. You'll be able to hear people screaming ONE MORE SONG or something profane for that matter from miles away.
Summon: Any plans on writing any new material?
Chad: Even though our current album "the perception of power" isn't out yet, we already have another cd already written. New material is an ongoing process in this band and if anything stands in our way its time itself.
Summon: What does the future hold for the band??
Chad: There is much to be done, lots of hard work, more albums and more touring. Our forward momentum has never stopped and the inertia keeps getting stronger. There have been plenty of bumps in the road but, nothing that we haven't managed to overcome. As long as metal is alive so shall Laid In Stone, with that said our future is blinding. Just remember, our shows may be violent but, it's important to take care of each other out there. Our stage is yours and we may even jump in the pit with you it's all in the name of metal!
Contact them at:
https://www.facebook.com/laidinstone
http://www.myspace.com/laidinstone