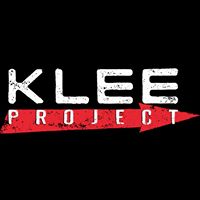 The KLEE Project
The Long Way
13 Track Album
Memorial Records
Release Date: 28th October 2016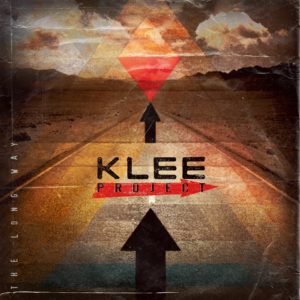 One remarkably compelling album!
Written for Crimson Moon Zine
By: Pagan Hel
The KLEE Project – Italy
Links:
https://www.facebook.com/kleeproject
Genre: A combination of southern rock and contemporary alternative metal, moving from 80's electro-pop to symphonic music.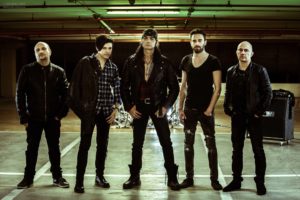 Biography:
"KLEE PROJECT is an "all-stars band" that was created from an idea of Roberto Sterpetti (a known Italian vocalist) singer, and Enrico "Erk" Scutti (ex Cheope, ex Figure of Six) backing vocals and lyrics.
Other names include Marco Sfogli (Pfm, James La Brie) guest featuring on guitars, Lorenzo Poli (Vasco Rossi, Nek) on bass and Antonio Aronne (Figure Of Six, Iconist, ex Pavic) on Drums. All accompanied by a symphonic orchestra conducted by M° Francesco Santucci, with the collaboration of Tina Guo on cello. All recorded at the Memphis Recording studio in Rome by Gabriele Ravaglia (Fear Studio) mixed by Francesco Altare and mastered by Riccardo Parenti (Elephant Mastering)!"
~~~~~~~~~~
From the off the rhythm from Everybody Knows sucks you into its stride and embellishes the ears with bold seduction. The keyboards spice up the track along with bouncing bass hooks and catchy lyrics. A wah-wah pedal is prominent and introduces some fantastic fretwork!
Addictive listening!
Living up to its name of Southern Boy the seductive bluesy charm captivates and holds that rolling swagger and is so addictive with its penetrating rhythm that's absorbing and creative, with a real full on bluesy vocal, It's so infectious, it should carry a warning!
The band's title track The Long Way exposes some fantastic potent melodies and soul-searching vocal in which to immerse yourself. It's a very impressive track that once again emerges as captive and riveting in execution.
If you want is a slower paced track that holds a very beautiful melody and a solid caressing rhythm.  The diversity from Klee Project is astounding from blues to soft uplifting beauty. It's an all-consuming track that holds plenty of grace and elegance.
The next track The Prisoner is edgy and expands on the band's already diverse direction. The catchy lyrics, including the chorus, are a bold and enticing run of addictiveness, with niggling riffs and raspy but lilting vocal entourage. By the end of the track, you will be singing along like you have known the lyrics from the beginning of time, as with most of the lyrics on this delicious album!
Hereafter is a melodic flurry of excellence with haunting cello and thumping drum beat it is mesmeric and so unpredictable. Incredible that a band can change direction so many times and still captivate their audience.
Moving in the direction of a more metal composition Time is over possess one melodious riff that does more than seduce, captivate and engage it is totally off the scale with addictiveness!
Your Sacrifice is a real epic number, heartfelt, warm and embracing. The tonal keys are haunting and commanding, and once again holds a very different approach. The twists are just smouldering and literally binds the listener to the band.
Close to me has a pounding beat with the warm tonal melody that reflects an edgy passionate flair, brooding with inescapable raw emotion and not surprising it's impregnated with harmonic coaxing that will leave you salivating.
Employing a fiery rhythm that holds super strength and a vibrancy in its bones is the track You should be mine. The riffs are intense, flame-ridden and powerful, with an amazing vocal presence.
This Game possesses a sweeping and creative exploit. Its haunting essence is defined by an epic adventure of full on surround sound that causes some serious rousing and melodically driven encounters.
Lucrezia's Night begins with a tinkle of keyboard notes that play out like raindrops, but a passionately warm vocal embraces the ears. It is an arousing drama that unfolds with palpitations that cannot be ignored.
Lucrezia's Night (Reprise) as the gentle breeze flows softly amid the haunting caress of panpipes. The beauty unfolds as the track plays out and simply takes your breath away. Its touch is inspirational, with really good use of the instruments executed.
Unique, melodic, beautiful and alluring but still with bounce and vigour, it holds something for everyone. You will be hard pushed to pick a favourite, although I suppose it depends on what mood you are in but KLEE Project cater for every mood, and every taste, just don't let these guys slip through your fingers!
What else can I say about this album that I haven't already mentioned previously? Well, there isn't really much more to say other than – go and enjoy what KLEE Project have on offer – you will so thank your ears you did!
10/10
Track List:
Everybody Knows
Southern Boy
The Long Way
If you want
The Prisoner
Hereafter
Time is over
Your Sacrifice
Close to Me
You should be mine
This Game
Lucrezia's Night (Reprise)
Members:
Roberto Sterpetti – Lead Vocals
Erk Scutti – Additional Vocals
Marco Sfogli (Guest Featuring) – Guitar
Antonio Aronne – Drums
Lorenzo Poli – Bass