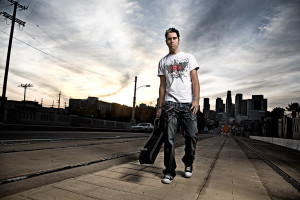 Summon: How did the band get started?
Johnny: The band got started after I moved to LA and my guitarist Brian said I needed to play live to get chicks. haha At the time I wanted to be a recording engineer and songwriting was a hobby. I was working as a waiter when I met Brian, and his band "A Different Self" had toured, made music videos, and played the sunset strip so I looked up to him and did what he said. It turns out Brain was right. He was the push that made me move!

Summon: What kind of music do you play?
Johnny: I play Alternative Rock/Pop Rock.

Summon: How has the band response been?
Johnny: The response has been positive. People seem to like the music and more importantly my voice, Which is nice because Ive never been a fan of my voice. When I started playing music I was a drummer and didn't have to worry about my voice but now its front and center. I still hate my voice.

Summon: Where did the band name come from?
Johnny: The band name comes from my actual name. My cousins began nick-naming me Johnny and it stuck. When I moved to LA I started going by Johnny Whiteside and everyone thought my name suited my personality very well. Johnathan is my alter-ego.

Summon: Introduce the band members
Johnny: Currently, I sing, Brian Lupo plays Guitar, Kevin Bair plays Bass, and Justin Pereira plays drums.

Summon: Who writes the music? Lyrics?
Johnny: I write all the music and lyrics along with my writing partner and Producer Paul Trust. We have a great relationship and complement each other very well. Paul also started out as drummer so it feels like we are on the same page, I'm just better at guitar.

Summon: And where do the lyric ideas come from?
Johnny: My lyric ideas come from past experiences, or stories Ive heard. Really from anywhere just like the song itself. Movies, books and whats happening in the world. I just try to put what I am feeling in my heart down on paper.

Summon: How many albums/cds have you released?
Johnny: I have released 3 EP's so far on iTunes. I have been recording and making demos since I was 17. There is a lot of UN-released material. Some of which I'm embarrassed to show, so It will remain UN-released. I'm very hard on myself when it comes to writing and recording music. I want everything to be perfect and I don't just want to release anything. I haven't put out an album yet but I know its gonna take a lot to put it out because Ill still feel like it could be better. I'm never happy and also think I could improve which isn't always a bad thing.

Summon: Tell me about some the songs on the latest CD?
Johnny: So far Ive only released the single "Heaven Without You" from the new EP. I go back into the studio in November to finish the rest of the EP. Heaven turned out better than I hoped for. The song was put together pretty fast and was recorded just as quick. I was surprised because I usually play all the instruments and it takes a while, but like I said, Paul and I work very well with each other. He had a vision for the song that I didn't see and it came out better than either of us thought. I cant wait for everyone to hear the rest of the EP. Its my best work yet.

Summon: Tell me about some the songs on the latest CD?
Johnny: I have no side projects yet. My solo career takes up so much of my time that I don't get a chance to work with anyone else. I would love to start something completely different someday. Maybe Country,Hip Hop or Metal. I'm not gonna start a side projects that just sounds like Johnny Whiteside, I want it to be its own entity and set apart from what I do. I would like to work with Wiz Khalifa. He's amazing and I could see us working well together.

Summon: Who are some of your musical influences?
Johnny: I have so many musical influences from Pop to Rock to Country to Metal. I just love music and appreciate good music no matter what genre it is. I believe good music is good music. Just to name a few……..Johnny Cash, Nofx, Metallica, Korn, Wiz Khalifa, Michael Jackson, Pennywise, Jay-Z, Hank Williams Jr, Eric Clapton, Bad Religion, Lamb Of God,  Britney Spears, Megadeth, Pantera, TuPac, Alan Jackson, Alice In Chains etc.

Summon: Which current bands?
Johnny: Currently I like Adelita's Way, there great rock music. I also love Halestorm, I think Lizzy Hale is a great rock singer and guitarist. I like Nickelback's heavy songs. I think they should ditch the soft rock crap and just go heavy because they have some kick ass rock songs but they wont because there Nickelback.

Summon: What is the band like when you play live?
Johnny: When I play live, I just try to lose myself in the music. I like my live set to have a lot of energy and emotion. When people leave a Johnny Whiteside show I want them to feel like they just left a REAL rock show for the first time. I want them to leave sweaty, bloody, tired, deaf and emotional. Something they will never forget. A show should be more pleasing then listening to the music on a CD.

Summon: What was the best band you played with?
Johnny: Can't honestly say that Ive played with any good bands.  Hopefully the future will be different.

Summon: Have you guys ever played in another country?
Johnny: Ive been offered to play in other countries but didn't. In 2009 I was offered to play a festival in South Africa but I was comfortable with the deal I was given, so I turned it down. It would have been a cool experience but I also have to look out for myself. I know one day Ill get the chance to do it again but with the right people.

Summon: How big of crowd shows up at shows usually?
Johnny: My crowd sizes have varied depending on where it is. In LA it was tough because no one cares about who you are or to see you live. In Florida I could have a packed house every night. Just depends on the place.

Summon: How is the crowd response when you play?
Johnny: The crowd response has been good. People see me and think I'm going to play metal and then I break into radio singles, its pretty funny. I catch them off guard. But they seem to dig my music. They should know they didn't come to see Garth Brooks. haha

Summon: What is the scene like over in your country?
Johnny: The scene to me is dead. Over flooded with too many metal bands. I love metal, don't get me wrong but I like to see it left up to the pros(Lamb Of God). No one really tries to play Alternative Rock or doesn't want to try. When everyone is running left I like to go right. Its just how I am.

Summon: What made you want to be in this band?  And if you weren't in this band what would you being doing now?
Johnny: I think the thing that made me want to be in a band is hearing how a song comes together. I love creating something out of nothing. Everyone has there role and hearing all the roles come together is like magic. I also love the response I get when someone tells me that my song has affected them or helped them in some way. I didn't realize it when I started but its more rewarding that I thought.

Summon: What does the future hold for the band??
Johnny: What does the future hold for me? Well I just hope I can continue doing what I love and inspire a younger generation. I'd like mainstream success but I don't need fortune or fame. What I'm doing now is great. The only thing I want is longevity. And I guess some money couldn't hurt.
Contact them at:
http://www.facebook.com/pages/Johnny-Whiteside-Music/160700060487?ref=ts&fref=ts
http://www.myspace.com/johnnywhiteside
https://www.reverbnation.com/johnnywhiteside