I the Betrayer
7
7 Track E.P
Darkspawn Records
Polymath
Release Date: 5th June 2017
By: Pagan Hel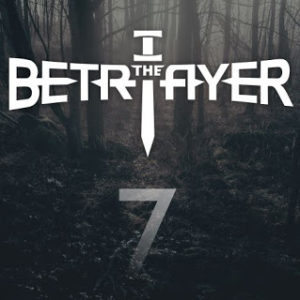 I, the Betrayer – Oslo, Norway
Links:
https://www.facebook.com/ithebetrayerr
Genre: Heavy Metal
Biography:
"I, The Betrayer are a heavy metal band forged by the communal love for metal by the five members. Bringing original music with melodious leads, soaring vocals and chugging heavy riffs, ITB plan to conquer the world. E.P due for release in June 2017!"
~~~~~~~~~~
As a band from Norway, you are immediately drawn to the fact they are going to be black metal, not just heavy metal, but the proof is in the eating so they say, so I shall now explore what I, the Betrayer have produced in the last two years…
As Credulity spews from the speakers it is clear they are heavy metal and NOT black metal, in fact, they hold that dual vocal which is very nu-metal indeed and done by the same guy Chris Wiborg. The melodic hues hang in the air and melt through the clean vocal, its counterpart is the total opposite being dark and low toned. It has that Sabbathesque structure which is instantaneously likeable. Selfish Ride begins with a quack, quack, and although a little tongue in cheek is anything but cheeky when it comes to a deep slug of rhythm that smacks you around the head somewhat, as it takes leave of its senses and escapes into a bewitching encounter. Conformity begins with an ambient and smooth edge that harbours a dark secret pulse that wages war on the mind as the drums pummel out a ritualistic beat. Suddenly it thunders into action and you can really feel the dual action vocals come alive with venomous intent! Humanity throws us onto an untouched path of intrigue and gives a sense of foreboding as it breeds an unfamiliar stroll but as it unfolds it becomes more familiar with its large striding mass of rhythms and just as quickly as it turns that corner plunges itself back into unfamiliar territory. Creatures of Hate contains a strange eeriness about it. Being quite intense and drama-ridden it entwines itself around the ears as the vocals come into play, simmering with seething low tones and clean vocals it keeps you on your toes. Boaster simply bursts into action almost immediately and conjures up some mean rhythms that are essential for a good head banging session. Spiced with more than good melody and compelling energy, it's all out to make its presence felt. Ignorance as the potent, creativity of the track comes to light it is noticed by its winding strangeness, that meanders and lingers, be it only a short track it leaves you hanging as to what is about to happen.
It is a strange album, it isn't all heavy metal either. It holds some very poignant moments that outline the band's diverse creativity and the vocals themselves show great determination and gut-wrenching prowess. The music can be soaring one minute and calm the next so you never really know what's around the corner with I, The Betrayer!
9/10
Track List:
Credulity
Selfish Ride
Conformity
Humanity
Creatures of Hate
Boaster
Ignorance
Line-up:
Chris Wiborg – Vocals
Geir Prytz – Guitar
Alex Bjørklund – Guitar
Terje Høias – Drums
Kyle Sevenoaks – Bass