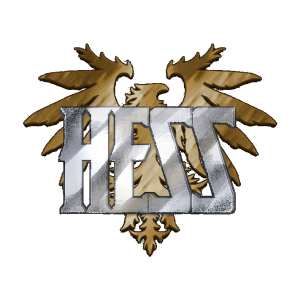 HESS, a Heavy Metal band from Rosario, Argentina, was formed in July 2010 when Melani Hess (vocals) decided to start a music project different from her former band Euphemya. To that end, she summoned drummer Luis Dufour from Fire & Steel (Manowar cover band) and guitarist Marcos Schaimne (former bands: Iron Mask, Redeemer and Presagio). Some months later, guitarist Ariel Schefer from Old School joined the band; and after a short search for bass players, Nicolas Copani (from Nocturnal Howl) became the fifth member of the band.
The main objective of the band was that of being a tribute to Classic Heavy Metal, playing cover songs from great bands like Black Sabbath, Iron Maiden, Judas Priest, Saxon, DIO, King Diamond, among others. The vocal register of the singer has given the band an original touch: her soprano voice together with Heavy Metal music have achieved a special merger.
Melani's Classical-singing influences are: Lucia Popp, Yma Sumac, Maria Callas, Cecilia Bartoli, to name a few. Melani has never undertaken vocal studies in a professional way, but she attended private lessons with her teacher Yamile Baidón for three years (2008 – 2010) and sang Classical arias in several of singing shows and choral festivals. Among the arias she performed were: Carmen (Bizet), Queen of the Night (Mozart), O Zittre Nicht (Mozart), Spargi D'amaro Pianto (Donizetti), Voices of Spring (Strauss), Ave Maria (Schubert), Ave Verum Corpus (Mozart).
HESS has played in many places since it was formed. In their hometown, Rosario, they've performed plenty of times in places like Willie Dixon, Animal Rock, El Sótano and The Wall. In 2011, they played in a Fantasy Event called "Rosario Fantástica" held at Cultural Centre Bernardino Rivadavia (Rosario, Argentina). In 2012 they traveled to Carcarañá and played in a motorcycle encounter.


In November 2011, HESS started the recording of their first demo, which was released in March 2012. It consists of two songs: Blood & Iron and The Giant (in memory of Ronnie James Dio). At the beginning of 2013, Marcos Schaimne left the band to join Diva Satánica. In his place entered guitarist Diego Martarello from Sacras.

HESS continues playing live shows and at the same time composing songs, trying to find its own sound. At the end of 2013, HESS started the recording of what would be their debut album, which consists of 9 songs of their own. The album called "Hagalaz" was released on 27th October 2014 in digital version. Physical copies will be available by the end of 2014. Plans for 2015 include composing more songs for a second album and at the same time traveling around Argentina to present the album "Hagalaz".
Discography:
·2012 – Blood & Iron (demo)
·2014 – Hagalaz (LP)
Facebooks:
·Melani Hess: https://www.facebook.com/hessmelani
https://www.facebook.com/melanihesshagalaz
·Luis Dufour: https://www.facebook.com/luis.dufour
·Nicolas Copani: https://www.facebook.com/nicolas.copani
·Ariel Schefer: https://www.facebook.com/ariel.deeppurple
·Diego Martarello: https://www.facebook.com/profile.php?id=1041050659
·HESS: https://www.facebook.com/HESSHeavyMetal
Contact:
Web Pages:
·MySpace: https://myspace.com/hessmelani/music/album/hagalaz-19508202
·Blogspot: http://hessheavymetal.blogspot.com.ar/
·Metal Archives: http://www.metal-archives.com/bands/Hess/3540388895
·SoundCloud: https://soundcloud.com/hess-heavymetal/sets/hess-hagalaz-2014
·Youtube: http://www.youtube.com/channel/UCB5CIpTEuIAbZ2NzVSkyFyw/videos
·Torrent: http://www.zentorrents.com/musica/15947-hess-hagalaz-2014
·BandCamp: https://hessheavymetal.bandcamp.com/releases
· MediaFire: http://www.mediafire.com/download/x9sk3j9budip2gl/HESS+Hagalaz+%282014%29.rar
Released Papers:
·Why "Hagalaz"?
https://www.facebook.com/notes/hess-melani/why-hagalaz-by-hess-melani/393308897492347
·Is HESS a Nazi band?
https://www.facebook.com/notes/hess-melani/is-hess-a-nazi-band-es-hess-una-banda-nazi/395221933967710
Reviews:
·By Tony González (Spain): http://www.madeinmetal.es/index.php/discos/novedades/5039-hess-hagalaz-2014
·By Joe Rittberg (US): http://www.metalreviews.com/reviews/album/8916
·By W.Wolf (GARM Magazin, Germany): http://hessheavymetal.blogspot.com.ar/2014/11/hess-hagalaz-review-by-wwolf-english.html