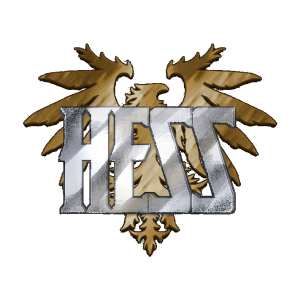 Summon: How did the band get started?
Melani Hess: HESS started in July 2010. At first we started as a cover band. We played songs from Classic Heavy Metal bands like Dio, Black Sabbath, Iron Maiden, Judas Priest and Saxon. As the band grew up and developed musically, we began composing our own songs always influenced by heavy metal.
Summon: What kind of music do you play?
Melani Hess: We play classic heavy metal.

Summon: How has the band response been?
Melani Hess: We get on really well as band members because we are all friends and we share almost the same musical influences. HESS is like a heavy metal family.

Summon: Where did the band name come from?
Melani Hess: It is my family name. The guys chose it for the band and I thought it was a good idea, since it is an extremely powerful surname.

Summon: Introduce the band members
Nicolas Copani: Well, we are five members: Melani Hess on vocals, Luis Dofour on drums, Ariel Schefer on guitar, Diego Martarello on lead guitar and Nicolas Copani on bass.
Summon: Who writes the music? Lyrics?
Nicolas Copani: Most of the guitar riffs and melodies were composed by Ariel.
Summon: And where do the lyric ideas come from?
Nicolas Copani: Most of our lyrics were written by Melani and Luis. Also one of them, which is a personal story, by Ariel.

Summon: How many albums/CD's have you released?
Melani Hess: We have released a two-song demo in 2012 called Blood & Iron. And in 2014 we released our first LP, Hagalaz, with 9 nine songs and a cover song.

Summon: Tell me about some the songs on the latest CD?
Melani Hess: There are nine songs of ours whose titles are: Blood & Iron; The Hessian; Clarisse's Nightmare; Der Teufel und sein Lehrling; The Giant (in memory of Ronnie James Dio); Interpretación; Sailor's Cross; Perpetual Flight; Boleskine House. And a cover song called Diamonds & Rust, originally composed by Joan Baez and re-versioned by Judas Priest.

Summon: Do you have any side projects?
Melani Hess: I'm also in a Nightwish tribute band called Nightquest, in a band called Nine Moons, another band called Lark Puden (symphonic power metal) and I'm soon to start a Helloween cover band (Kiske's years). Luis is in a Manowar cover band (Anvil of Crom) together with Nicolas and also in a Judas Priest cover band (Hell Patrol) together with Diego. Diego also has a band named Sacras. Ariel also plays in a Black Sabbath cover band and in another band which plays classic heavy metal and hard rock songs.

Summon: Who are some of your musical influences?
Nicolas Copani: Our influences are very similar. We share classic heavy metal bands like Judas Priest, Dio, King Diamond, Iron Maiden, etc.
Summon: Which current bands?
Melani Hess: HESS is almost entirely influenced by old school heavy metal bands. The purpose of the band is to sound as close as possible to traditional heavy metal.

Summon: What is the band like when you play live?
Melani Hess: We always have a great time on stage. Sometimes we make mistakes but we really enjoy playing live for our dear audience with whom we share our message.

Summon: What was the best band you played with?
Melani Hess: We never played with big famous bands. So far, the best bands with which we play are our friends' bands because we support each other and we end up having truly memorable nights.

Summon: Have you guys ever played in another country?
Melani Hess: Not yet. There are offers to play in Paraguay next year. But we need to carefully think it through.

Summon: How big of crowd shows up at shows usually?
Melani Hess: At our shows there are usually from 70 to 100 people more or less.

Summon: How is the crowd response when you play?
Melani Hess: Really positive. We try to transmit our energy and passion to our audience. And I think most of them really enjoy seeing us perform live.

Summon: What is the scene like over in your country?
Melani Hess: Heavy metal listeners are considered a minority here, especially in our home town in Rosario. But when we get together in big gigs by international bands like Judas Priest or Iron Maiden, the intense heavy metal passion is ignited and we become a massive crowd.

Summon: What made you want to be in this band?  And if you weren't in this band what would you being doing now?
Melani Hess: HESS emerged as a result of my strong desires to form a band with which I could fully express my artistic and literary ambitions. If I weren't in this band, I would probably be in another one doing something very similar.

Summon: What does the future hold for the band??
Melani Hess: This year we've got plans to shoot a video for the third song, Clarisse's Nightmare. It is a horror story taken from an old urban legend from the North American state of Indiana called "The Licked Hand". The music was inspired by old heavy metal bands like "Mercyful Fate" and "Annihilator". Our biggest hope for this 2015 is to take Hagalaz around the world, even if we cannot travel abroad. At the end of the year, we will start composing new songs for a second album.
Contact them at:
Facebook:
Contact:
Web Pages:
Released Papers:
Reviews: