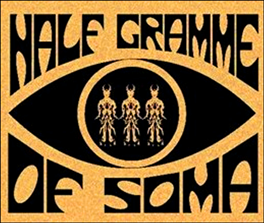 Half Gramme of Soma is a rock band formed in early 2011, based in Athens, Greece. Blending heavy rock sound with a wide range of influences, HGoS were introduced to the Greek music scenery by their strong live appearances.
In early 2013 they put out their s/t debut album. which was followed by member changes(new vocalist, bassist and drummer) and gigs around Greece alongside bands as 1000mods, Mars Red Sky, Stoned Jesus and more.
Meanwhile they recorded 5 more songs, which they're about to release in the form of an EP entitled "Marche au Noir" in October 2014.
https://www.facebook.com/pages/HALF-Gramme-of-SOMA/142360595865442
http://halfgrammeofsoma.bandcamp.com/
Marche au Noir EP
Tracks:
01 Marche 2.28
02 Seeking Shelter 5.16
03 Hitch Hike 4.26
04 Cage 9.00
05 Zero (Bonus Track) 4.02
Produced by Half Gramme of Soma 2014
Drums recorded at Devasoundz Studios by Fotis Benardo
Bass and guitars recorded at Kreatagora by Chris Vlachos,
Paschalis Kolentzis and HgoS
Vocals recorded at Moth Studio by John Tsiakopoulos
Mixed by Andreas Ntroulias
Mastered by Stamatis Fousekis
Artwork and layout by Maritina o.ψ
Printed by Fuzz Ink
The Band:
John V – vocals
Alexandros K. – Guitars
Takis A. – Guitars
Nick G. – Bass
George D. – Drums