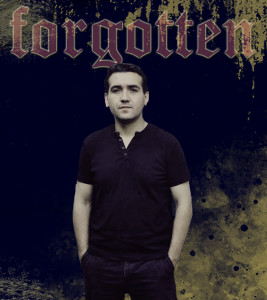 Summon: How did the band get started? 
Tolga: FORGOTTEN was formed in 1995 by me (Tolga Otabatmaz). I always loved to play and listen to the folk songs, one day I said myself  "If I play these melodies with electric guitars or If I add electric guitar to this music it can be good." And started to play J.
Summon: What kind of music do you play?
Tolga: There are folk parts, orchestral parts, there is heavy metal in my music, it is mixture of genres not only folk metal or epic metal and not look like other bands as listeners told me because of this I describe Forgotten's music as Ankarian Epic Art.

Summon: Where did the band name come from?
Tolga: The band's name come from the song of Joe Satriani's song "Forgotten". I was always thinking that nobody cares their ancestors. After the band's formation one day I was listening to Joe Satriani's song with the same title and at that time I thought that this was the right sentence about the ancestors. And I decided to name the band as "Forgotten".

Summon: Introduce the band members.
Tolga: Forgotten is an one man band. Only I (Tolga Otabatmaz) am the member of the band. I play guitars and bass in the band. But when I made the album I worked with two session musicians; Gökhan Bulut as vocalist and Ufuk Bulut as drummer.

Summon: Who writes the music? Lyrics?
Tolga: I write the music and arrange it, in older songs of the band older vocalists of Forgotten wrote the lyrics, I wrote the lyrics in new songs and I will write the lyrics of newer songs.

Summon: And where do the lyric ideas come from?
Tolga: I love history a lot, I watch historical documentaries, read historical boks. I am influenced these kind of things and of course the fantasies that my brain creates.

Summon: How many albums/CD's have you released?
Tolga: We released 2 demos, 1 promo CD and one album till now, this is our second album after 10 years.
Summon: Tell me about some the songs on the latest CD?
Tolga: One of the songs that I like the best on the album is "Song Of The Wood", it is telling about a king who is tired of war, blood and went to the wood where his ancestors purified their souls after the wars and purifies his soul in that wood as his ancestors.  And the other one is "Father"; this song is about this song is continuation of one of our old songs called "My Son". A son follows his warrior father's way and talks to his father about it.

Summon: Do you have any side projects?
Tolga: Yes  I have a side project, we play ethnic/fusion music, I play bass in that band and I make music in different styles such as soundtrack, electronic and industrial music.

Summon: Who are some of your musical influences?
Tolga: I have thousands of musical influences; let me write some of them, first of all the best band ever on earth-ELOY, there will never be a better band than ELOY. Running Wild, Black Sabbath, Iron Maiden, Amorphis, Fall Of The Leafe, Gods Tower, Rhapsody Of Fire, Crown Of Autumn, Rotting Christ, Septic Flesh, Orphaned Land, In Flames, Immortal, Bal-Sagoth, Death, Obituary, Venom, Celtic Frost, Pentagram (USA), AC/DC, Motörhead, Testament, Metallica, Megadeth, Sodom, Destruction, Vio-Lence, Manowar, Anvil, Xentrix, Dr.Skull, The Witchfinder General, Cathedral, Candlemass, Paradise Lost, Queen, New Model Army, Faith No More, Dead Can Dance, Joy Division, John Williams, Basil Paledouris, folk music, classical music, Semah, Turkish Folk Music, Zülfü Livaneli, Kardeş Türküler, Ezginin Günlüğü, Lilith Summon: What was the best band you played with?  Pentagram/Mezarkabul
Summon: Have you guys ever played in another country?
Tolga: No, we have not played in another country.
Summon: How big of crowd shows up at shows usually?
Tolga: Usually 150-200 people but in the festivals thousands of people you can see here.

Summon: How is the crowd response when you play?
Tolga: Always the responses were great but I think there will never be responses on the stage again because Forgotten is now an one man band and will be one man band in the future.
Summon: What is the scene like over in your country?
Tolga: Not good for local bands but good for the big bands. People do not go to watch live shows of local bands generally but in the live show of a big band you can see thousands of fans over there.
Summon: What made you want to be in this band?  And if you weren't in this band what would you being doing now?
Tolga: Only my feelings and my love to music. I want to tell myself to other people and I think this is the best way. If I were not in this band then I would create this create this band.
Summon: What does the future hold for the band??
Tolga: I do not know what will happen in the future but now I am writing the new songs for the new album and I will enter the studio in the near future to records and to release next year.
Contact them at:
http://www.myspace.com/forgottenankara
www.facebook.com/forgottenancyra