Fight Like Sin
Singularity
5 Track E.P
Release Date: September 2016
By: Pagan Hel

Fight Like Sin = Lafayette, Indiana, USA
Links:
https://www.facebook.com/FightLikeSin/
Genre: Alternative Rock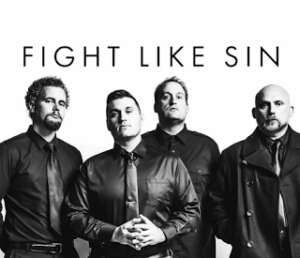 Biography:
Fight Like Sin is an aggressive hard rock band from Lafayette, Indiana. The group was formed in early 2012 by lead vocalist and guitarist Cody Hughes and drummer Tim Stepp. Drew Luigs would join the band as Bassist/backing vocals in 2015, and guitarist Rob Barr joining in early 2016.
Fight Like Sin brings you a new, crisp, heavy rock sound that blends an unconventional lower tuning with an occasional harmonised melody. A similar sounding artist would include: Chevelle, Breaking Benjamin, and Evans Blue.
The band has released a pair of EP's entitled Surrender Nothing (2013) and Singularity (2016). Tracks from Surrender Nothing and Singularity have been featured on various radio stations in the mid-west and on streaming media sites all around the world. Since their inception, Fight like Sin has shared the stage with talented artists like Eye Empire, Taproot, Dive, Like A Storm, HED (PE), and more.
~~~~~~~~~~
Ever just clicked on something on You Tube and thought Whoa! This band are just brilliant? Well, it has happened to me on several occasions, mainly because I absolutely love exploring new talent, new tracks and well anything that offers something with meat on its bones, and Fight like Sin are one such band that you can absolutely have a feast on.
Fire Away – Simply slithers from the speakers with thrilling and compelling grooves that start a battle with the audial and we all know who is going to win this, as this is the track that I uncovered on You Tube. It has been played to death since and no doubt will be played a few more times to come! The riffs are just so engaging and the beats are fiery with plenty of bass to give it depth. Such a great track to behold! And once listening you will find it hard to switch off! So be warned!
In the Dark – Begins slow and deliberate and stalks with rabid ambience and then suddenly explodes into a ravishing, torrential downpour of rhythms that reward the listener with sultry organic flavours with superb vocals and harmonies, that are pitch perfect and very professionally executed.
Nightmare – holds twisted and jagged rhythms that explore an infectious groove and is simply irresistible. The lyrics are compelling and that drum beat is ridiculously masterful along with the curdling riffs that delight with sheer excitement, just bolstering the senses.
Ever Hopeless – is a fantastic track that just keeps on giving, with rip-roaring addictiveness and stomping rhythms that never give up their vice-like grip on your ears. The forthright chugs are powerful and energetic, but not so much that you lose the warmth they produce either. Altogether a very satisfying track that is very moreish.
No Ghost – Hits the ground running and fires on all six as it goes. It's sharp and antagonistic, giving the ears a good bruising as the track simply shapes into a rousing melodious badgering! It's another sheer genius track that is all out embracing, offering nothing but a deep and profound groove that is again highly addictive and definitely could be classed as obsessive to the listening ear.
Fight like Sin have that compelling streak, the one no-one can escape from, but if you are anything like me, you wouldn't want to escape, it just drives you further into their uncompromising invasion that you want so desperately to be a part of.
I know the music scene is swamped with bands, mainly offering top notch tracks, and most of them are all waiting to be discovered on You Tube, all it takes is one click and it opens a door of opportunity to listen and engage, simple as that!
So why not add to your ever bulging music collection and stop bring so anal – take a trip to You Tube and go and discover some amazing bands – don't wait for them to appear in your newsfeed as you could end up waiting forever and then you will miss out on some heartfelt tracks that can so enrich your life.
So what are you waiting for, Christmas?
10/10
Track List:
Fire Away
In The Dark
Nightmare
Ever Hopeless
No Ghost
Members:
Cody Hughes – Vocals/Guitar
Drew Luigs – Bass/Vocals
Rob Barr – Guitar
Tim Stepp – Drums