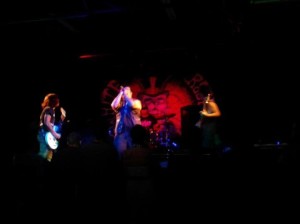 Summon: How did the band get started?
Don: The band started in 2008 as a horror punk band. Since then, ECEG has gone through an evolution. This is the band you see today.
Nathaniel: For me it started when the ex guitar player left the band.
Chris: The band was around before i started, I just moved back to San Antonio from Austin and the band was looking for a drummer.
Summon: What kind of music do you play?
Chris: The band is a mix between punk and metal; as for myself i tend to play whatever band or song interests me.
Nathaniel: We play music that grooves and leaves you wanting more.
Summon: How has the band response been?
Nathaniel: For me I just play and leave it on stage I don't poll the crowd.
Don: I enjoy every minute of it.
Summon: Where did the band name come from?
Chris: A 70s movie of the same name.
Summon: Introduce the band members:
Don: Don Domino- Vocals
Nathaniel Villarreal- Guitar/Vocals
Cody Seguin- Bass
ChristoFEAR- Drums/Vocals
Summon: Who writes the music? Lyrics?
Chris: The music stems from an idea that Nate or Cody has and then progresses from there. Don writes majority of the lyrics as well as the rest of the band contributes whatever they can whenever.
Nathaniel: We all ad our flavor to the mix.
Summon: And where do the lyric ideas come from?
Nathaniel: Real life situations. Unlike most bands that write about hating God and Bullshit like that we talk about respect the lack of and earning it.
Summon: How many albums/CD's have you released?
Don: Since 2008 we've released 6 demos. Our current self titled release can be found at Waterloo Records and Cheapo Records in Austin,TX. We'll also be heading into the studio to record a full length CD.
Summon: Tell me about some the songs on the latest CD?
Nathaniel: Right of Passage talks about liars in the scene. Bosses is about how the government talks big and lies.
Chris: The music is more ecclectic and the lyrics have matured
Don: It's loud, in your face, and real.
Summon: Do you have any side projects?.
Nathaniel: Just business. I run Anthem School Of Music and REE Productions.
Chris: No.
Don: No side projects. I feel we've invested a lot into what we do and are focused on the task at hand to make it in this industry. We're four guys with a desire and passion to achieve our life long goal of
playing music on a wider scale.
Summon: Who are some of your musical influences?
Nathaniel: Too Many to list I'm influenced by Sounds.
Don: I'm into everything from soul to Heavy Metal. So I like to incorporate my influences into the music we play. I feel that we're all eclectic in our musical influences that it widens the spectrum of
our musical capabilities.
Chris: Iron Maiden, the Misfits, Bad Religion, Pennywise, Descendents, Youth Brigade, Dream Theater, Spinal Tap, The Smiths, The Ramones, Motorhead.
Summon: Which current bands?
Chris: Asking Alexandria, Motionless in White, Alkaline Trio, Adrenaline Mob
Nathaniel: N/A
Don: Not influenced by them but diggin' Dog is Dead. Great vocal harmonies.
Summon: What is the band like when you play live?
Don: Amazing. Come see one of our shows. We bring it every time and we go hard. Song after song. No Breaks. We work hard.
Nathaniel: Heavy We perform with energy and we are the best at it.
Summon: What was the best band you played with?
Nathaniel: For me overseas jamming with Symphony X
Don: I'm gonna say The Misfits. I know, I'm one of those guys that wishes they'd Reunite with Danzig, but Jerry Only's holding his own with Dez and "El Chupacabra". Cool guys. We got to hang out with em after the show.
Chris: Holding onto Sound.
Summon: Have you guys ever played in another country?
Nathaniel: I have toured in Europe and it was cool.
Summon: How big of crowd shows up at shows usually?
Nathaniel: I don't count  people.
Don: Let's put it this way, we start playing, the people show up.
Summon: How is the crowd response when you play?
Nathaniel:  Great.
Don: Austin,TX and Corpus Christi,TX is where it's at. The  response is incredible! We get so much love from the people in those cities. Matt and the staff from Headhunters have been nothing but great to us in booking us and featuring ECEG on many of their Ta Ta Tuesday shows. Where Go- Go dancers move to our music. Casey Lain from House of Rock and his staff are very accommodating and book amazing shows! In fact we'll be playing with Three Bad Jacks September 27th  for the first
time EVER!
Summon: What is the scene like over in your country?
Nathaniel: The SA scene is lame.
Chris: Suck in San Antonio, Austin is promising.
Don: The scene makes you want to be better and show people that you're the best at what you do because it's very easy to be over looked. However, we choose not to be over looked. We respond to the nay sayers and show them who we are and what we do.
Summon: What made you want to be in this band?  And if you weren't in this band what would you being doing now?
Nathaniel: Fun and I don't know.
Don: This is something I love to do. I've been involved in music at a very early age and live to play the live shows and be in a band. With the other guys in the band I feel like we all have the common goal of
being successful in the music industry. I've never not been in a band, So I don't know. I'd probably be a TV Personality. I've got a degree in broadcasting so that'd be something to continue to put to use.
Chris:The sound of the band was intriguing and i wanted to play drums again. If i wasn't in this band
I'd probably be wasting my life on the streets again bored out of my mind.
Summon: What does the future hold for the band?
Don: The future is now. We're working hard, writing new music. We're focusing on playing more shows, heading back into the studio to release a new album, and go on tour.
Nathaniel: I don't predict the future I live in the present.
Chris: Conquer the World.
Contact them at:
http://www.facebook.com/EvilComeEvilGo
http://www.reverbnation.com/evilcomeevilgo
http://twitter.com/EvilComeEvilGo
http://www.evilcomeevilgo.com/ (under construction)