Demons of Old Metal 667
Dominion
11 Track Album
Independent
To be released 7th December 2015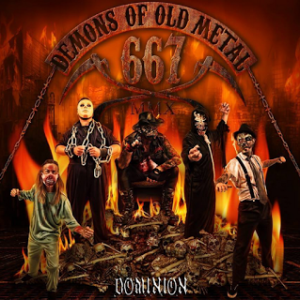 Devilish!!
Demons of Old Metal 667 – Torbay, UK
Links:
https://www.facebook.com/demonsofoldmetal
http://www.demonsofoldmetal.co.uk/music
All tracks written and performed by Demons of Old Metal
Recorded, Mixed and Mastered at Sub Terra England
Genre: Metal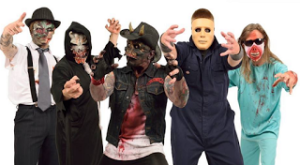 Preparing for an exorcism – with Demons of Old Metal
Biography:
"Demons of Old Metal was formed at the tail end of 2010 by four veterans of the UK metal circuit with the sole intention of getting back to playing what got them into music in the first place – classic metal songs. It quickly became clear that their high level of musicianship, coupled with the schlock horror image and stage show could easily translate into their own material and the writing process started in the early summer of 2012. On Halloween 2012 the band self-released their debut mini-album, 'The Demonic Chronicles Vol. I' and the response from fans and media alike was overwhelmingly positive!"
~~~~~~~~~~~~~~~~~~~~~~~~~~~~~~~~~~~~~~~~~~~~~~~~~~~~~~~~~~~~~~~~~~~~~~~~~~~~~~~~~~~~~~~~~
There is on all accounts a tongue in cheek feel to this album. You can almost see the wide grins and inane smiles coming together, as the album pans out into some apocalyptic doom day! Of course it isn't doom at all but a conglomerate of punkish vocal along with indescribable and disjointed sounds that enjoy showing off their indefinable madness.
It isn't surprising to read that the Demons of Old Metal are influenced by Steel Panther, as their lyrics portray the same profane humour that is executed in a similar vein, and let's face it who can resist such slapstick with metal attached to it?
————————————————————————————————————————————————————————————————-
"It is primal in attack mode and stealthily feasts on an over active mind that conjures up an evil heart, harshly coaxing it until it cannot take anymore from its ripe endeavours!"
————————————————————————————————————————————————————————————————-
The sampled voices add a slice of humour to its calamitous depth of odious rhythms that battle for supremacy. It is a mish mash of torturous terror in the name of 'metal' that has spiralled out of control.
The ferocity is prevalent from the off! Their vitriolic assault batters the ears indiscriminately and emanates from the beats that follow from an overwhelming excitement.
The tang is distinctly jazz orientated which may be a little hard to comprehend at times as there is so much wackiness radiating from the speakers and this is what makes 'The Demons of Old Metal' something to get your Gnasher's into!
The treacherous rhythms are compelling and striking. Feeding like a cancer on tender flesh, the growth continues until it can't go anywhere else and simply explodes into unpredictability.
Volatile and dynamic, there is no calm before the storm here – it just goes right in for the kill. The venomous blast beats mould themselves around some turbulent metal hues with hearty steel bass lines that engage into a seductive and sonic persuasion.
The rapturous chanting on 'The Quiet Ones' holds some familiar lyrics "Don't push me when I'm close to the edge, don't push me when my gun's at your head!" as well as some monumental rhythms that draw an intense breath. It boasts serious addictiveness and comes highly charged.
For a time the tongue in cheek humour dissipates and a more serious side emerges, but there is no getting away from the tremendous infection that eats away at your brain like a maggot to an apple!
It is primal in attack mode and stealthily feasts on an over active mind that conjures up an evil heart, harshly coaxing it until it cannot take anymore from its ripe endeavours.
The Demons of Old Metal have indeed struck! So that's 1-0 to them, but there is always the second half to redeem yourself! If you can escape the brutish nightmare of the impending apocalypse that is due to annihilate the senses.
One thoroughly enjoyable escapade, despite the jazzy orientated inception – it kicks ass and then some!
9.5/10
Track List:
Domintroduction
Fakeskin
You Version 2.0
Dance of the Damned
Open wide and Scream
The Quiet Ones
Grind
Behind the Mask
The Star of your Nightmare
See how they die
Get Outa Dodge
Members:
Vocal / Guitar Demon (VGD) – Tombstone Cowboy
Bass Demon (BD) – Baby Face Stephens
Rhythm Guitar Demon (RGD) – Psycho Wing
Drum Demon (DD) – Dr Doom
Tech Demon (TD) – Digital Death