Cyclocosmia
Immured
5 Track E.P
Doomageddon
Release Date: January 2017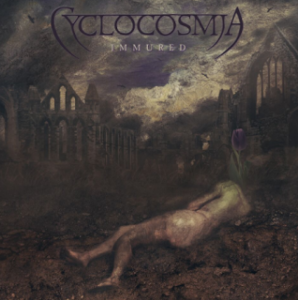 Cyclocosmia – London, UK
Links:
https://www.facebook.com/cyclocosmiaband
Genre: Symphonic Doom Metal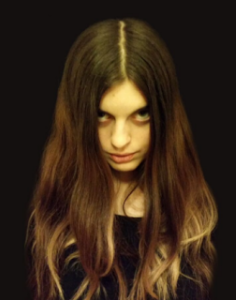 Aliki Katriou
Biography:
Cyclocosmia is a symphonic/doom metal band from London, UK, founded by British producer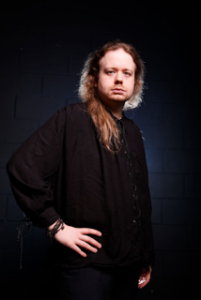 James Scott >
~~~~~~~~~~
On listening to Part I it's like the Omen all over again – the high shrill pitched voice from Aliki is very haunting and immediately sets to work on making your skin break out in rather large Goosebumps. The music resembles raindrops that drip constantly from a gutter like medieval water torture. Part II the rhythm takes hold with a solid bounce of furtive rhythms. The vocals are quite unique in that suddenly they go from high pitched to low toned growls and exert their pressure on the audial – this can only be described as purely phenomenal and welcoming to my ears with a great contrast from both James and Aliki who work well together on this E.P. Part III is a very soft lull that doesn't really have a direction for the first part of the track, however, two minutes in the track comes alive with a heartfelt guitar embrace and varying vocals both harsh and unyielding, which in turn keeps you gripped until the end. Part IV is similar to part III with a haunting melodic breath, until the tempo changes to one with quite sinister intentions. The symphonic angle is elevated to grand levels on which it now offers a striking and irresistible creativity. Part I-IV is back to the spooky and malevolent voice that has haunted this E.P and once more – two minutes into the track it shakes off the high pitch vocal and in comes a tempo change and finally that harsh gravitational pull throws you in the direction of some harsh and growling vocal tones and as quickly as they arrived returns to a haunting chill and back again.
This is quite a cleverly written EP. The tracks are simple to remember but try and determine which one is which and you would be hard pushed… However, it is the unexpected that keeps you gripped. It is a very simple EP but they say less is more and this definitely works!
9/10
Track List:
Immured Part I
Immured Part II
Immured Part III
Immured Part IV
Immured Part 1-IV
Members:
James Scott – Production, Guitar, Vocals.
Aliki Katriou – Vocals